SaaS Customer Engagement— How to Boost it with Content Marketing
Seeking to boost customer engagement for your SaaS company? See how to go about it with content marketing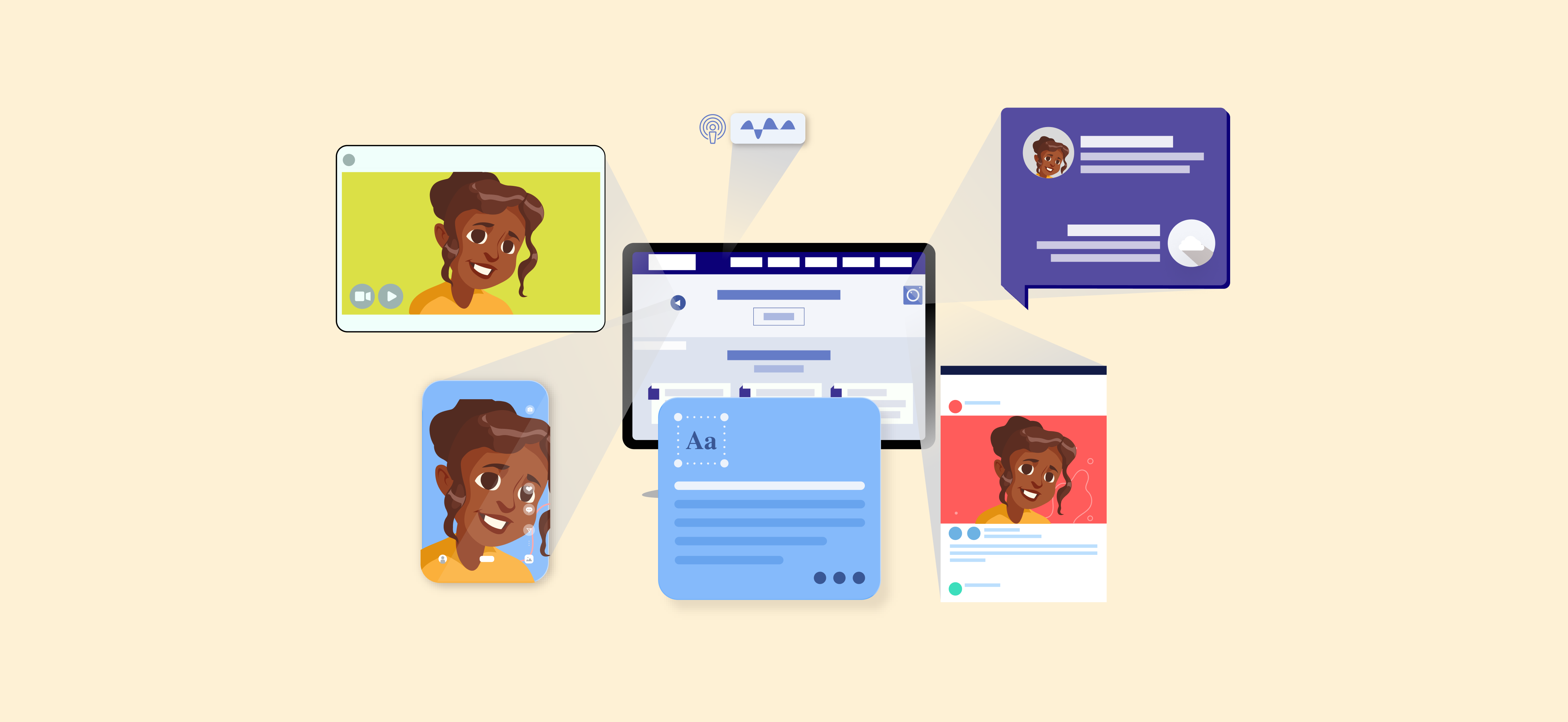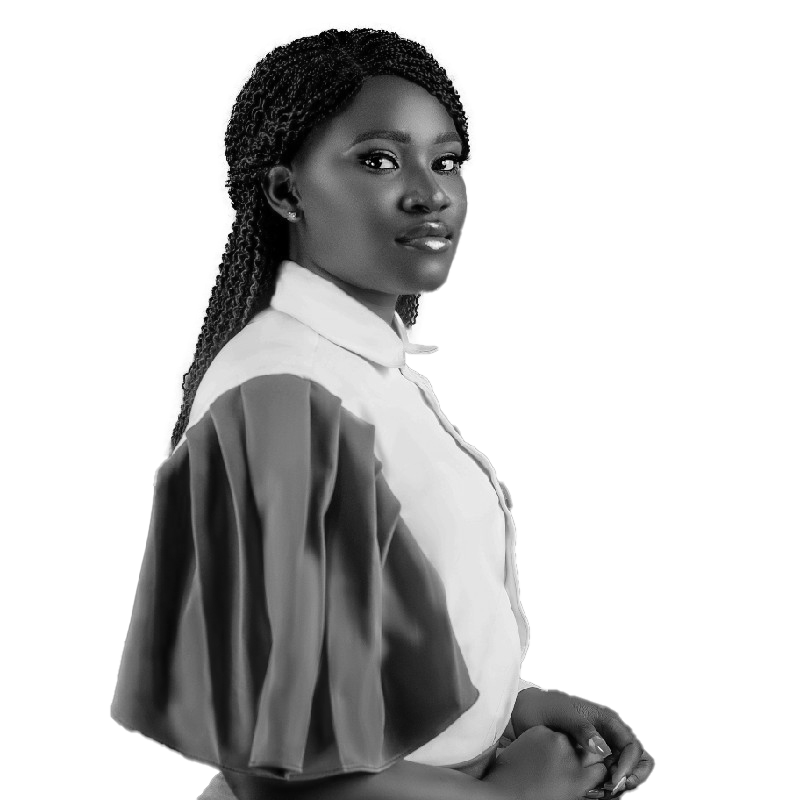 "We're done."
Ben heard her words and felt his heart squeeze.
He wasn't ready to let her go. He'd make amends and become the best man for her. He'd listen more attentively and take her more seriously. He only needed one more chance to prove his love for her.
One more chance, and he'd be why she woke up with a smiling face every day.
As he uttered those words, she interrupted him.
"It doesn't matter, Ben," she said while shaking her head. "At least, not anymore. I've moved on to the one who shows that he cares."
Put yourself in Ben's shoes but this time, replace the image of a lover with your customers.
You'll see it's a relatable experience for you, CMOs, or marketing managers who fear losing customers to competitors.
But why does this happen?
Why do customers leave one company for another?
SuperOffice found the answer when they ran a customer acquisition and retention poll.
Their findings?
A whopping 68% of customers left a company for the same reason Ben's girlfriend left him for another partner.
See: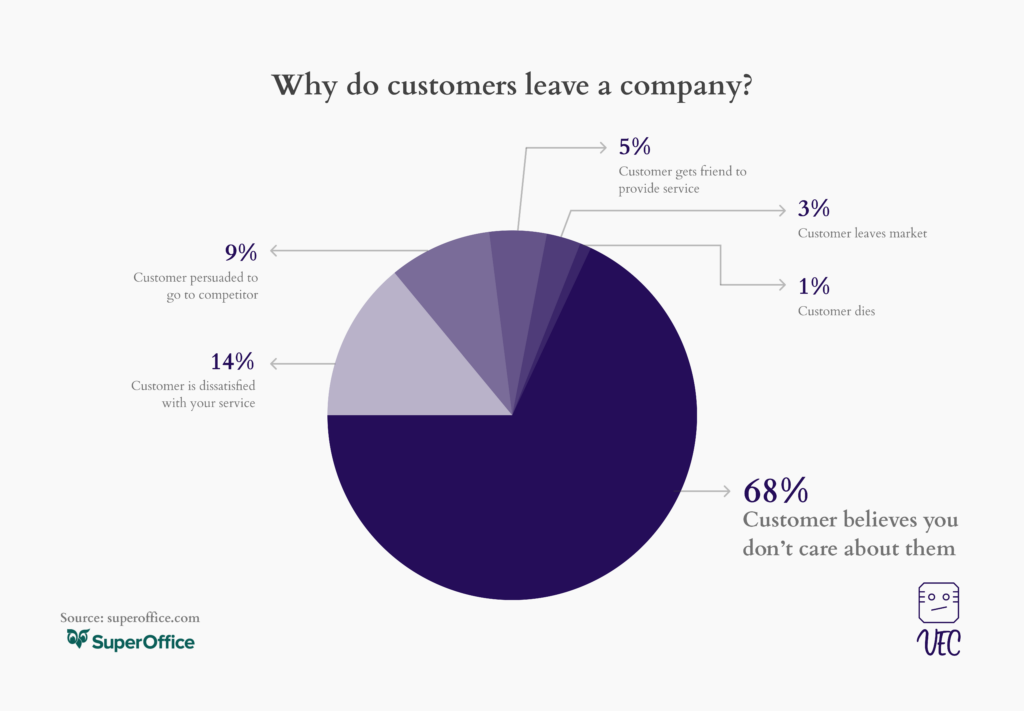 B2B SaaS customers are humans. Like any sad lover, they have feelings.
Treat them right, and they'll keep doing business with you.
Sideline them, and they'll land in the waiting arms of your competition.
What better way to treat customers right and show them you care than executing marketing that boosts your SaaS customer engagement?
In the words of Wendy Lea, Board Director at Danaher Corporation:
"Customer engagement is the new marketing."
Cari Murray, Senior Manager of Content Marketing at Outreach.io, defines this process of SaaS customer engagement as:
"…how your company directly interacts, communicates, and forms a relationship with your consumer base. These interactions may occur across different channels and include various tools that all work together to build brand loyalty and awareness."
Articles like this, this, and this offer different strategies for boosting customer engagement. Of these strategies, content marketing is the one 82% of marketers are actively investing in.
Why?
Because it not only generates demand and fuels your sales pipeline. It also boosts SaaS customer engagement.
Hear it from Shawn Hadden, Digital Marketing Strategist at Unbound B2B:
"An engaged customer is a fundamental payoff of marketing, and more specifically, content marketing."
GrooveHQ is one brand that backs up Hadden's claim.
They've mastered the art of engaging customers with content marketing.
By infusing relatable stories into its content marketing pieces, the brand experienced tremendous growth in its blog engagement: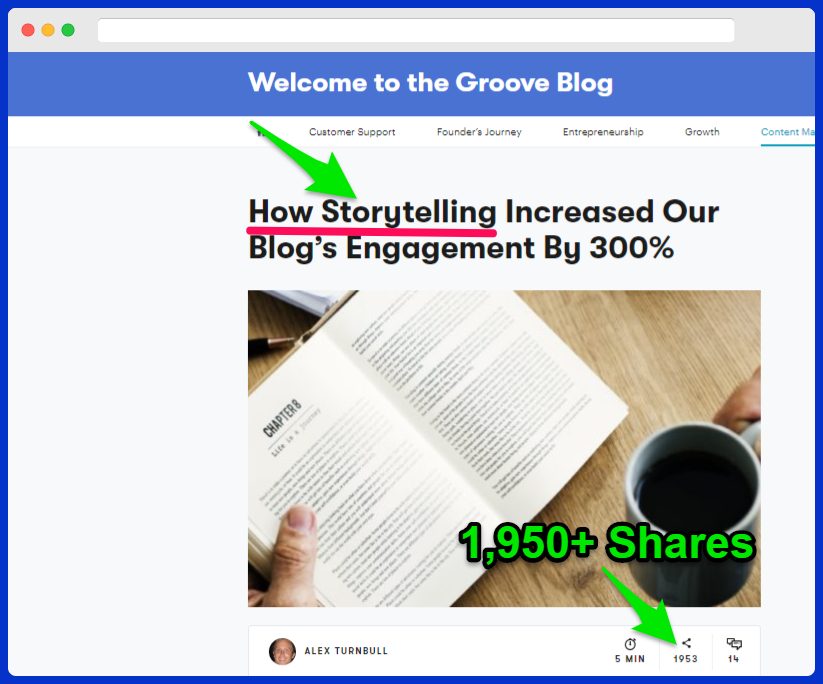 And revenue: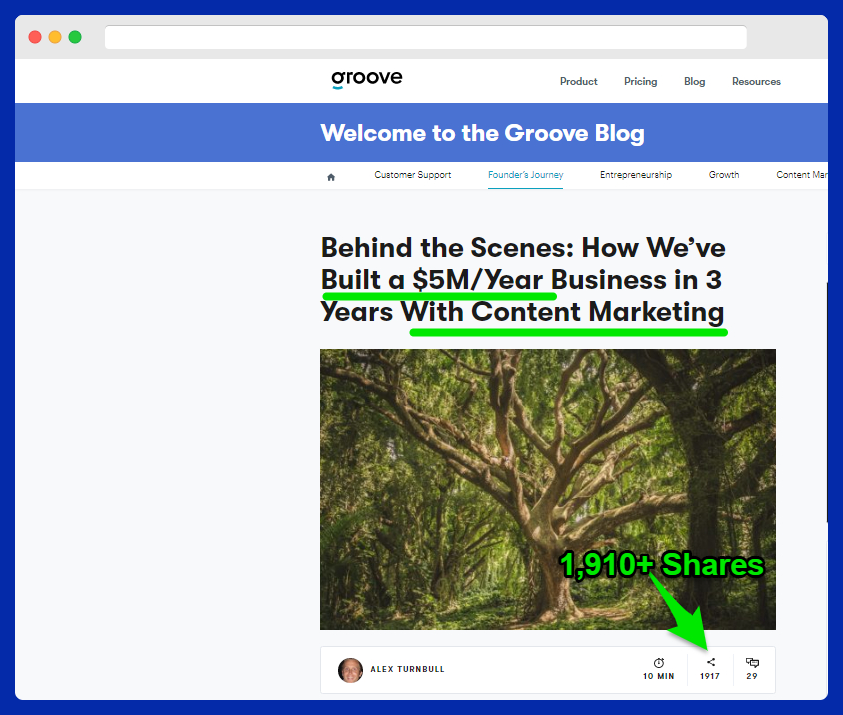 [Source]
Similarly, we at VEC are no strangers to the perks of content marketing.
If our works aren't earning mindshare like this from readers: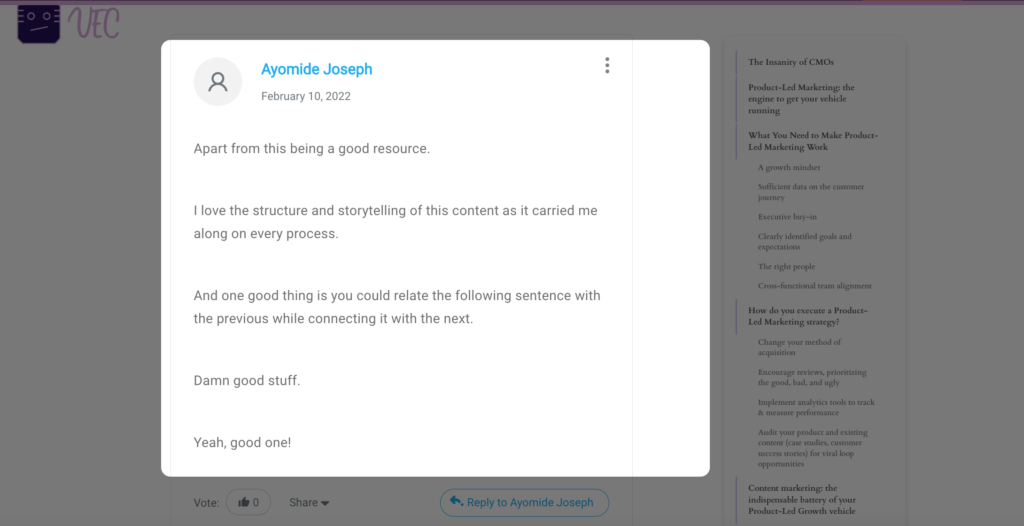 They're driving demand down our sales pipeline: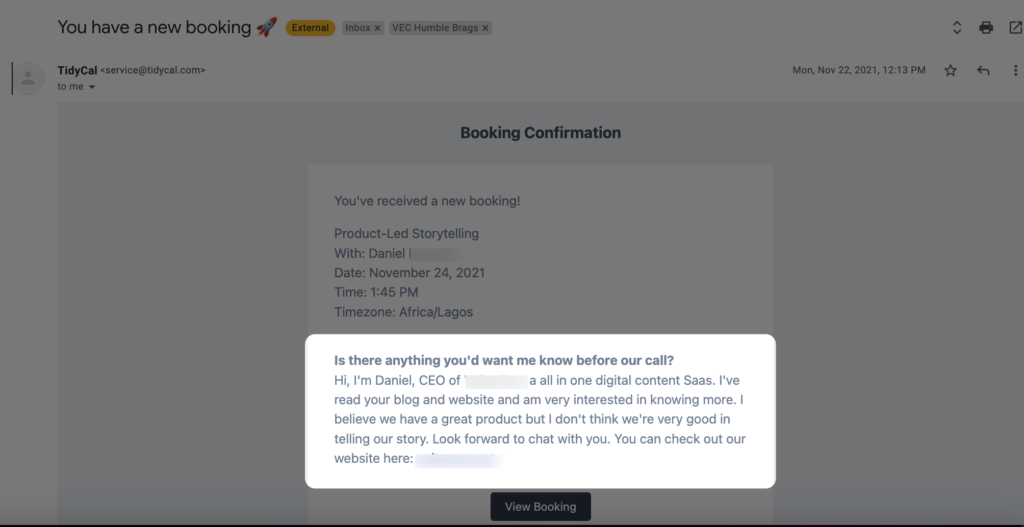 Sounds like something you'll love your company to experience?
Then you're on the right resource.
This guide will show you how to boost customer engagement with content marketing. You'll also see how we at VEC execute it with Product-Led Storytelling, a product-focused form of content marketing that generates sales-qualified demand and fosters engagement for ourselves and our clients.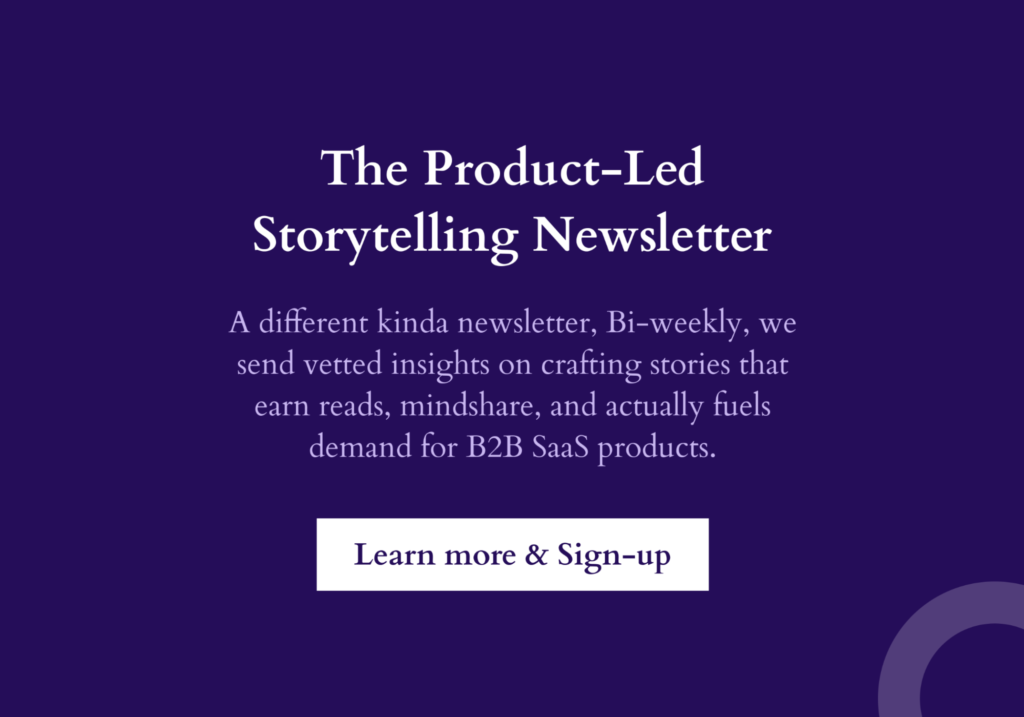 Why CMOs Should Invest in Boosting SaaS Customer Engagement
Perhaps you may want to argue…
It's the job of the customer success team to boost customer engagement. Why toss it over to the marketing team?
You're right.
It's not particularly your job to boost engagement. But taking it seriously can help you achieve your company's primary goal of fueling qualified demand.
Fail to meet this goal, and you risk contributing to the falling CMO tenures: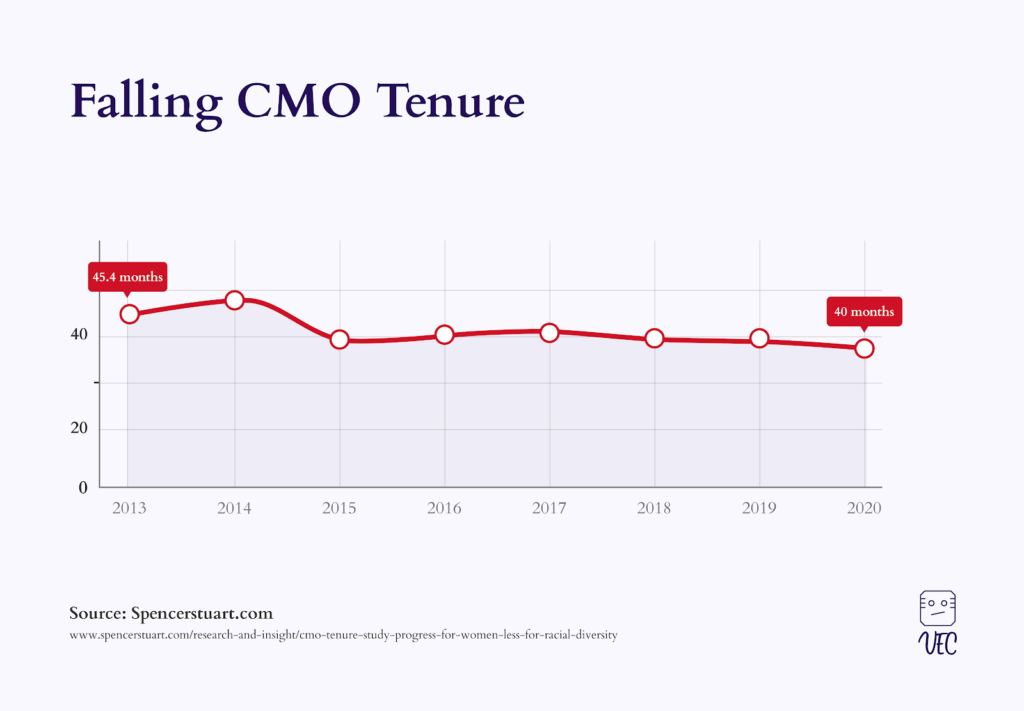 But if you won't take it from me, here's what Stijn Hendrikse, Co-podcaster of the Kalungi B2B SaaS Marketing Snacks podcast, has to say about that:
"CMOs are under a lot of scrutiny and are often seen as the major source and some of the major problems when it comes to growing technology companies. And that's why the tenure numbers are not great. CMOs get fired, left and right…"
The solution?
In the words of Jeremiah Ajayi, VEC's Product-Led Content Strategist:
"You must directly impact sales and drive real growth or face the ax."
That's where boosting SaaS customer engagement becomes necessary.
Companies that successfully engage their B2B customers reported 50% higher productivity. Besides that, CMOs are making this investment because:
It Reduces Churn
Say you notice this shitty menace called churn is eating deep into your company. With your job on the line, what's the first solution that comes to mind?
Acquire new customers to make up for the lost ones? Cool.
But as you already know, acquiring new customers is five times more expensive than retaining old ones.
Or, as Khalid Saleh, CEO of Invesp, puts it:
"The success rate of selling to an existing customer is 60-70%, while the success rate of selling to a new customer is only 5-20%."
The solution, therefore, is to focus on customer retention than acquisition. And to do that seamlessly, customer engagement tactics come in handy.
As per Gallup's report, companies that successfully engage with their customers experience 63% lower customer attrition rates than companies that don't.
Do you want to help ease customer churn while acquiring more users on your platform?
Boost SaaS customer engagement.
Not convinced?
Hear from Zarema Plaksij, Content Editor at Superoffice:
"Another way to prevent churn is to actively engage your customers with your product. Often referred to as relationship marketing, give your customers reasons to keep coming back by showing them the day-to-day value of using your products, by making your products, services, offers, etc., a part of their daily workflow."
It Increases Revenue
Customer engagement is crucial to the sales growth and the profit margins your CEO hired you for.
When you engage with existing customers, you let them know your company cares. And in return, you increase your customer base as they'll have no reason to churn but keep doing business with you.
As Gartner found, a whopping 80% of a company's profits will come from just 20% of its existing customers.
Similarly, Constellation Research reported that companies that improve engagement could increase cross-sell revenue by 22%, up-sell revenue by 38%, and order size by 5 to 85%.
But how does customer engagement boost existing customer sales, you ask?
Julie Dietz, Content Manager & Strategist at Epic Notion, answered that question while addressing the topic in an article. According to her, customer engagement increases sales by:
Increasing the awareness of the solutions you offer.
Increasing brand awareness.
Increasing customer activity data.
Increasing transaction amounts.
Increasing customer advocacy.
More importantly, Julie noted how customer engagement for SaaS is also crucial to building lasting relationships with customers.
In her words:
"Engaged customers lead to improved satisfaction and retention, as well as increased sales to existing customers through advocacy, high-spend transactions, and brand recognition. When taking these benefits into account, it becomes even more important to focus on customer engagement and building lasting relationships with customers."
It Leads to Customer Success
According to PWC's research, 86% of buyers are willing to pay more for a great customer experience.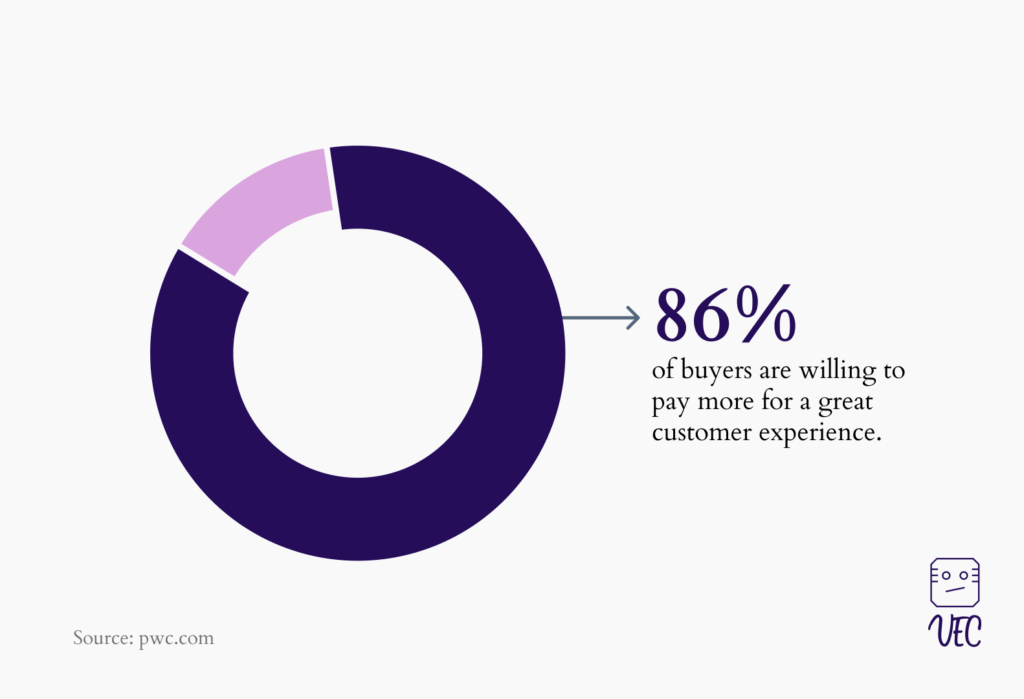 This stat shows the average customer's goal is to solve their problems.
Over 25,000 SaaS companies in the world claim to solve customer problems. So if you aren't creating experiences to show customers your product can solve their problems, they'll move to your competitors.
But how exactly can B2B marketers help here?
Kristen Baker, Marketing Manager at Hubspot, defines customer success as:
"Anticipating customer challenges or questions and proactively providing solutions and answers. Customer success helps you boost customer happiness and retention, thus increasing your revenue and customer loyalty."
From that definition, you can tell one way to go about providing solutions to customer challenges is with content. And this responsibility lies on marketers.
As Korn Ferry's 2021 Buyer Preferences Study revealed, over 79% of B2B buyers wait until they've fully defined their needs before reaching out to sales: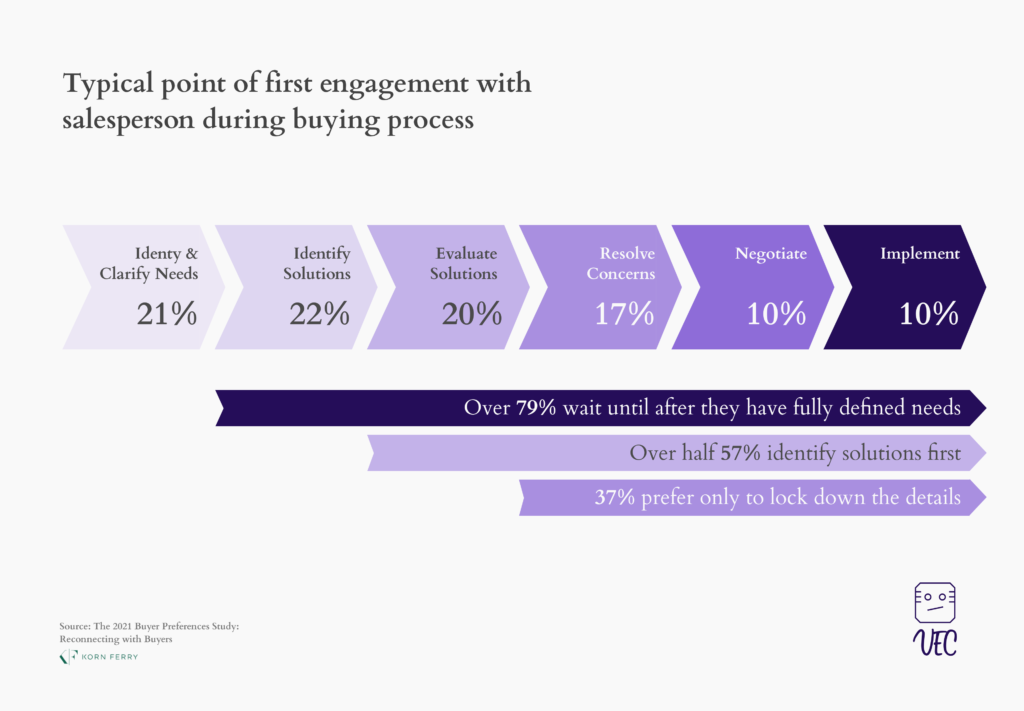 This goes without saying that most times, today's customers only reach out to your sales team when they are ready to buy. And if you keep waiting for them to define their needs, your sales pipeline may grow rusty.
So, how do you fill in those gaps before buyers define their needs?
Enter your role as a marketer by engaging and educating them about the solutions to their problems through content marketing.
Demand Gen Report's Study corroborates this.
It found three factors that influence the buying decisions of researchers, primary decision-makers, and internal influencers when researching solutions.
Two of them were:
"Easy access to relevant content that speaks directly to their company (No. 1 for primary decision-makers and internal influencers, No. 2 for researchers); and Content that speaks directly to and demonstrates expertise around the needs of the organization's specific industry (No. 3 across the board)."
SaaS customer engagement via content marketing is a pathway to customer success.
Our work for clients using the Product-Led Storytelling approach proves this: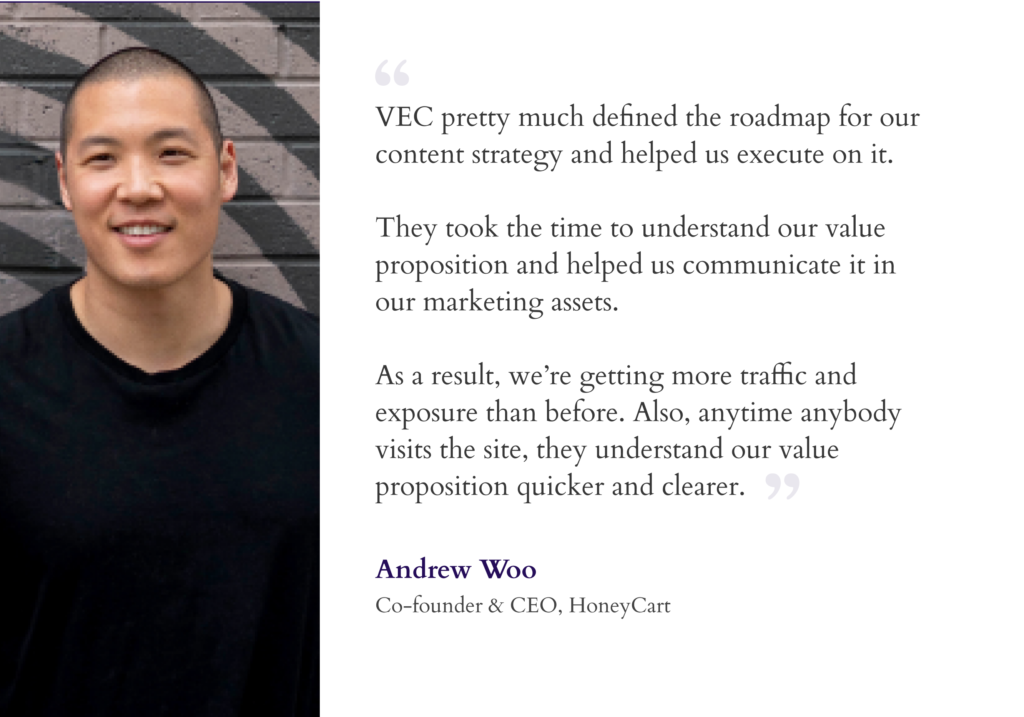 And it doesn't just impact one person on the team.
It also gets engaged B2B marketing leaders to invite their colleagues to sign up and engage our content: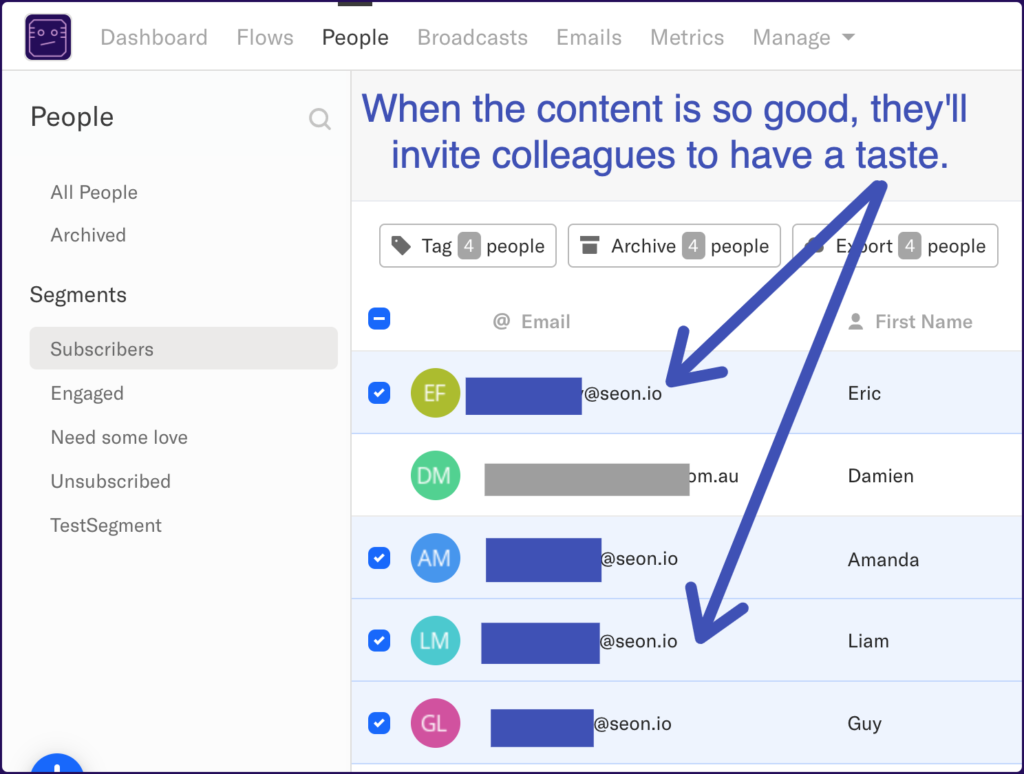 Soon, you'll see how we go about this.
But in the meantime: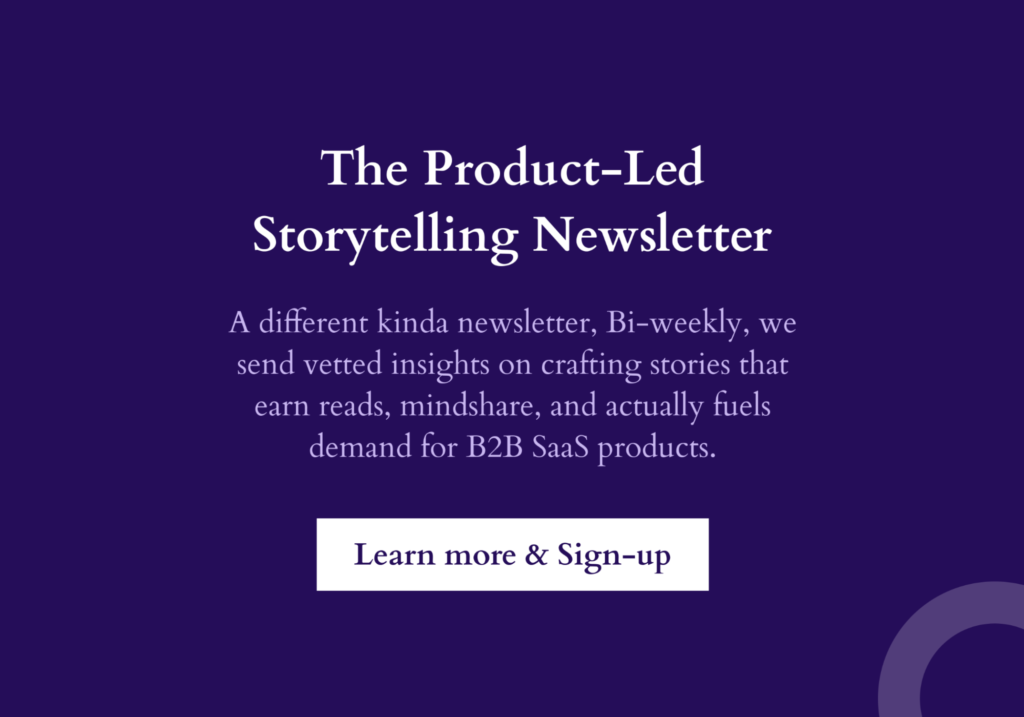 How Content Marketing Boosts Customer Engagement and Drives Demand
Quick one.
How does content marketing reduce churn, increase revenue, and bring about customer success?
It does by attracting your ideal customers, giving existing customers added avenues to engage with your brand, and persuading them to take action.
But this doesn't happen with every content marketing effort per se.
If it did, about 72% of B2B marketers would have considered their content marketing extremely or very successful in 2021. Only 25% currently do: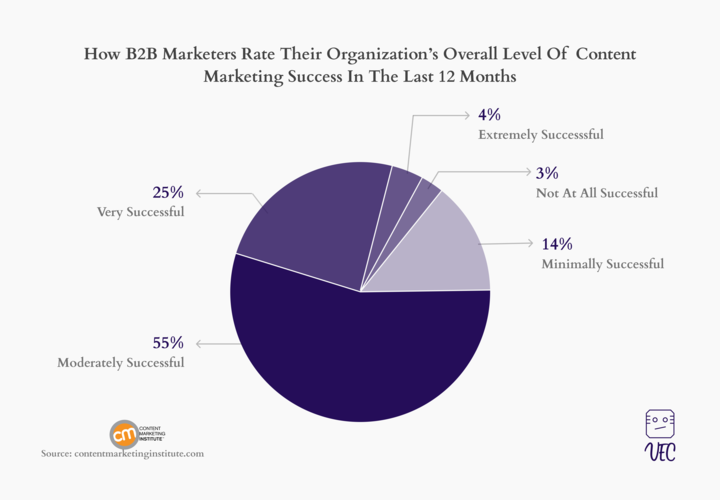 The solution?
Only invest in a content marketing strategy known to yield results. In other words, one you can rely on to attract, engage, and persuade your ideal customer personas (ICP) to take action.
That's the basis of Product-Led Storytelling, the redefined content marketing process we at VEC coined in-house.
It's how we execute B2B SaaS content that directly fuels demand & sales qualified opportunities for fast-growing SaaS companies.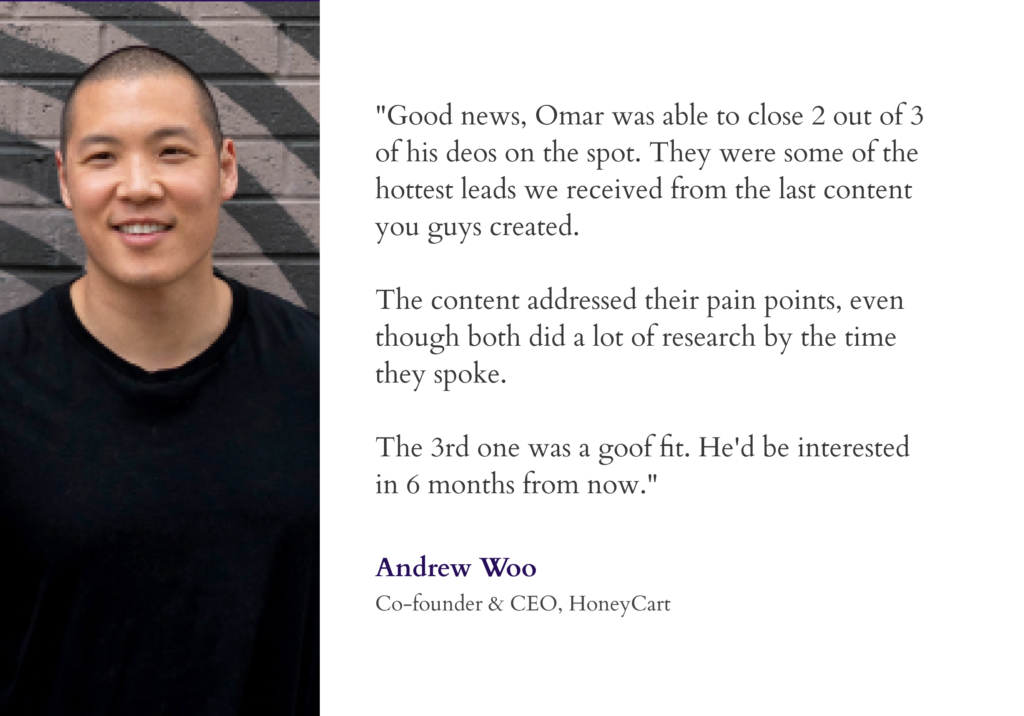 As Victor Eduoh, our Lead Strategist, defines it, Product-led Storytelling is:
"The art & science of crafting discoverable stories, showing (not just telling) well-targeted prospects how to overcome specific challenges, WITH your product."
In other words, Product-Led Storytelling involves weaving your product into relevant stories that solve your ICP's problems.
B2B marketers leverage elements of Product-Led Storytelling across channels, without even knowing it. And the reason isn't hidden: This content marketing approach comes with all the perks of SaaS customer engagement.
Take this Twitter thread, Amanda Natividad, Marketing Architect at Sparktoro made: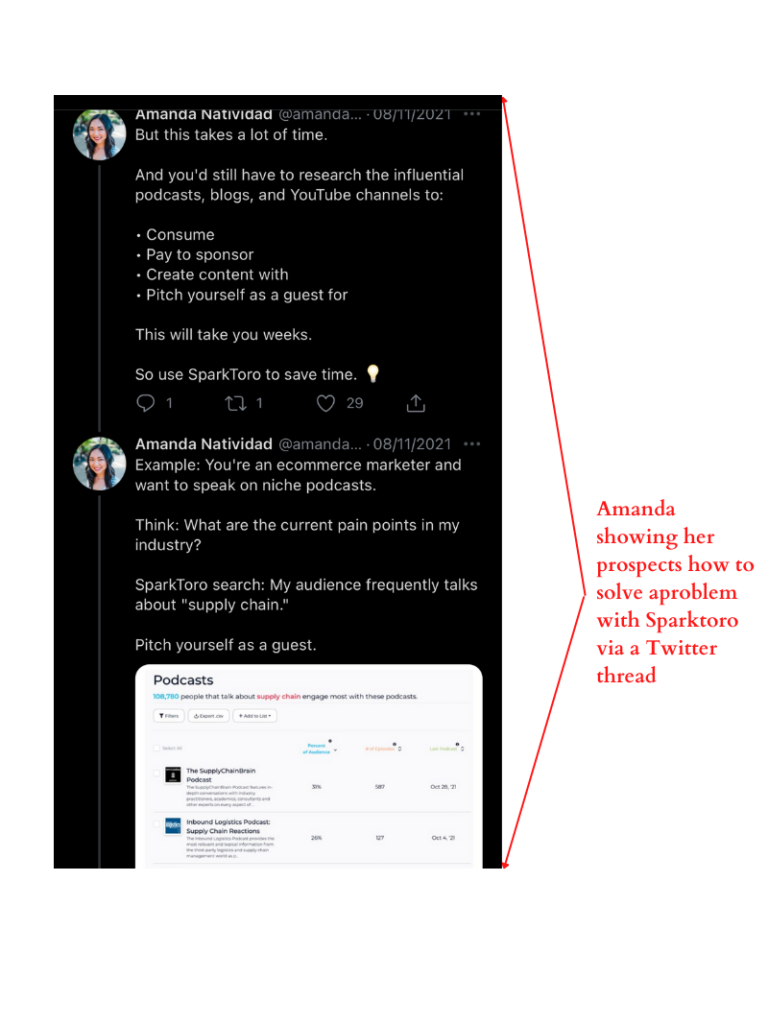 She not only offered a solution to her target customer's pain point. She also showed how Sparktoro solves that problem, step by step.
Doing this led to high engagement on her social media post: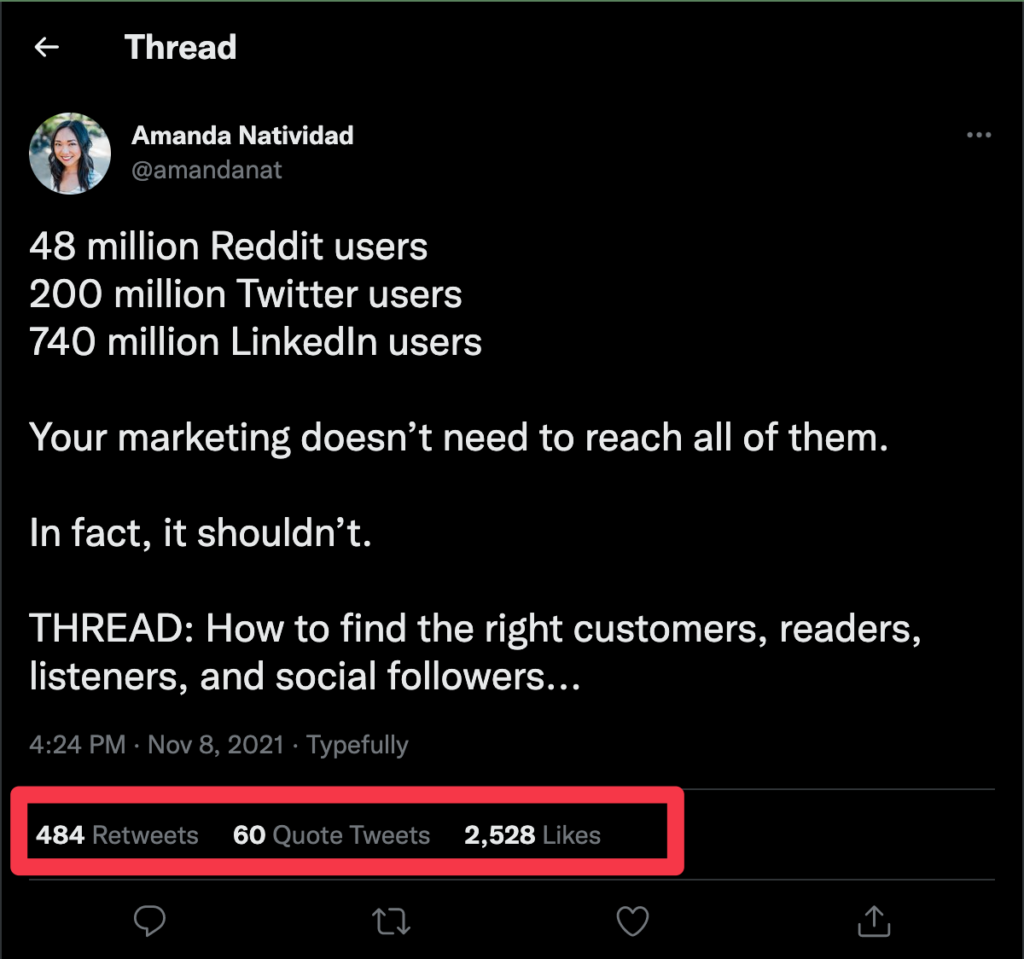 And in the end, it made a prospect eager to use Sparktoro:
At its core, Product-Led Storytelling comprises three vital parts aimed at boosting customer engagement with every word: Attract & Filter, Engage & Show, and Persuade & Convert.
Let's look at them in detail, so you (and your marketing team) can execute effectively:
Attract and Filter
With over 4.4 million blog posts published per day, you must go the extra mile if you want yours to cut through the clutter and capture your ideal reader's attention.
It's why the Product-Led Storytelling framework begins with the attract stage.
Here, you write a benefit-driven title for your story. This headline should promise prospects your content will show them how to solve a problem.
Coat your headline with a benefit that pulls them into the content.
But it doesn't stop there.
If a reader lands on a drab introduction after getting psyched by your benefit-driven headline, they lose interest.
So, ensure your content team infuses relatable stories into their intro paragraphs to hook readers. Then call out the ICP you're writing for to align your business goals with theirs and filter non-fits.
And as you progress, use social proof to augment your story-driven introductory paragraphs. Aim to make target readers imagine the value they'll get from engaging your content to the end.
I did this at the start of this piece you're reading.
Remember, our fictional character, Ben, whose lover left him for not showing he cared about her? That was my story-driven introduction.
I also called you, my target reader (CMO & marketing managers), out to filter non-fits. Then I added screenshots of GrooveHQ and VEC as social proof to show that content marketing boosts engagement.
And since you're still reading this piece, we can both agree my introduction succeeded in attracting you.
Engage and Show
After getting your ICP's attention, it's time to keep them. And for that to happen, ensure your content team makes your ICPs laugh, smile, nod their heads, etc., while reading your content.
Therefore, follow up with more story-driven paragraphs. Then distinguish your writing (and your SaaS product) by adding your point of view, facts, quotes, stats, social proof, etc., to back up your claims.
To further pique your ICP's interest and boost engagement, strategically insert real shots of your product, showing how it solves problems the content addresses.
Calendly does this by weaving its product into content pieces via product screenshots: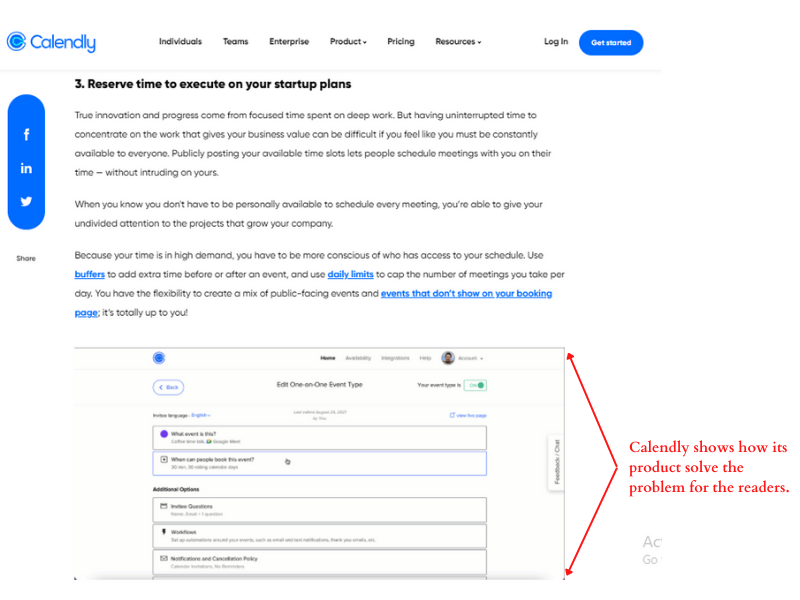 [Source: Calendly]
VEC walks the talk, too.
Here's how we executed this stage to show how our client's team pulse survey software solves its ICP's problems while addressing their specific needs:
Persuade and Convert
Product-Led Storytelling not only helps your SaaS company engage with customers. It also aims to steer that engagement towards CTA buttons.
Here's how it works in this stage:
First, you include a relevant testimonial (with outcomes) of a client similar to the ICP your product-led story targets. Then invite your ICP to solve the problem addressed in the article with your product.
Doing this paves the way for the SaaS copywriting skills of your marketing team to come in handy.
The goal is to convert readers to users. So, ensure each piece ends with a clear CTA that asks them to trial/demo your product and start solving the problem addressed in the article.
See how we executed this section for a client: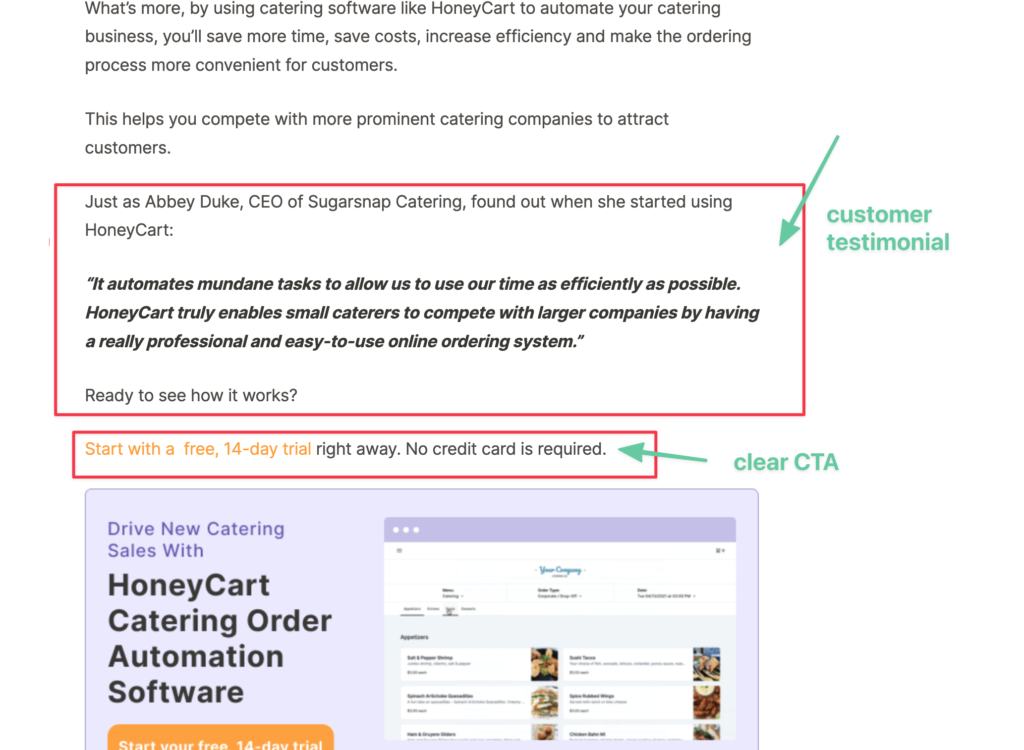 The three stages of the PLS framework work to transform each B2B content into a high-engaging SaaS sales funnel:
Thus, lending credence to these words of Jeff Bullas, Founder and Host of The Jeff Bullas Show:
"A content marketing strategy is about attracting customers, then nurturing the attraction into engagement, and converting the engagement into leads and customers."
Adopt Product-Led Storytelling, Boost Customer Engagement
When Steve Job, Founder of Apple, said:
"Get closer than ever to your customers. So close that you tell them what they need well before they realize it themselves."
He meant one thing:
Engage with customers. Leverage content marketing that endears them to your brand, so when you tell them what they need, they take your word for it.
Now, you know how to adopt content marketing as a SaaS customer engagement strategy. But there's something else I haven't mentioned:
Your content marketing also needs a strategy.
And for Product-Led Storytelling, this strategy is the Topic Cluster Content Strategy.
It has a golden rule: each content piece must not stand in isolation. So, cluster relevant content pieces around topics relevant to your business.
It helps to build a more solid information architecture for your SaaS site. It also helps you build topical authority while aligning with your customer journey.
And in the end, you don't just have engaging articles that drive demand but also achieve a strategic narrative that differentiates your brand from the rest in your niche.
Case in point?
When HoneyCart hired our B2B storytelling studio in January 2021, their goal was to become the go-to software for drop-off caterers.
And to help them achieve this, we delved into in-depth research to execute the TCCS framework, giving them a content strategy that looked like this: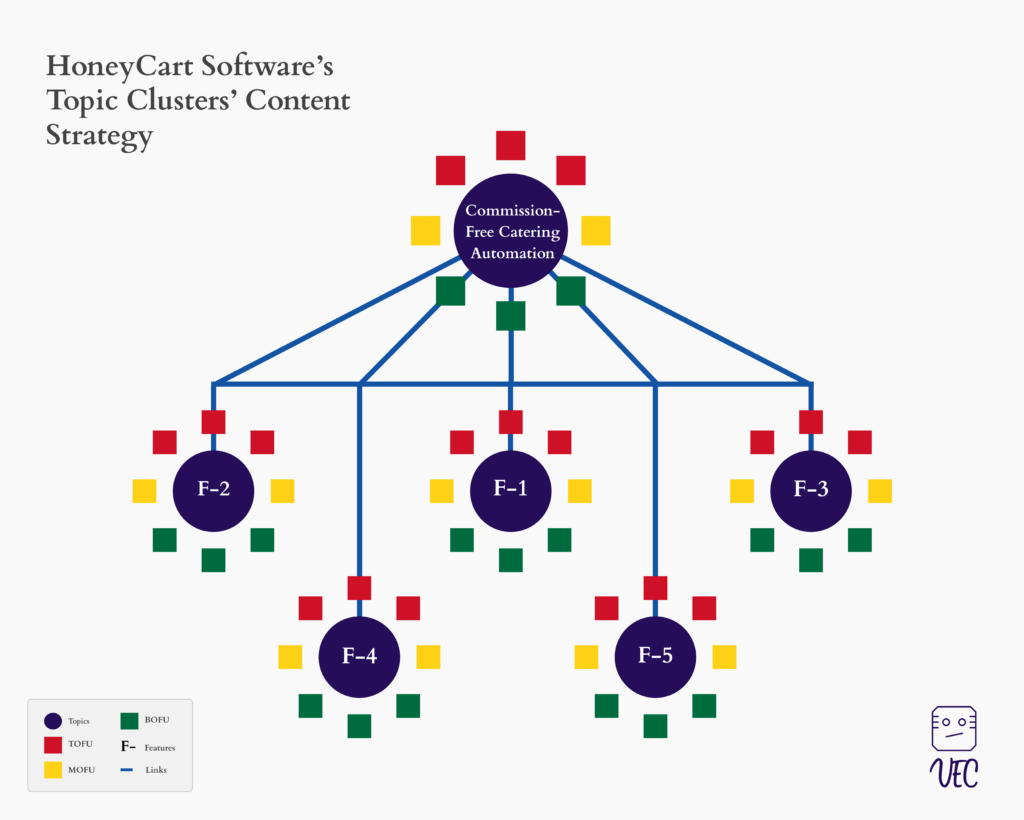 Then we executed each content piece with the Product-Led Storytelling formula.
The results?
They not only gained recognition from Google for the Strategic Narrative, "commission-free catering automation", we coined for them: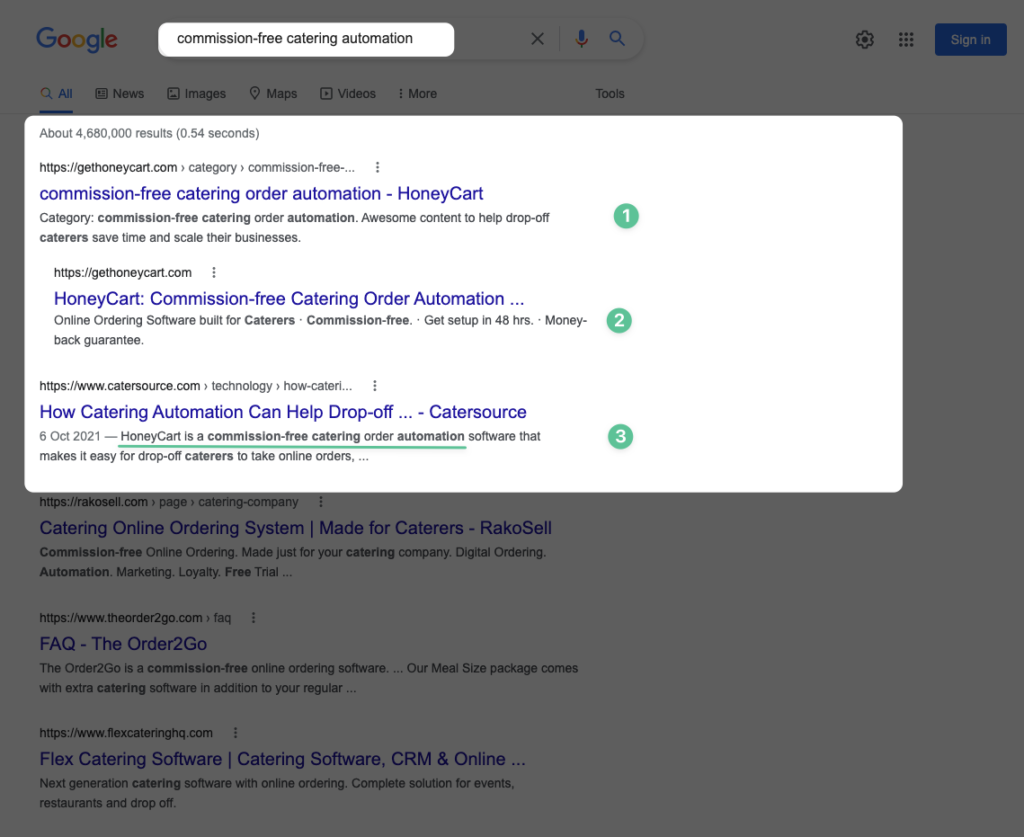 It also fueled demand as HoneyCart increased organic clicks by over 800%. Their click-through rates doubled and impressions soared by over 400%.
And all these happened in six months: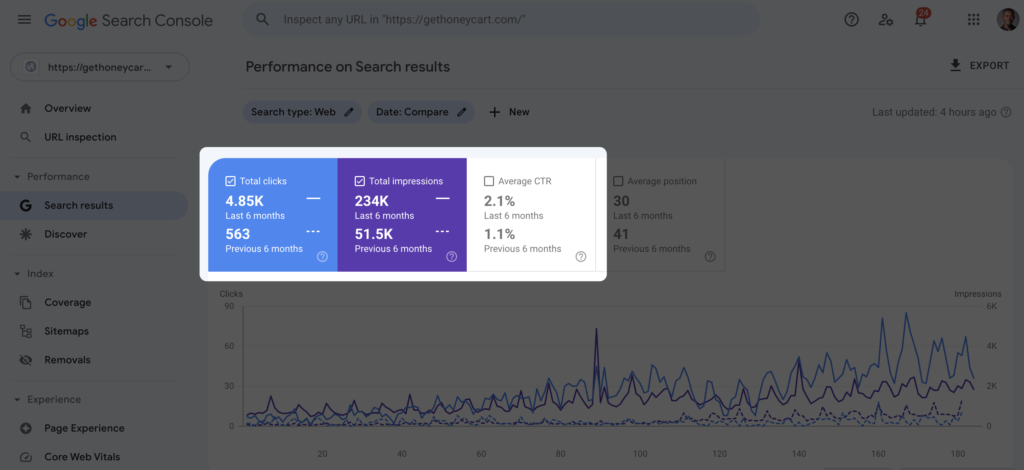 This topic clusters' content strategy is also how we keep our sales pipeline buzzing with demand.
See how Amanda, now one of our clients, moved from being a random reader to a qualified lead down our sales funnel: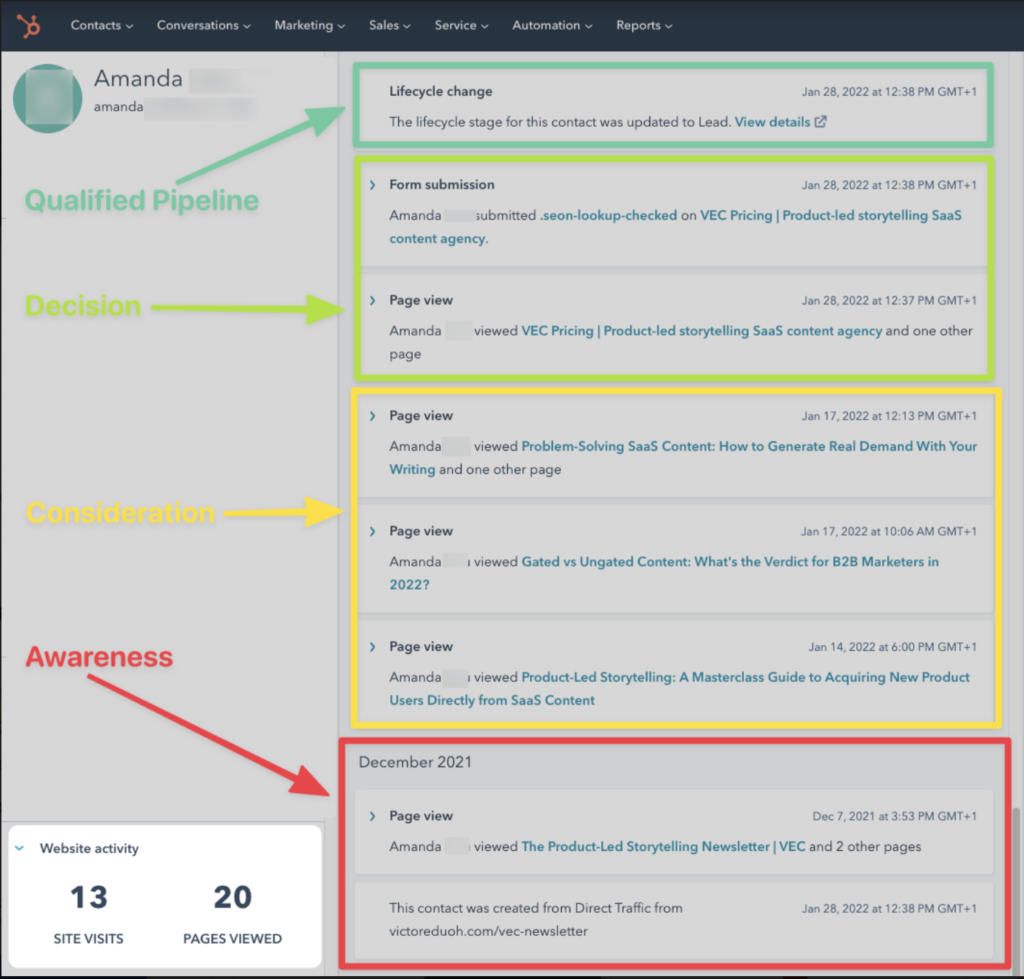 It all began after she read a piece from our Newsletter and signed up. Then she consumed other articles we clustered around the topic: Product-Led Storytelling.
Afterward, she booked a sales call: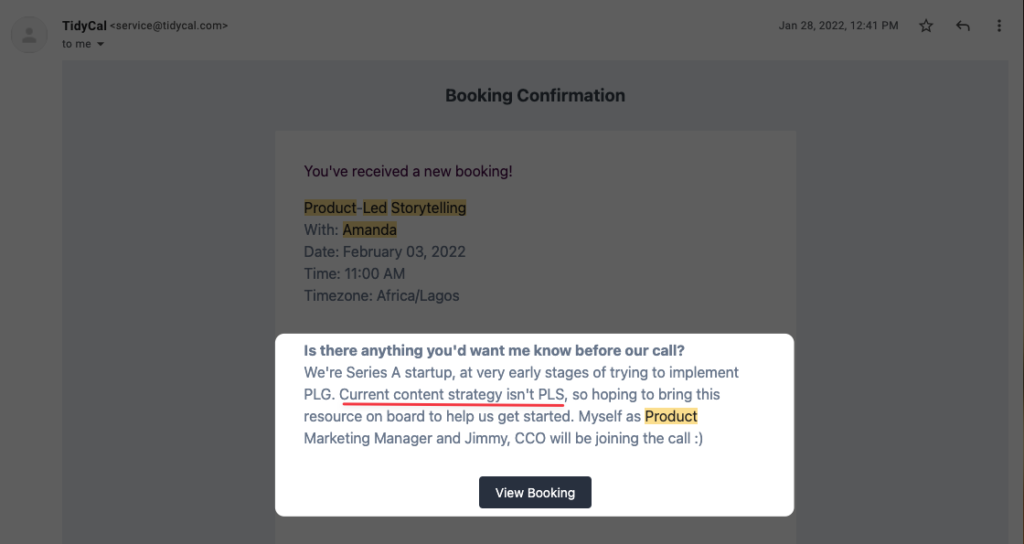 See?
The kind of SaaS content marketing that attracts, but more importantly, engages your target audience to take action.
If this, as I suppose, is what you want for your SaaS company, boost customer engagement with content marketing. But for more results, make it Product-led Storytelling.
Need help going about it?
Not a problem.
Learn to craft Product-Led Stories and drive demand for your SaaS company.
Or better still, check out our pricing page. We'll be happy to help you achieve the results we get for ourselves and our clients.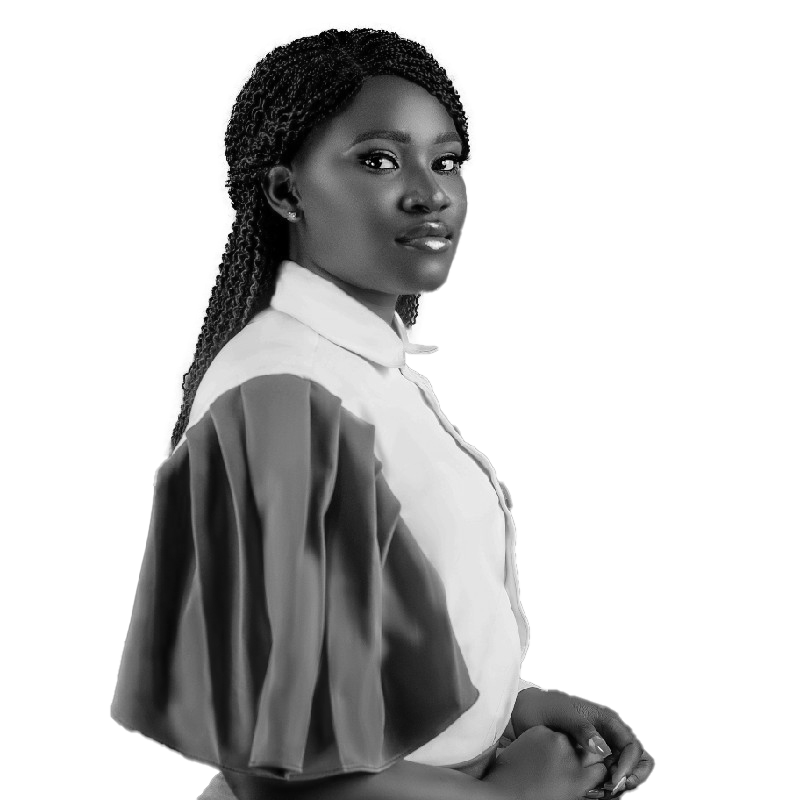 Victoria Willie
Because I want to be one of your best sources for valuable content, I'll keep honing my writing skills until my last breath.
Get our insights in your inbox
Actionable summaries of stories told by experts on how they grow brands (and their careers) with content from our Growing with Content podcast. And well-researched insights crafted in the VEC Studio.
I will send you a copy of our Content Quality Checklist –FOR FREE– when you subscribe.