Topic Clusters Content Strategy for Sales-Conscious B2B Marketers
Eager to build a demand-generating B2B content marketing strategy? See how to do it with VEC's Topic Clusters Content Strategy Framework.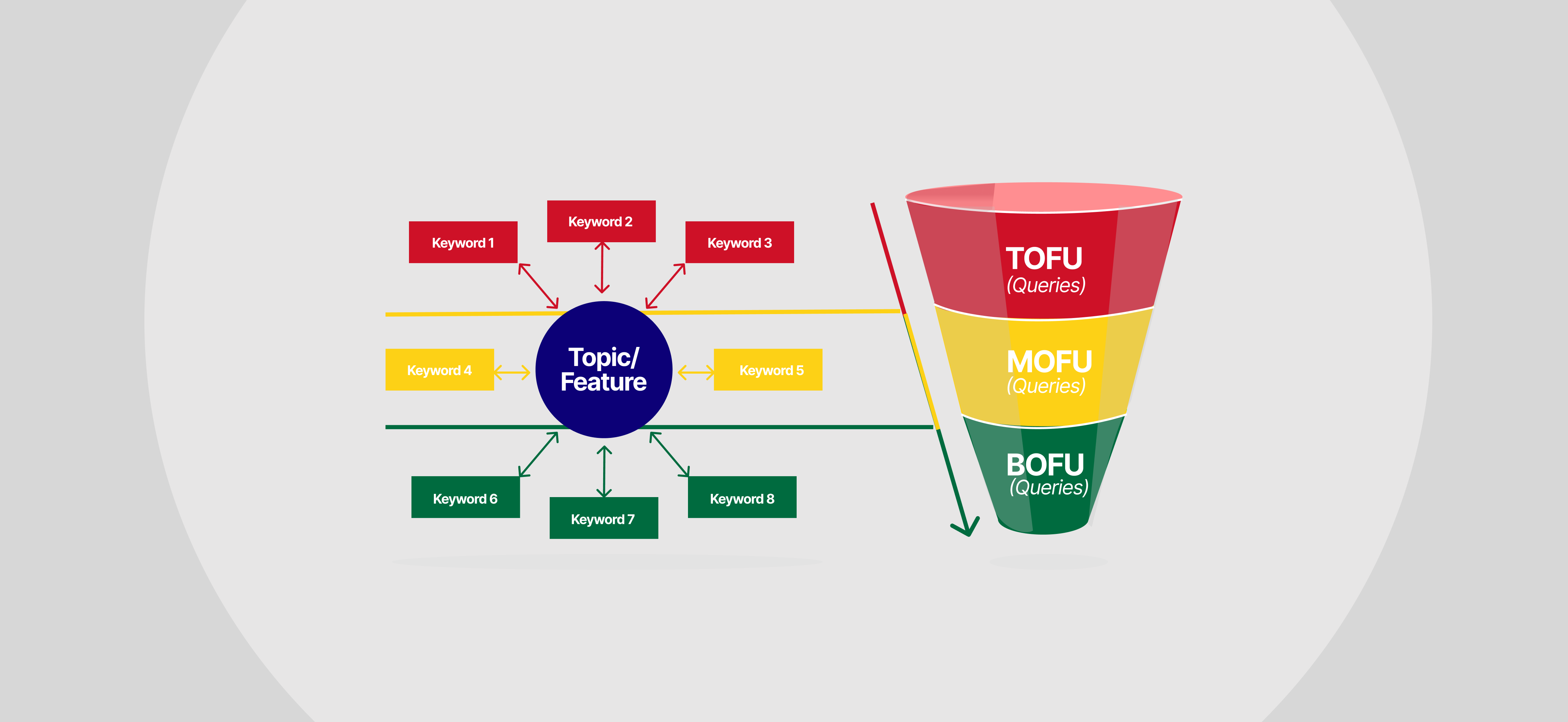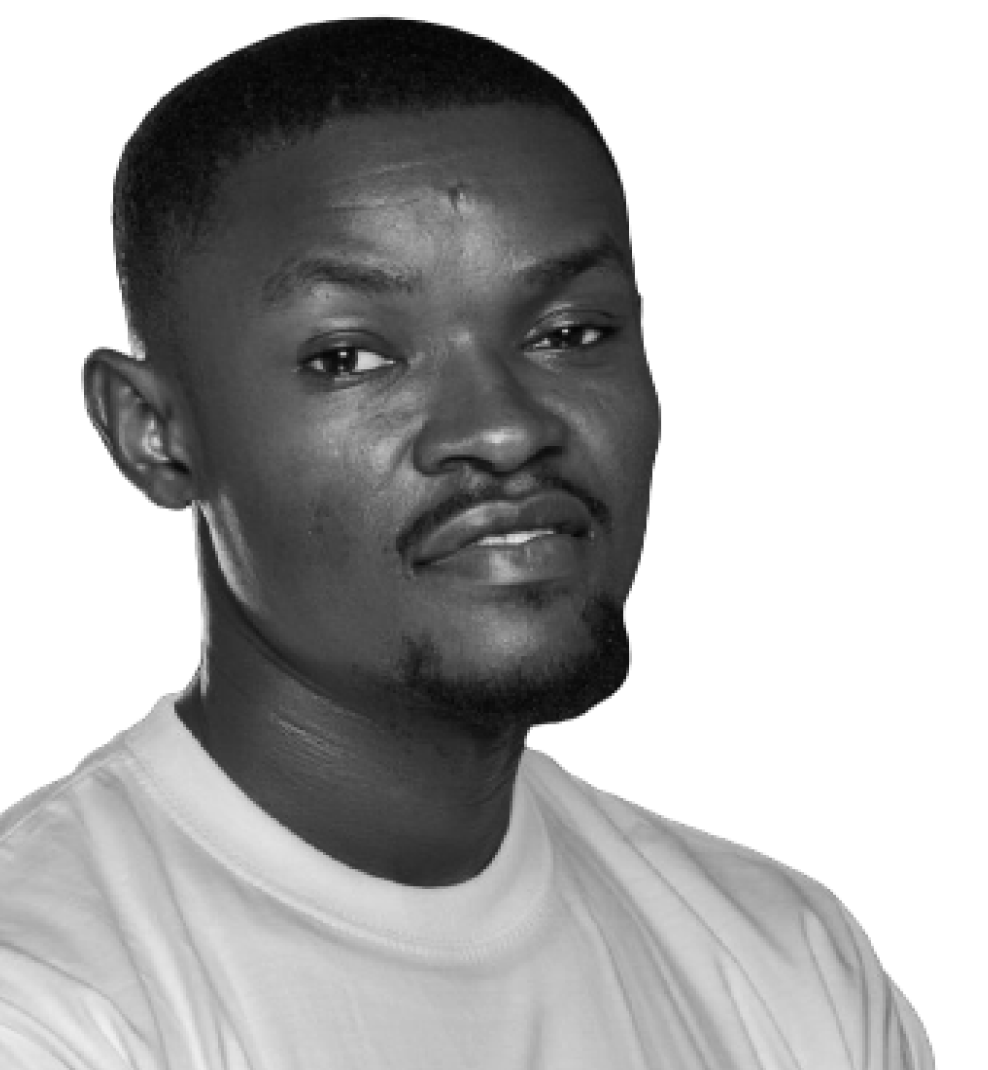 Victor Eduoh
Lead Strategist @ VEC
A lil Chinese wisdom, shall we?
"独木不成林,单弦不成音"
Before I translate…
I dug up this old Chinese proverb as it projects a principle helpful for building demand-generating B2B content marketing strategies.
In English, it means:
"A single tree does not make a forest; a single string cannot make music."
Relevant to building a scalable B2B content strategy, it means one article or blog posts here and there won't work. To unlock long-term growth rhythms, your content team should always cluster new articles they create around topics.
And that's where the topic clusters content strategy comes in.
To give you a clue, adhering to this principle, we clustered content that moved this prospect from awareness to consideration, decision, and qualified pipeline: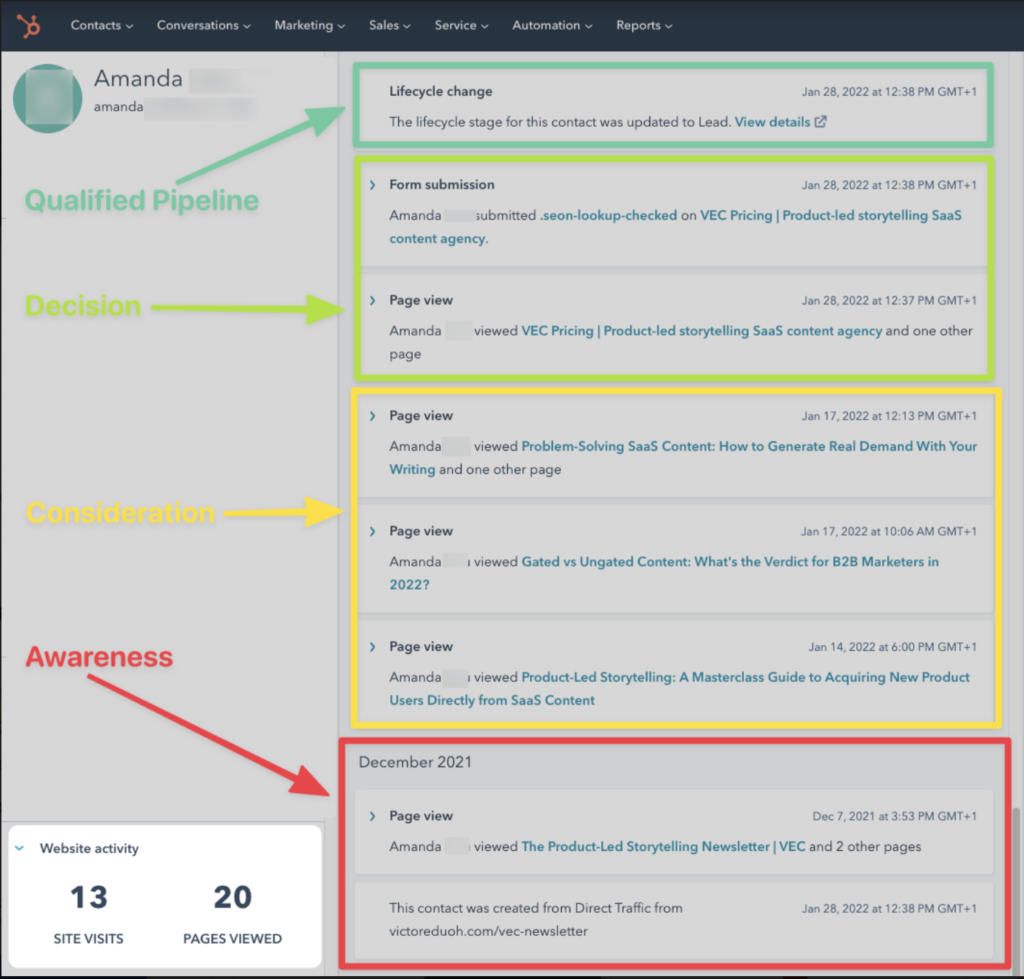 As HubSpot's attribution shows, Amanda (now our customer) visited the VEC site 13 times and viewed several pages. It all started after she read one piece from our Newsletter and signed up.
From there on, she consumed other content pieces, which we intentionally clustered around the topic: Product-Led Storytelling.
And the result of all these?
A booked sales call and new $6.5k/month deal: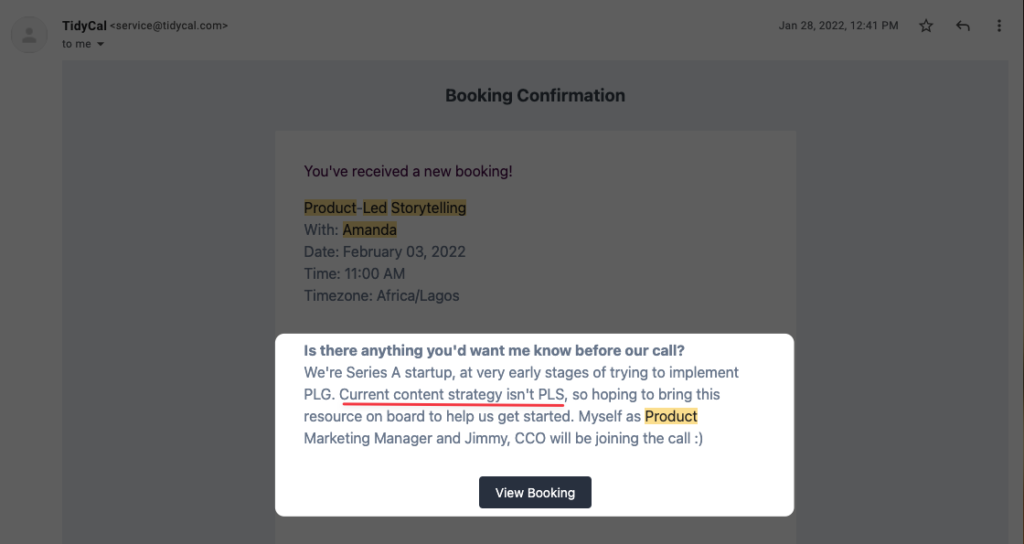 Love what you see?
Then you'll love this guide, too.
If you're a B2B marketer trying to build a demand-generating content strategy, welcome. Above is the result of doing it with topic clusters.
And in this guide, I'll not just show how to create a topic cluster content strategy step-by-step. You'll also see how to develop and execute it to create & capture qualified demand via Product-Led Storytelling: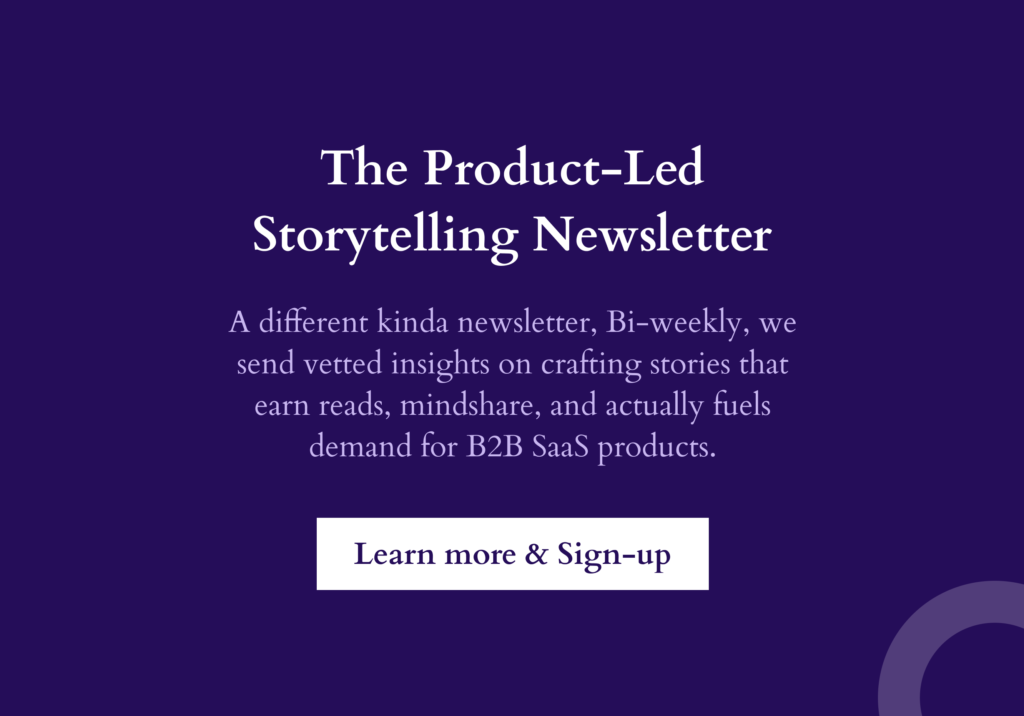 What Cluster Content Strategy Is to B2B Marketing
In one word:
Crucial!
Content clusters are so crucial; they're to B2B marketing what a charged battery is to your smartphone. Without it, your content marketing strategy, like phones run out of power when uncharged, lacks the pillars to sustain it long-term.
Kain Jamison, Founder of ContentHarmony, called it the hub and spoke strategy. More importantly, Kain noted how they're also crucial to building better site information architectures (IA).
In his words:
"Getting your site architecture right is one of the harder parts of [a content strategy], whether you're dealing with millions of pages or hundreds. In particular, one of the most common confusing situations we encounter in content marketing is how to handle things like "topic clusters," "content hubs," and "pillar pages" (the list of names just adds to the confusion)."
I agree with Kain
It's hard to build a solid site information architecture when your company's content marketing efforts result in hundreds, thousands, or even millions of pages.
Well, enter the TCCS (Topic Clusters Content Strategy) Framework.
As you'll soon see, VEC's TCCS Framework simplifies the clustering of ongoing marketing assets created by your content team, irrespective of volume. It also helps you build a more solid information architecture for your SaaS site.
For instance, it could look like this: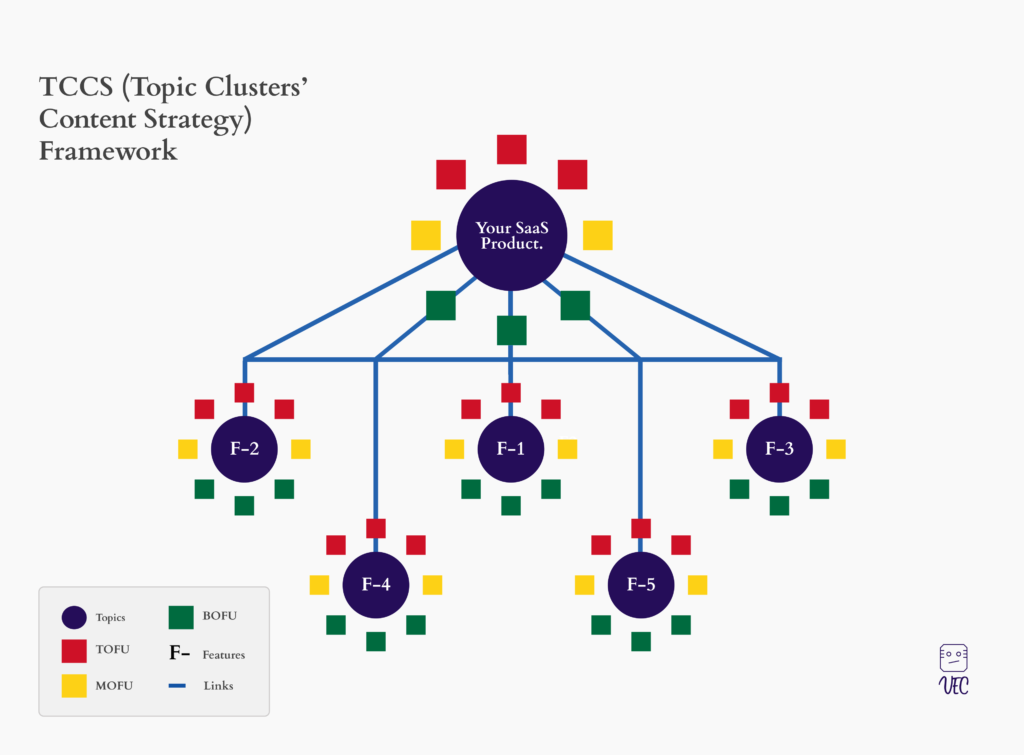 One product. Multiple features.
Or, like this, if your B2B product has two vertical offerings: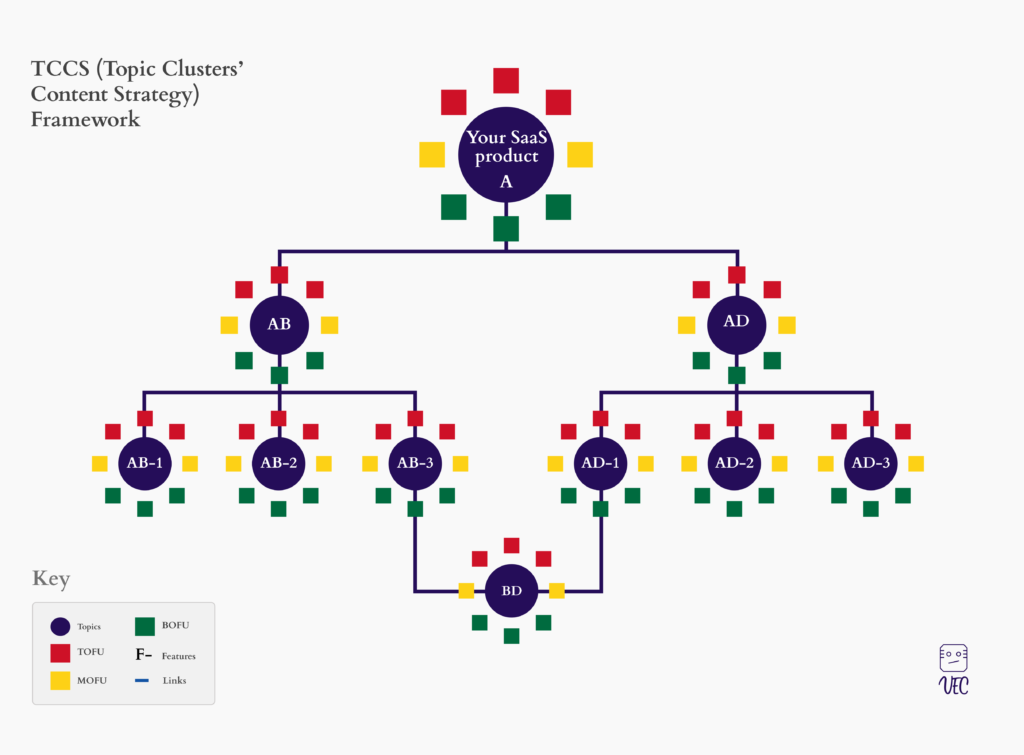 One product. Two verticals. Multiple features.
The structure above is crucial to developing your content strategy and achieving your overall B2B marketing goals.
How, you ask?
Qualified Pipeline and Sales Opps
As you'll agree, every B2B marketing program (like yours) should create and capture demand. It should also nurture captured demand into qualified sales opportunities.
Two obstacles to this goal make content clusters a no-brainer.
The first one is the ever-increasing B2B sales cycle.
Demand Gen Report's recent B2B Buyers Study supports this. Sales cycles were already long at 1-3 months. Yet, the survey saw over 55% of respondents saying their sales cycles had increased even further: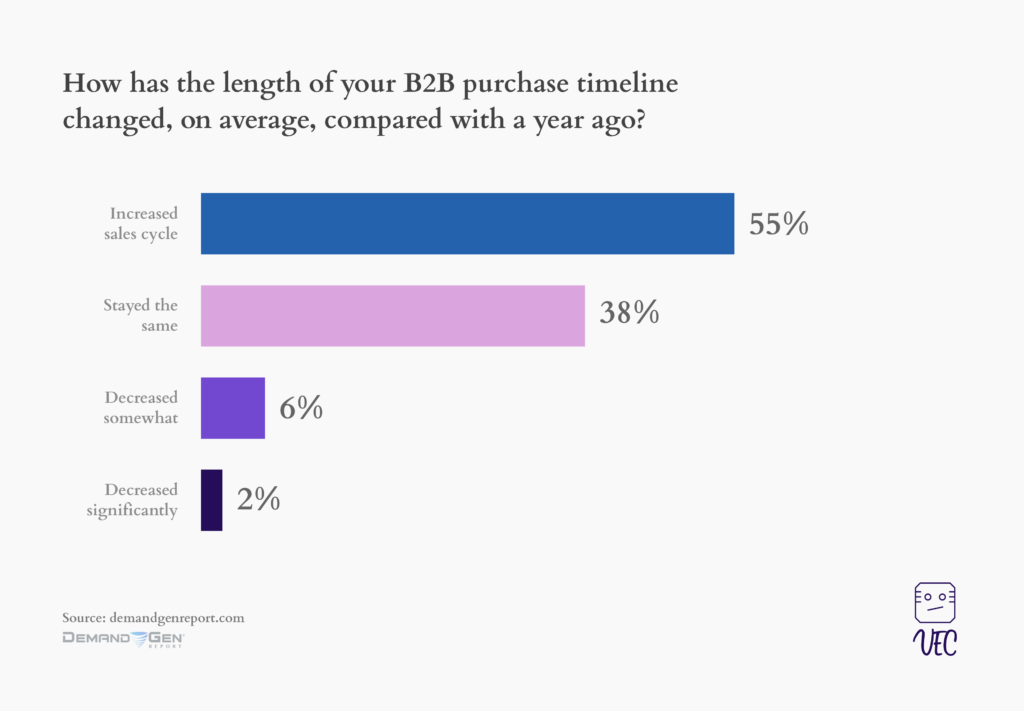 Closely related to that – the second problem – is the rise of self-serve B2B buyers. Today's software buyers want to self-educate (not become "leads"), only reaching out to your sales team when they're ready to buy.
Korn Ferry's 2021 Buyer Preferences Study revealed this.
The research showed our work as marketers to educate prospects has increased. And that's because as much as 79% of B2B buyers said they'd only reach out to sales after they've defined their needs fully (voids marketers must fill with content):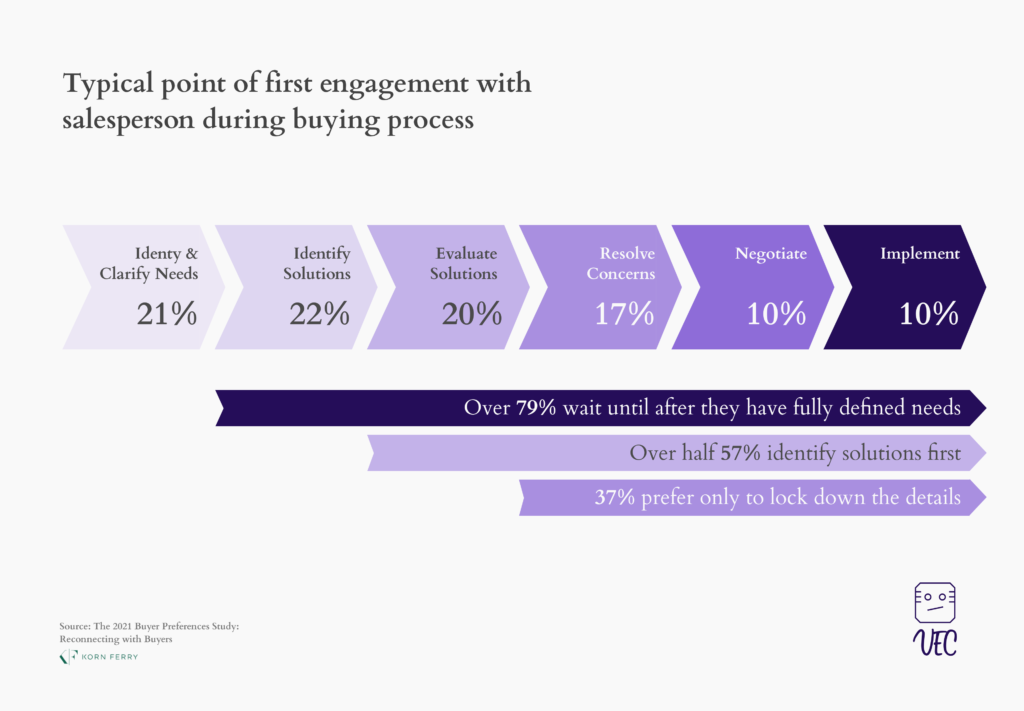 These obstacles pose challenges to B2B marketers.
How do you engage prospects during these ever-increasing sales cycles?
And while engaging them, how do you educate them, so your product stays top of mind to earn consideration as they define their needs?
Demand Gen Report's Study provided clues.
It found three factors influencing the buying decisions of researchers, primary decision-makers, and internal influencers when researching solutions.
Two of them were:
"Easy access to relevant content that speaks directly to their company (No. 1 for primary decision-makers and internal influencers, No. 2 for researchers); and Content that speaks directly to and demonstrates expertise around the needs of the organization's specific industry (No. 3 across the board)."
Our data support this, too.
It shows how clustering content pieces around specific topics helps you acquire Product-Qualified Leads, which reduces sales friction.
Take Amanda, the example I shared earlier.
For our marketing efforts to retain her attention within 54 days it took her to make a buying decision; we engaged, educated, and influenced that decision with 6 content pieces clustered under a topic: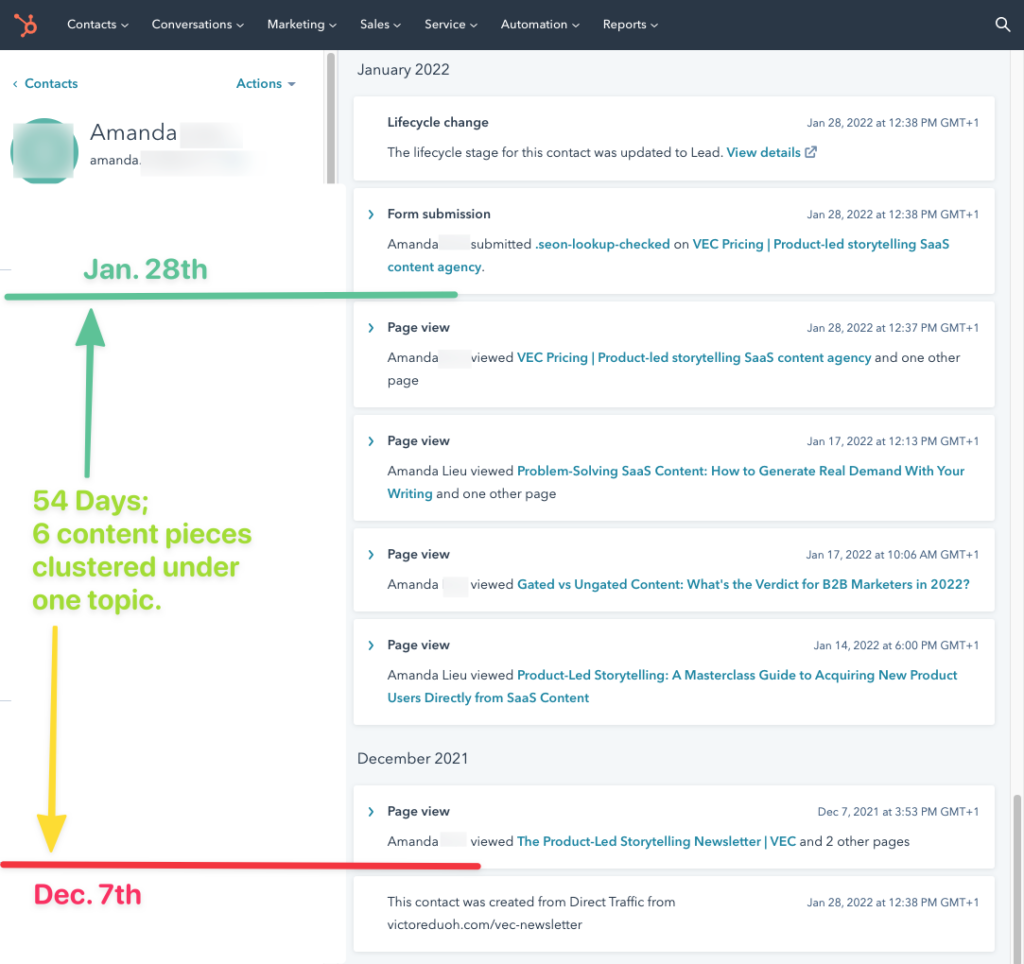 If you're already getting excited about how adopting a cluster content strategy can help you impact sales, I bet you can't wait to learn how to build one.
I'll get there soon.
Before I do, let's discuss another crucial benefit.
Content Clusters Builds Your Demand Gen Engines
Think about this for a moment.
Imagine Amanda didn't discover those six content pieces on her path to booking a sales call. Imagine we didn't cluster our content around topics to build a solid site information architecture.
Our efforts would have amounted to nothing because, although she found one piece, it took more than one article to convince her to consider our services.
And she'll never have considered coming back for more.
Now stop thinking and hear this 👇🏽
Your content strategy should consolidate content pieces that bring prospects back for more. Doing this keeps them on your site longer, increasing more exposure to your product and building your demand gen engines.
Kevin Indig, Founder of Growth Memo, observed this:
"Covering all aspects of a topic is still a good idea and… It's beneficial for users and businesses because when you cover all aspects of a topic and do it well, there are fewer (maybe no) reasons for users to leave your site, and that's big."
Content clusters help you achieve this.
Take HoneyCart, a B2B SaaS client of ours.
To develop their content marketing strategy, we clustered content around topics relevant to how prospects research their business.
Next, we aligned those topics to a Strategic Narrative, which we also designed. Doing this helped them build topical authority, earning top positions for the term, "commission-free catering automation:"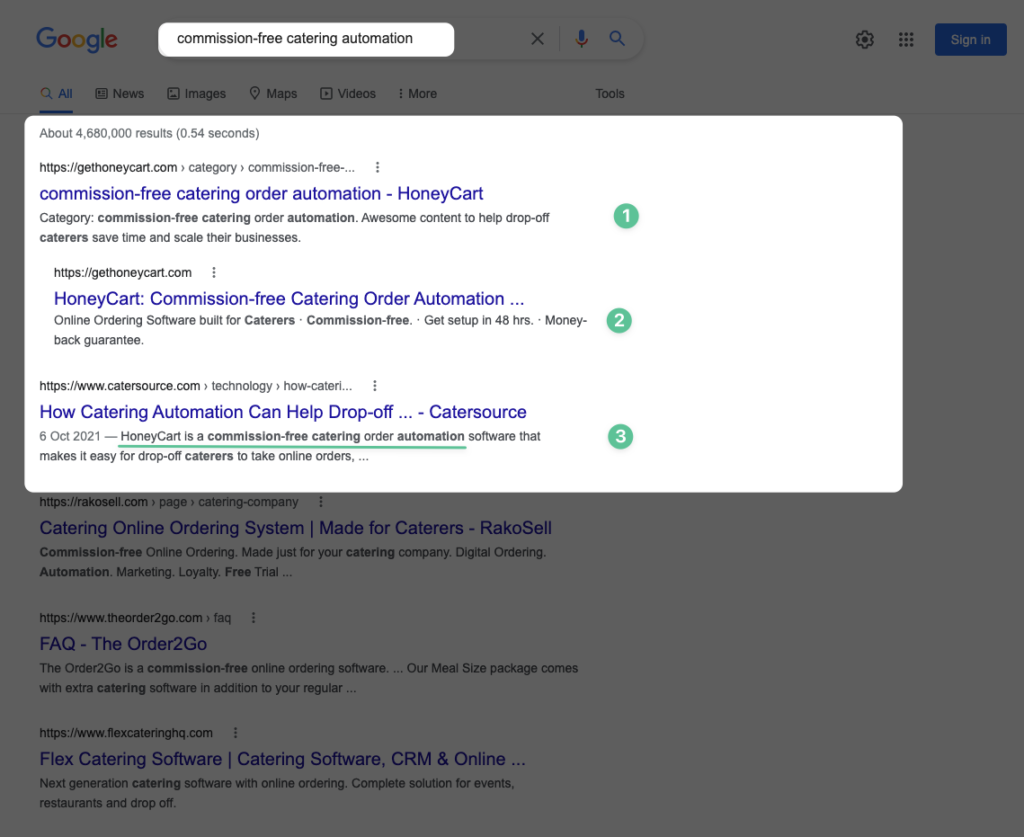 It also fueled demand.
For instance, HoneyCart increased organic clicks by over 800% (~580 to over 4,850). Impressions went up by over 400%, and click-through rates doubled.
All in just six (6) months: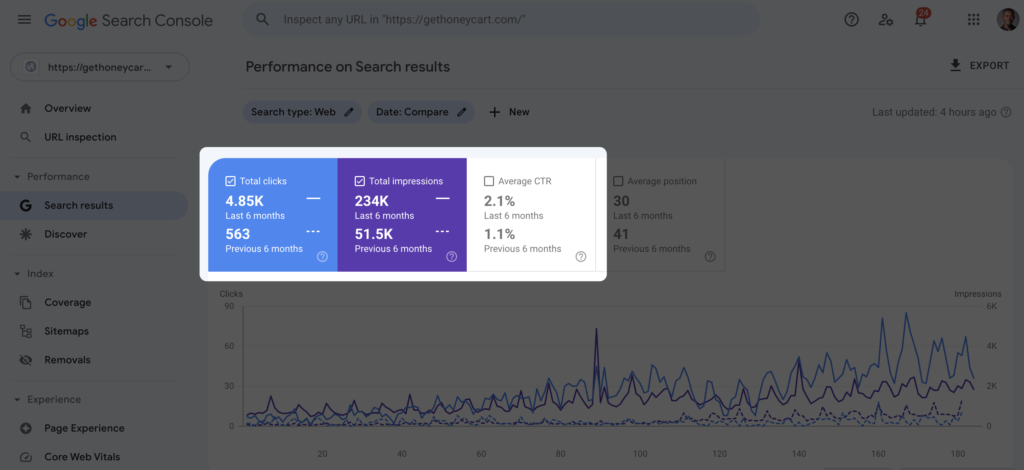 Again, we used our TCCS Framework to achieve all these.
Here's what it looked like for HoneyCart: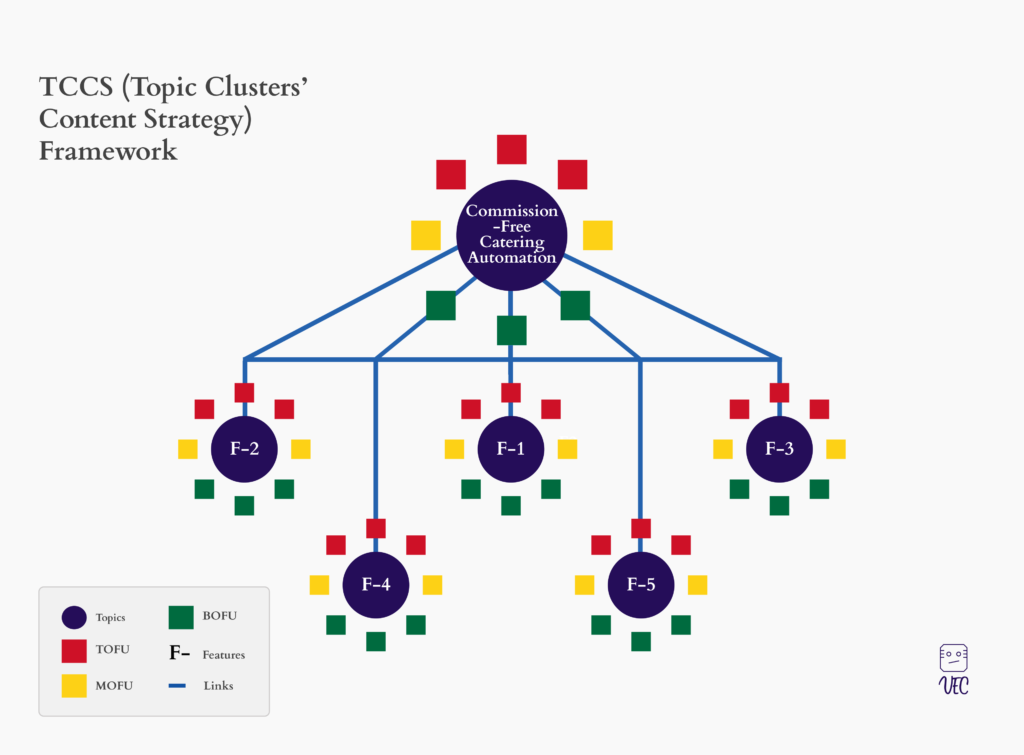 And here's why this makes sense.
It favors Google's ever-evolving algorithm updates, which now prioritize satisfying the overall search intent over creating content to target single keywords. By clustering content around topics, you align with these changes.
But it doesn't just help Google understand your site better.
More importantly, it gives site visitors a better user experience as they can easily navigate your site from one content to another relevant one. Ultimately, this makes your content strategy more impactful as prospects can understand your value proposition quicker.
Our work for HoneyCart proved all these: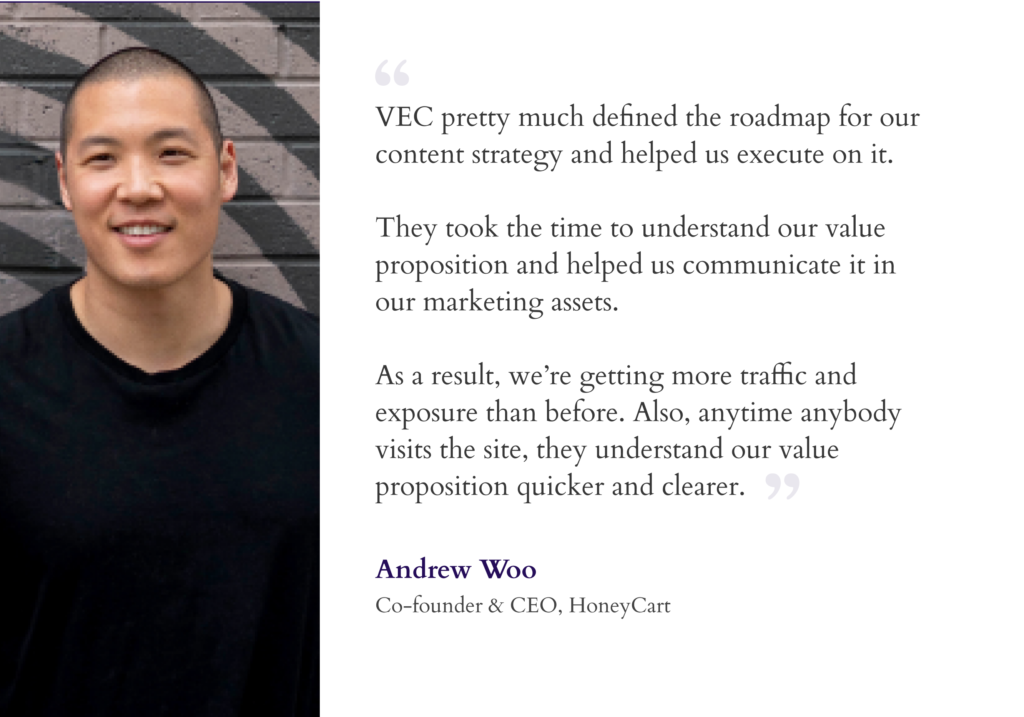 A happy customer testimonial.
Building HoneyCart's content strategy was one thing.
Executing it with high-quality SaaS content writing was another.
To execute and achieve results Andrew was happy with, we leveraged our Product-Led Storytelling approach to craft content that earned mindshare and fueled demand.
I'll come to that soon.
In the meantime: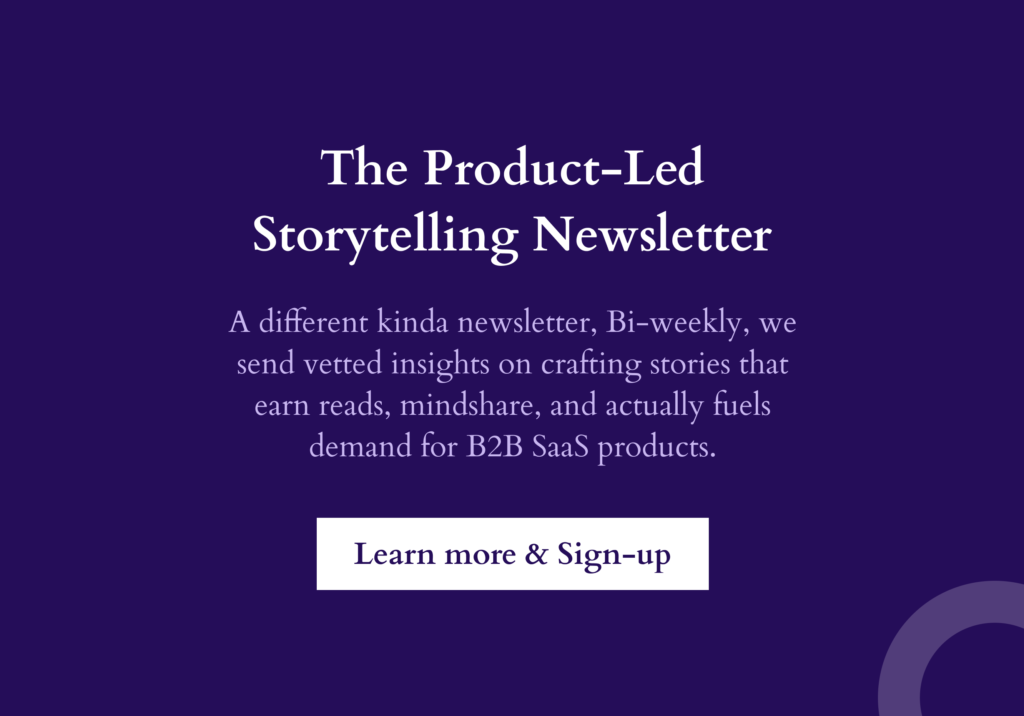 How to Create a Cluster Content Strategy for B2B SaaS
Topics, keywords research, real queries, customer pain points, and, more importantly, your brain.
That's all you need to develop a top-notch B2B content strategy with topic clusters. Okay, you need lots of manual work. But with some tools and VEC's framework, you'll create one with less effort.
Sounds good?
1. Research & Choose Topics Relevant to Your Business
Before now, this step was a pain in the ass.
You'd have needed time-consuming keyword research on tools like Ahrefs, SEMrush, or the likes, and drill deep to identify the topic for each keyword found. Then, export different data to a spreadsheet for manual crunching.
Not anymore.
Thanks to a tool like WriterZen.
This product's simplified content workflow approach makes researching, finding, and choosing topics relevant to your business a breeze.
With just 1-3 keywords, you're ready to go.
Pop a keyword into this product's Topic Discovery tool, and in a few minutes, it'll cluster related topics (along with relevant keywords to boot) for you:
There's more.
Toggle the topical results by relevance or search volume, examine ideas under each topic, and choose those relevant to your business: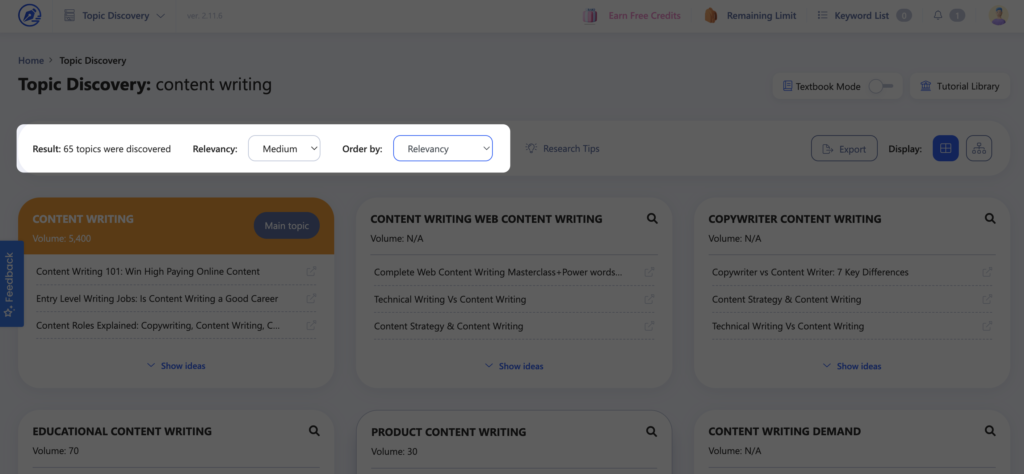 WriterZen finds & filters topics for you.
Want more topics (or subtopics)?
Pop a different keyword into the tool, repeat the steps above, and you'll get new topics to choose from to proceed to the next step.
2. Scrape Keywords & Queries Relevant to Each Topic
We take two approaches to this step.
One is to conduct an extended keywords gap analysis. For this, we feed a template by the Blueprint Training with 5-15 of your competitors' organic traffic reports from Ahrefs, and it'll spit out keywords they're all ranking for, which you're not.
Here's what it looks like:
In-depth keywords & content gap analyzed.
With this long list of keywords and search queries scraped, we spend anything from 5-10 hours cleaning the data to delete duplicates or unnecessary queries.
Yes, it's gruesome work.
And this tool it's not cheap either.
It costs around $7,000 to buy Blueprint Training's SEO program and access this template (and about $200/month for Ahrefs). But you can shelve these costs, the gruesome manual work, and extensive brainpower required by hiring us 😉
Onto the 2nd approach in this step.
To develop a demand-generating B2B content strategy, it's not enough to scrape ranking keywords and queries from Google or your competitors. You must go beyond SEO tools to find real customers' pain points, which your content should address.
Search engines and SEO tools won't capture these, especially if you're marketing a niche product.
And that's where listening to sales, customer success, and customer support calls with real prospects comes in. Always better to hear from the horses' mouths.
Avoma is excellent for this.
Other options include Gong, Chorus, and the likes.
But I love and recommend Avoma to our customers because it does a great job of summarizing questions and pain points shared by prospects and customers while chatting with them.
See pain points direct from my conversations with a SaaS CMO: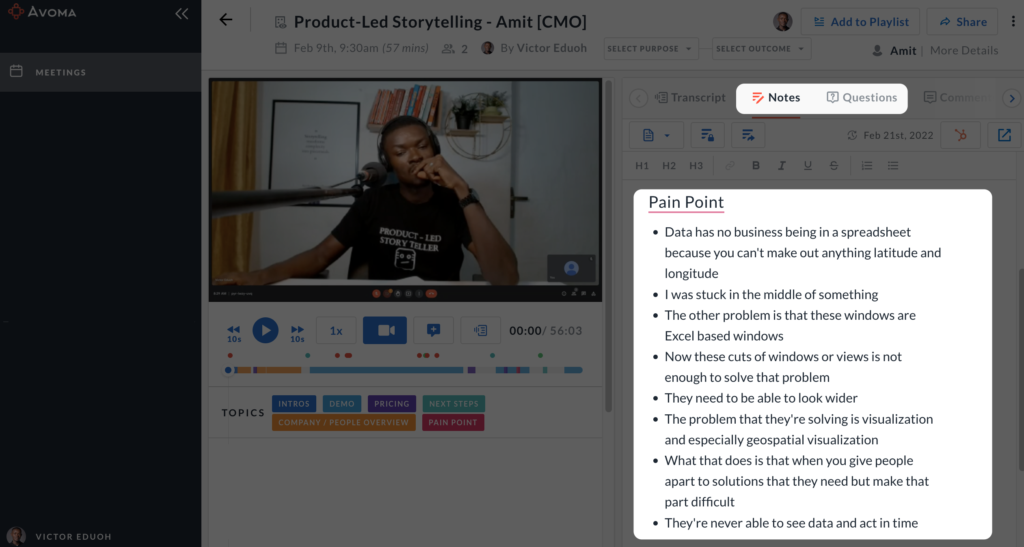 Here's why I prefer (and always start with) this second approach.
If you're concerned with executing a B2B content marketing program more likely to impact sales as we do here at VEC, start here. It allows you to build topic clusters with content ideas that address real customer pain points.
And it's easy to identify more pain points.
Ask your sales, customer success, or support teams to share links to their Gong or Avoma calls with prospects and customers. You'll uncover more pain points your content clusters should address.
3. Map keywords, Queries to Topics & Buyers' Journey Stages
This 3rd step requires common sense and empathy.
From the extended keywords gap analysis and pain points gathered from call recordings, this is where you align them to topics identified in step one.
But it doesn't end there.
You must also map these keywords, search queries, and pain points to your prospective buyers' journey stages. I'm talking about the hypothetical SaaS sales funnel, comprising TOFU, MOFU, and BOFU.
Here's how we go about this.
We'll upload the customer pain points data to the extended keywords' gap analysis spreadsheet. Then, we'll map both keywords and pain points to topics identified in step one and the corresponding buyer journey stages:
As I said, you need empathy for prospects and common sense to do this.
Let me show you an example.
Imagine you were marketing June.so, whose analytics SaaS should target the topic, "product funnel." A solid content cluster for this topic should also map to the typical buyers' journey.
Like this: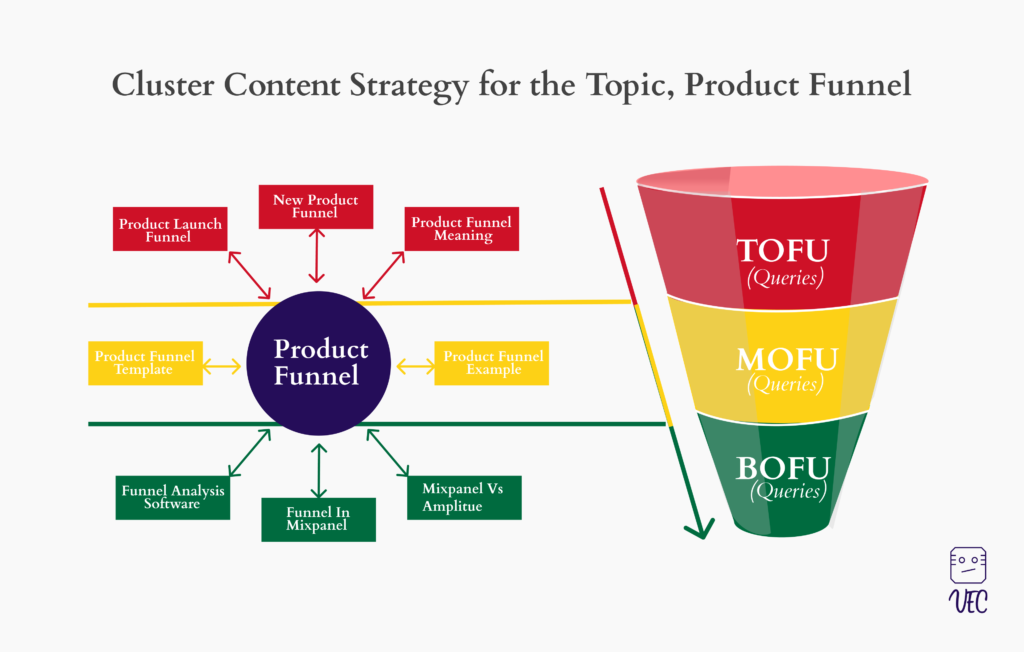 It doesn't end there.
It's also vital you align your content clustering to your product's features. For instance, in the example above, you should align everything (topics and queries) to specific features of your product.
Again, it's gruesome work.
But it's worth it.
Why? Because SEO tools may tell you a keyword or query is informational or transactional. But they don't know the exact pain the searcher is experiencing relative to your product. Neither will they tell you what specific feature of your product would solve those problems.
Common sense helps you discern these.
And with that, welcome to the execution part.
4. Build Your Content Execution Plan
Strategy is nothing without execution.
So let's get to it.
If you followed the steps above, you've identified relevant topics.
You've also done extensive keywords gap analysis, culled buyer pain points, mapped them to your buyers' journey stages, and product features.
Good.
Done well (suppose you're using Blueprint Training's template), you'll get a bird-view summary of how many keywords and topics you have.
Like this: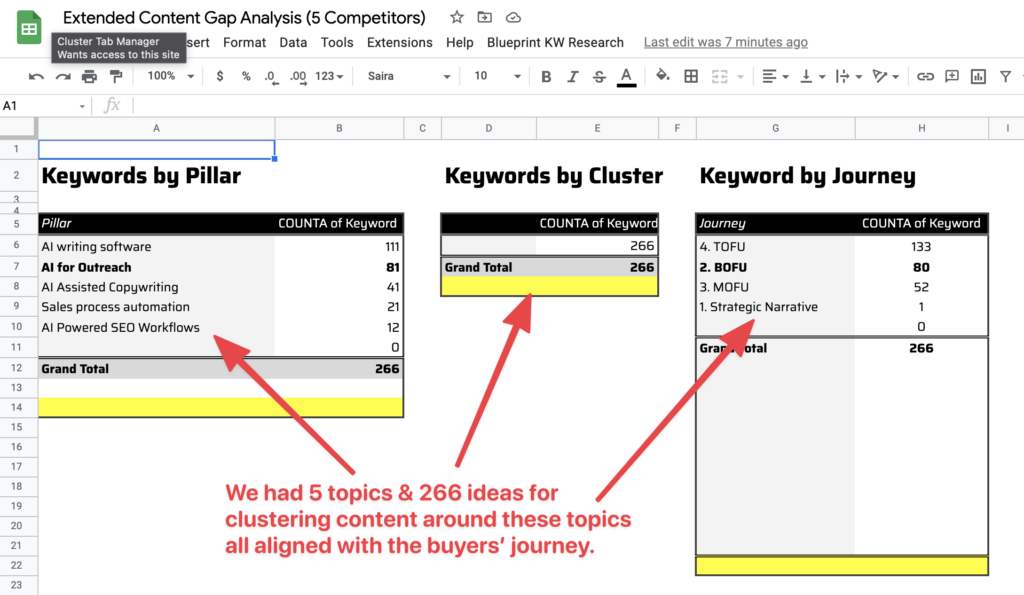 The next step is to create a content execution plan.
When we do this for clients, we work together to prioritize what keywords, search queries, and pain points we should start with:
Then, we use these prioritized keywords and search queries to build a content execution plan. Depending on the plan a client signs up to, this could be an initial 6- or 9-months kick-off plan. Yours could be anything for a start.
Here's a sample:

One thing you shouldn't forget.
Make sure you're focusing on one topic at a time.
Our recommendation is to tackle one topic per month. With a publishing cadence of 1-2 articles per week, from where you can get 4-12 social distribution assets per week, you'll cover relevant queries under a topic.
Doing otherwise takes you against the whole idea of building content clusters. Yes, there are instances where the need to address an urgent problem with content outside your plan will arise.
However, except in those rare exceptions, stick to a plan.
One topic per month.
And gradually, you'll build solid content clusters for each topic.
It'll help you avoid a hazardous site structure with long-form content pieces published in a disordered manner like this: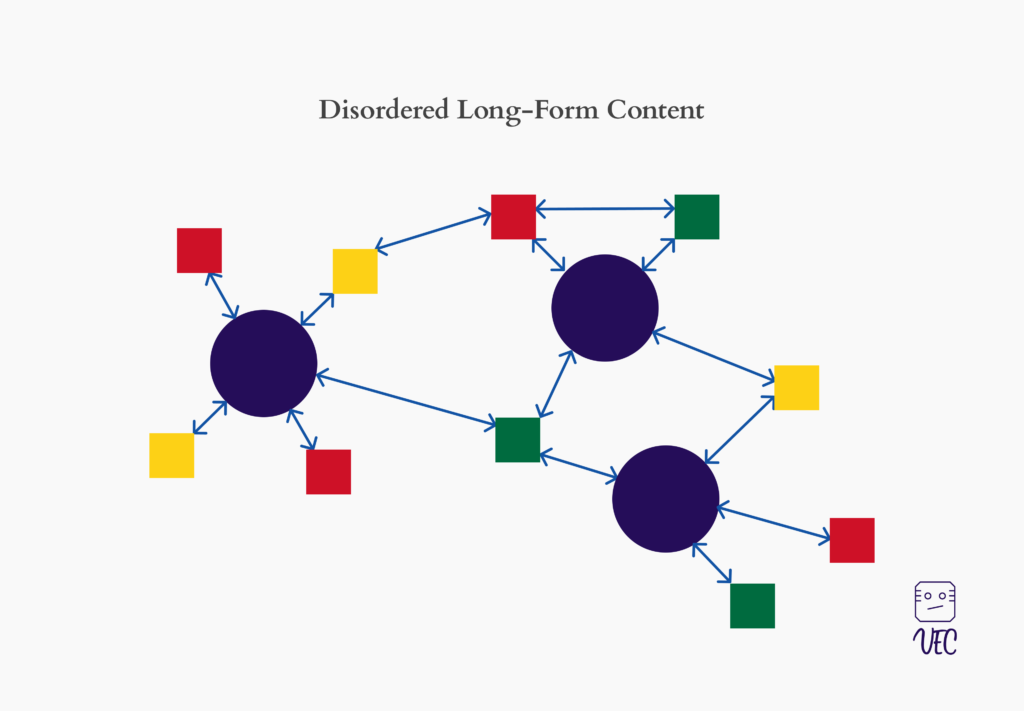 5. Decide Pillar Post Types, Create & Link Content
With your plan created, it's now time for content creation.
But before you start…
What would your pillar post type be?
Let me rephrase.
What page must all content pieces clustered around each topic be linked to?
For B2B SaaS products like yours, we recommend two pillar post types.
The first one is the classic hub and spoke.
This pillar post type works where it requires several product features to address problems relevant to a given topic. It's perfect for creating ultimate guides with internal links to other content in the cluster.
Let me explain.
Say you're Kula, the new recruitment automation platform, and it requires three (3) of your product's features to solve remote hiring problems. In this case, you can't map the topic, "remote hiring" to one feature.
Instead, you'll take a 'hub and spoke' pillar post approach.
Here, content pieces clustered under the topic, "remote hiring," would tackle problems addressed in each content piece. Then each piece in the cluster would tie in a specific product feature, relevant to the problem it is addressing.
Here's what it looks like: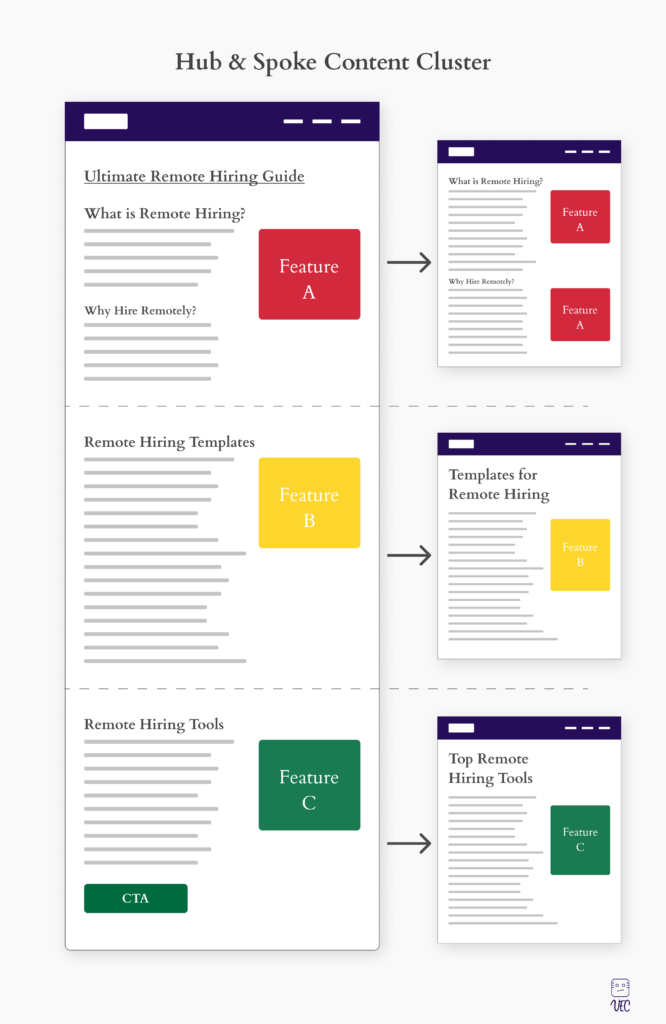 The second is what I call feature-specific content clusters.
Unlike the first, this pillar post type works where a specific feature of your product solves all problems addressed by content pieces clustered under a topic. In this case, you'll create a landing page for that feature, and it'll double as the pillar post.
Then, you'll link all newly-created content clustered around the topic to the feature page.
Here's an example of this.
Our customer, WriterZen, has an AI-writing assistant feature in its simplified content workflow software. So when developing its content strategy, we built a topic cluster with this feature's landing page as the pillar post.
As we create content, mapping keywords and queries in this cluster, it'll look like this: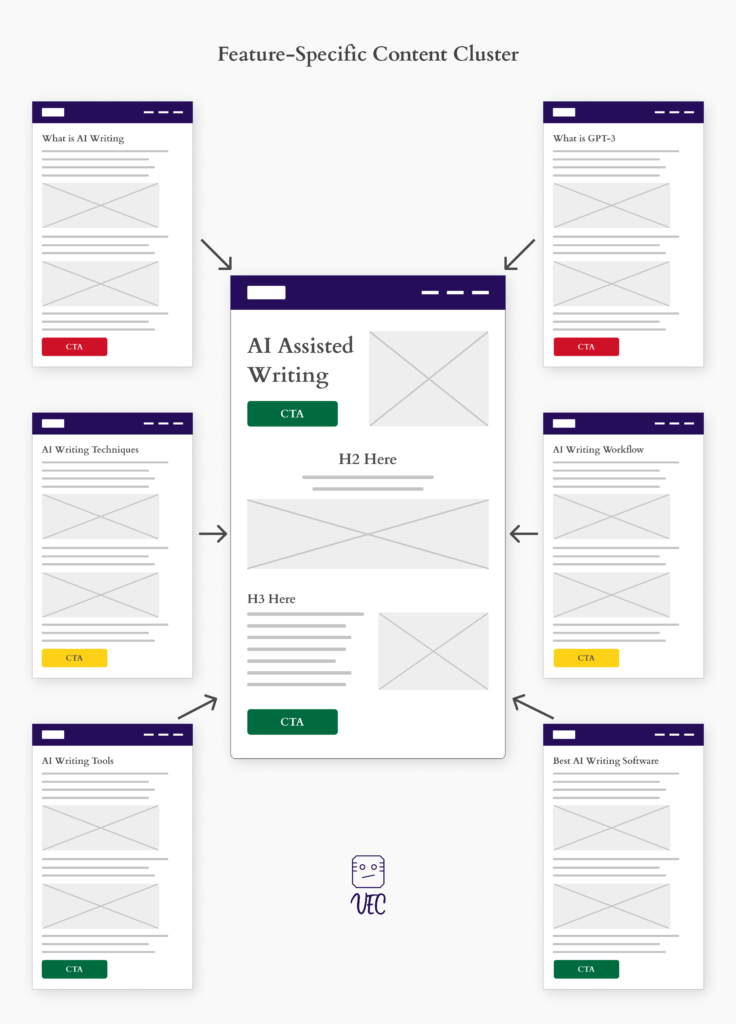 Do you love what you've seen so far?
Then…
Adopt the Topic Cluster Model, Build a Demand-Generating Content Strategy
Did you notice something in both pillar post types above?
In case you missed it, they showed how the cluster content strategy:
Align topics to specific product features, and
Mapps them to the buyer journeys (TOFU, MOFU, BOFU),
So adopting this approach ensures when you create content, you can show (not just tell) readers how specific product features solve problems each piece addresses.
And when you cluster these content pieces under a topic, you align content to relevant touchpoints on a prospect's path to becoming a customer.
Again, our own data proves this: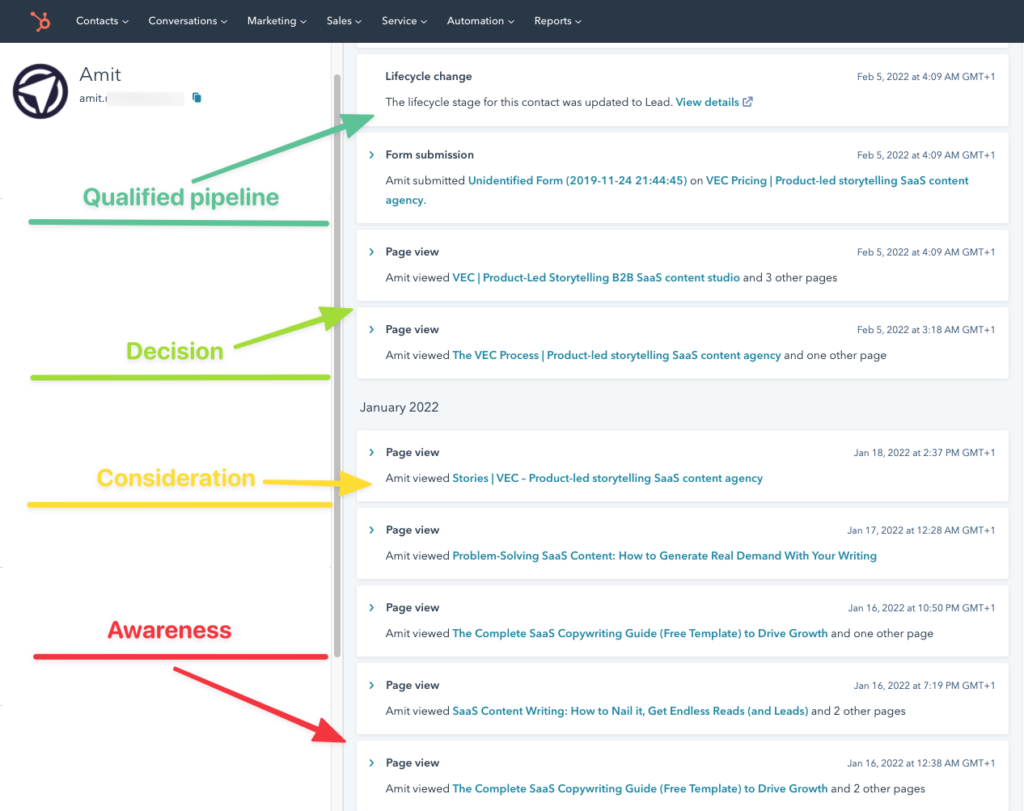 Per HubSpot's attribution, Amit read six (6) content pieces we clustered under the "SaaS copywriting" topic on his path to becoming a qualified sales opp.
This brings me back to the Chinese proverb I started with:
"独木不成林,单弦不成音"
Again, in English, it means…
"A single tree does not make a forest; a single string cannot make music."
In the same vein, and relative to building your B2B content marketing strategy, the content clusters strategy helps you string content pieces under topics to unlock growth rhythms.
Doing this does two crucial things.
It helps you tie in specific product features and map content pieces in each topic to the typical buyers' journey:
Also, it helps ensure that no matter the volume of new content pieces your team creates, you can publish them under relevant clusters.
The result, especially if you leverage VEC's TCCS (Topic Clusters Content Strategy) Framework, is an organized site structure that looks like this:
And the result of having this solid site structure?
Prospects will have good reasons to visit more often.
They'll also understand your product's value proposition quicker as they navigate your site, helping you drive real demand directly from content marketing.
Again, our clients' testimonies confirm all these:
Happy customer testimonial.
Sounds like too much work?
Need help developing a cluster content strategy for your B2B SaaS? Check out our pricing page.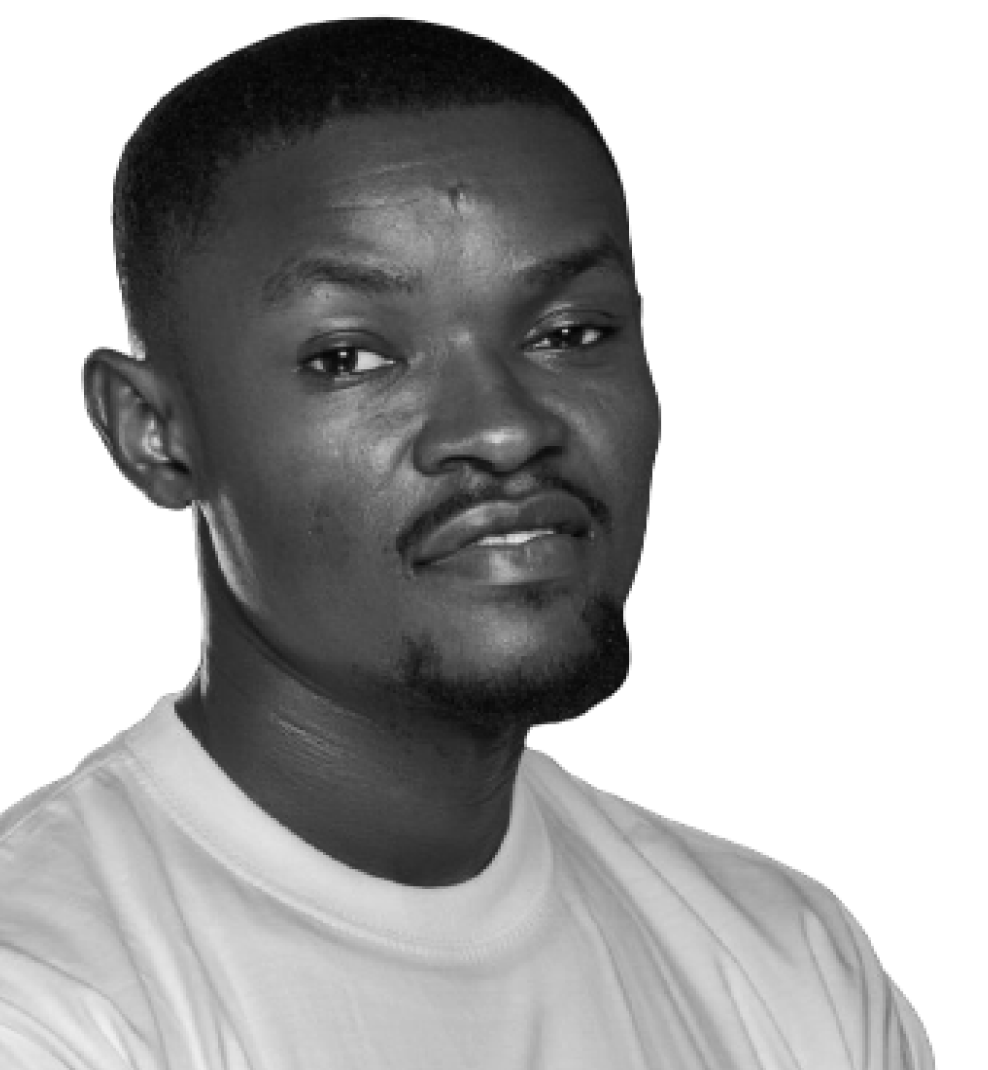 Victor Eduoh
Lead Strategist @ VEC
Founder, Lead Strategist @VEC. Thinker, reader, words-crafter, and husband to Omosede. Besides crafting product-led stories, I love scouting and grooming rare marketing talents.
Get our insights in your inbox
Actionable summaries of stories told by experts on how they grow brands (and their careers) with content from our Growing with Content podcast. And well-researched insights crafted in the VEC Studio.
I will send you a copy of our Content Quality Checklist –FOR FREE– when you subscribe.