VC Content Marketing: Dissecting First Round Capital's Brand Differentiating Content Playbook
Seeking to optimize your VC firm's funnel of deal flow and win competitive rounds? See how First Round does it by differentiating themselves with content marketing.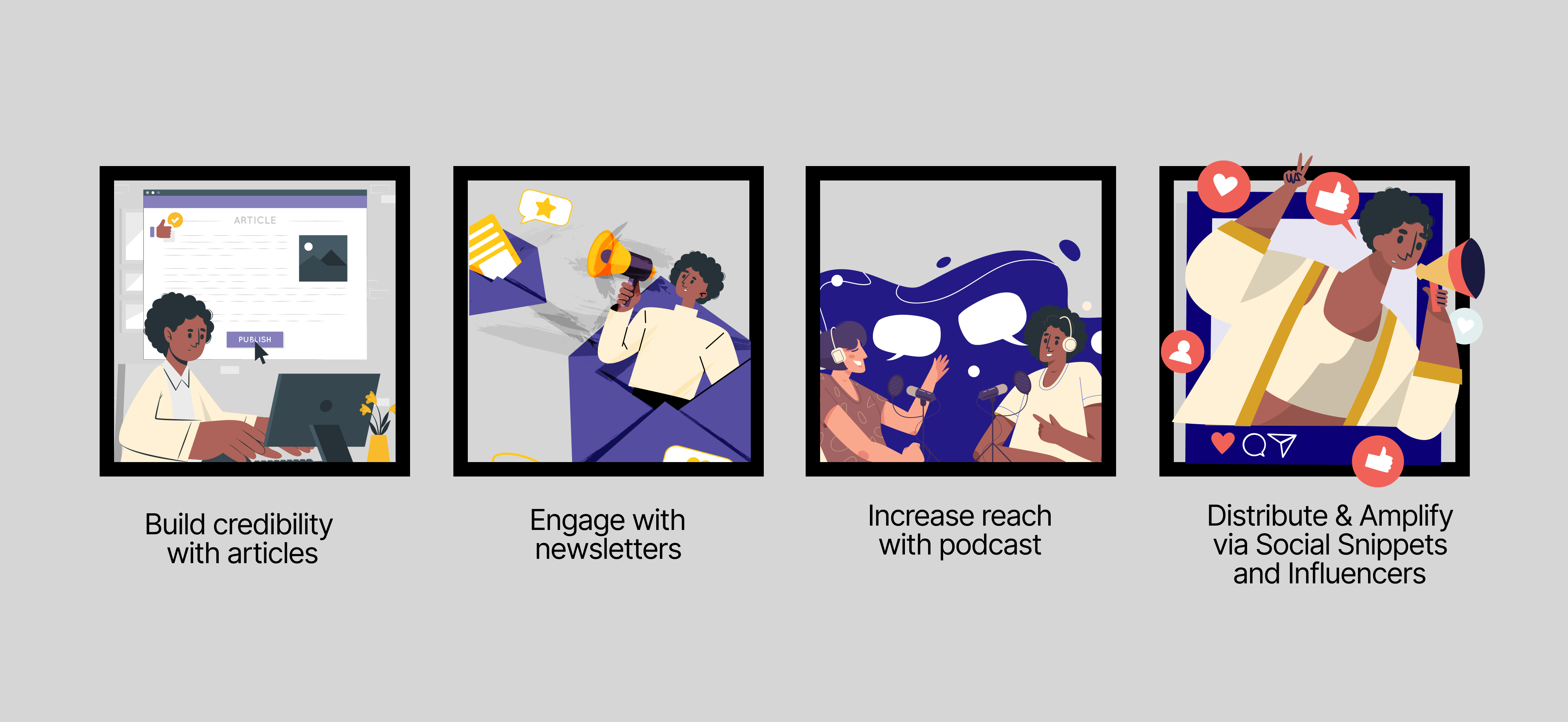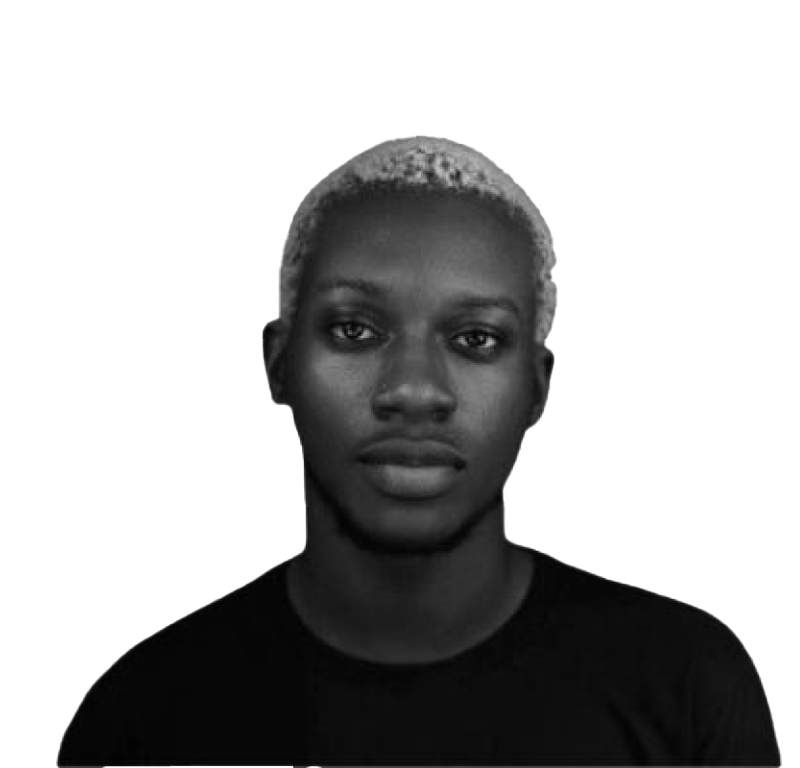 Not too long ago, you were like magnets to startups — you and your fellow VCs.
Capital was scarce while startups grew like a virus. And so, your access to capital gave you an upper hand when relating with founders. You had the negotiating power.
Fast forward today, that power has changed hands.
Venture investment, according to Crunchbase, was up 95% year over year to over $288 billion in the first half of 2021 alone. From VC to alternative financing, there's now more money and options available to startups.
In the words of Karim Gillani, Founder of Luge Capital:
"The time between meeting a founder and closing a round is getting shorter and shorter because there's so much liquidity."
The implication of these?
Your VC firm can no longer attract potentially high-growth companies by providing only capital. That's no longer enough.
What is, then?
A solid brand differentiating you from the rest.
Speaking about the importance of a strong brand, Jasel Mehta, Partner at Forward Partners, a London-based early-stage venture fund, said:
"Money flows like water to top-tier founders. Branding – only when backed up with a great proposition – is a way for VCs to cut through and win top-tier founders. A strong brand is what can take you from being known to liked to perhaps even loved."
Jasel isn't the only investor who thinks this way.
Akash Bajwa, a VC Analyst at Cass Entrepreneurship Fund, says:
"From an investor's standpoint, differentiating yourself and publicizing this is one of the best ways to optimize your funnel of deal flow and win competitive rounds. If a founder knows what they're getting from you by way of your brand, it makes it easier for them to decide if you're a good fit."
But how does a fund achieve this differentiation, get the support of limited partners, and attract star entrepreneurs?
By leveraging VC content marketing.
According to the Content Marketing Institute:
"Content marketing is a strategic marketing approach focused on creating and distributing valuable, relevant, and consistent content to attract and retain a clearly-defined audience – and ultimately to drive profitable customer action."
In your case:
Clearly defined audience = founders you're trying to attract,
Profitable customer action = win competitive deals.
So let's rephrase:
"Content marketing is a strategic marketing approach focused on creating and distributing valuable, relevant, and consistent content to attract and retain startup founders – and ultimately to win competitive deals."
In the same vein, the B2B Content Marketing 2021 Report found:
"The top five most common content marketing goals in 2020 were: creating brand awareness (87%), building credibility/trust (81%), educating audiences (79%), generating demand/leads (75%), and building loyalty with existing customers/clients (68%)."
With brand awareness and credibility leading the list, it's no surprise that some VC firms have successfully leveraged content marketing to build a solid brand and now standout from the red ocean of VCs.
First Round Capital is one of such firms.
According to this Inc.'s article:
"First Round Capital, an 11-year-old VC firm [at the time of the article] that invests primarily in tech startups, has built its brand through content marketing to attract a following of more than half a million monthly website visitors and over 100,000 newsletter subscribers, through its branded publication, First Round Review."
In this article, I'll break down their content strategy into digestible bits, show you how to emulate them, and do even better.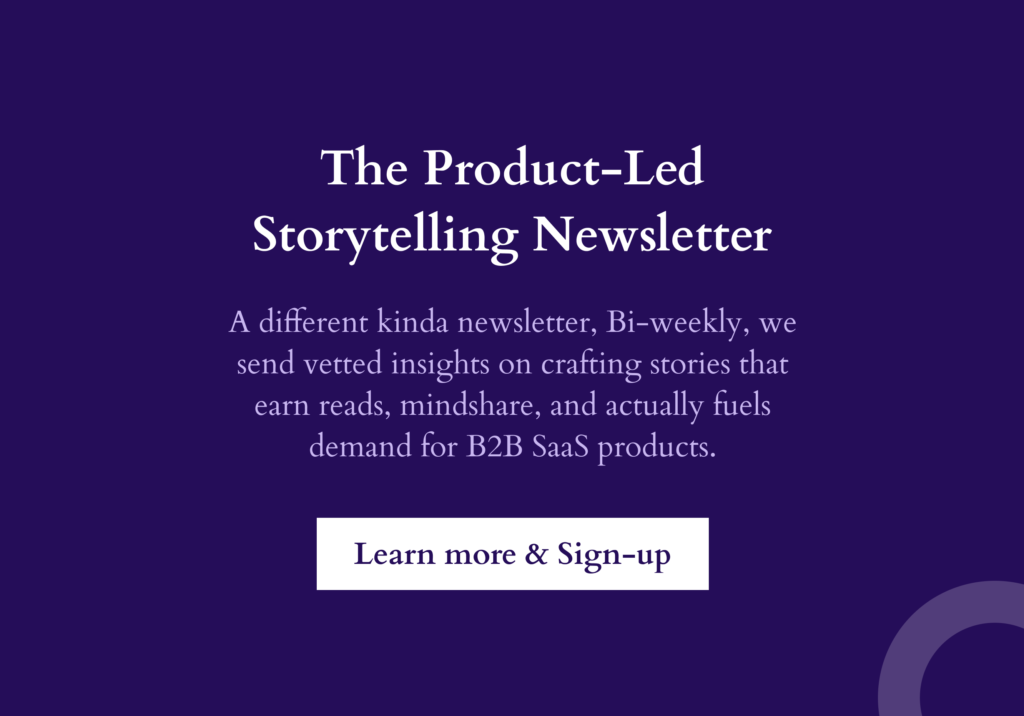 What I'll Cover
How First Round Capital Differentiates Itself From Other VCs
First Round Capital has backed over 300 companies, including Uber, Square, One Kings Lane, Hotel Tonight, Fab, and Refinery29. Eqvista ranks it as one of the top 100 Venture Capital Firms in 2021. It's also in the top 20 of Valuer's 100 Top Venture Capitalists in the USA. And 80% of its backed companies graduate to Series A (against the industry's average of 31%).
But guess what?
None of these is First Round's strongest brand differentiator.
What is?
Its content hub – First Round Review.
Don't take it from me.
Chris Fralic, a Board Partner at First Round, said it himself:
"First Round Review has become the thing we're more known for."
First Review features original content pieces across different topics, from fundraising to management to engineering to leadership. Here's the rationale behind the publication, in the words of the First Round Capital team:
"We know we're a venture fund, not a publishing company. But many venture capitalists have published amazing content in their personal blogs before. The difference is that while other VCs have done a great job sharing their personal observations of the market and their personal thoughts on how to build and finance companies, we're going to be primarily focused on sharing actionable knowledge from the best practitioners — the ones actually in the trenches building."
They have kept true to this statement.
In this article, Zach Shulman writes:
"First Round Review repository is outstanding and should be a go-to resource for any startup founder."
And according to 256, a Content Marketing Agency:
"First Round Review is undoubtedly one of the premier sources for advice among entrepreneurs looking for venture capital."
Jimmy Daly, Cofounder, and CEO of Superpath, quipped:
"The First Round Review, the content arm of First Round Capital, has earned a reputation as one of the best publishers of startup and tech content on the web."
In all, First Round Capital has managed to expand their brand, increase awareness among their potential partners, and help their portfolio companies secure great talent – all through First Review.
In short, they garnered over 730,000 web visits in October 2021 alone:

What's more?
33.5% of those visits are from their content found from organic search:

Huge!
Now that we've seen the bigger picture of First Round Capital's differentiation, let's break its content strategy down into actionable tidbits.
How First Round Capital Differentiates Itself From Other VCs
First Round Capital's content strategy is built on a formula I named BEID.
It means:
Build credibility with articles
Engage with newsletters
Increase reach with podcast
Distribute & Amplify via Social Snippets and Influencers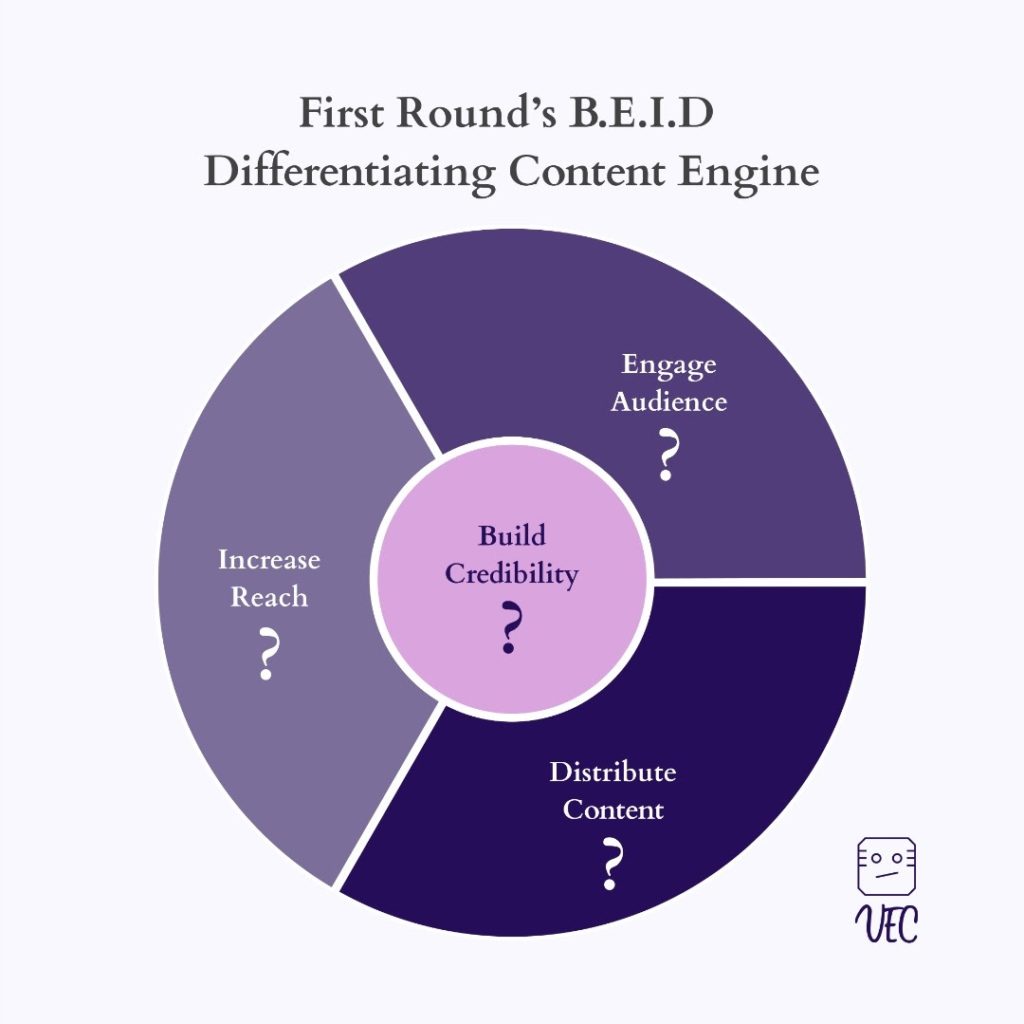 Build credibility with articles
70% of people would rather learn about a company through articles. First Round Capital understands most founders fall in this statistic, hence the intense use of articles to showcase their expertise.
Speaking about how they've managed to build credibility with these articles, Camille Ricketts, Founding Editor of First Review, said in this interview with Flipboard:
"Instead of our content coming from the company or even a content marketer at the company, we interview people who are known, proven experts at whatever it is that they're doing, and we write the articles in such a way, without bylines, that it feels like that person is speaking to you. So that's one thing—we feel like we're borrowing credibility."
Furthermore, these articles are actionable and well-targeted to their audience.
For example, the piece, How to Take Personal Development Off the Backburner, shares the best low-lift ideas for integrating elements of personal development into one's daily routine. It's actionable, clear, and specifically helpful to its target audience – startup founders: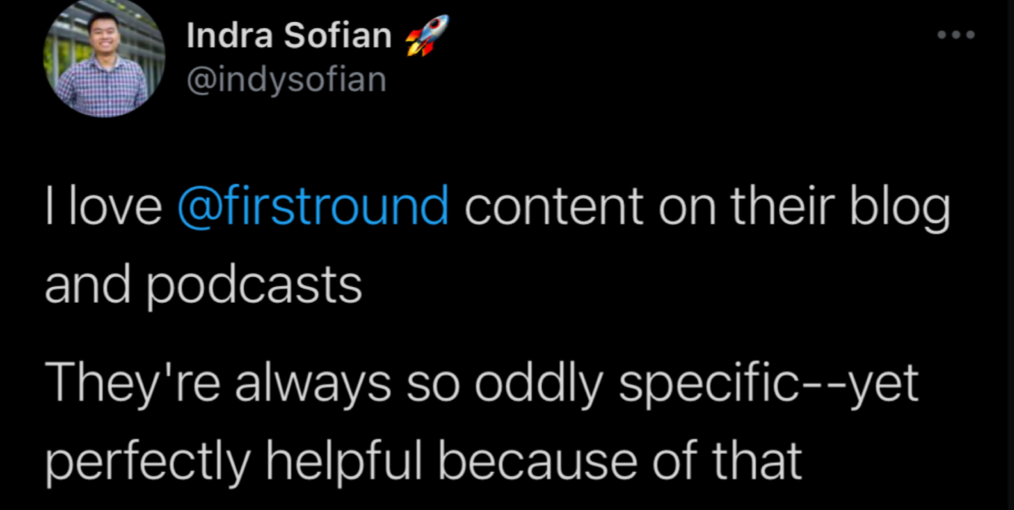 This quest to build credibility with in-depth articles has made First Round Capital one of the most visited VC websites. One of their articles, "How Etsy Grew their Number of Female Engineers by Almost 500% in One Year," received over 100k views and got press attention from Forbes, The Atlantic, and Huffington, cementing their credibility.
As Gabe Kleinman, Head of Portfolio Services and Marketing of Obvious, wrote in this article:
"First Round Review has become a household name in Silicon Valley by uncorking a sea of "powerful, untapped knowledge trapped in other people's heads."
Engage with newsletters
Over 87% of B2B marketers say email is one of their top free organic distribution channels, according to a Content Marketing Institute report. And 40% of B2B marketers claim email marketing is a tactic critical to their success.
First Round Capital leverage these email benefits with their weekly newsletter, where they share their latest reads, favorite interviews, and everything in between:

They don't spam their prospects with ads or campaigns. Instead, they connect with subscribers personally through value-add content. This has culminated into over 100k subscribers.
In Camille's words:
"You want there to be a mini-explosion of people sharing your content. The newsletter precipitates that for us."
Increase Reach With Podcasts
Barely a few years ago, only 22% of adults in the United States knew about podcasting. In 2021, that number has tripled. About 78% of Americans are aware of podcasting, with over ⅓ of them listening to podcasts frequently.
Here's a crazier fact.
More Americans listened to podcasts weekly than they attended church in 2020: 24% vs. 23%, to be precise.
As a result, it shouldn't be surprising that podcasting is a vital aspect of First Round Capital's content strategy. Its podcast, In Depth, allows listeners to listen to conversations on company building. Through this, its tactical advice is easily conveyed in ways articles might not have done justice: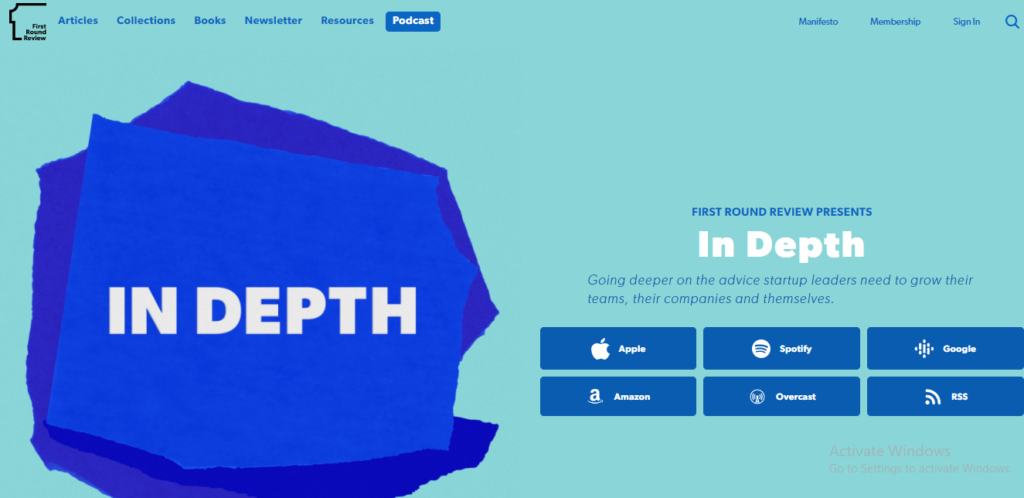 This has helped them build an effective relationship with listeners, differentiating them from other seed-stage VC firms:
Raza Kazi wrote about this:
"It doesn't matter if you're the first in your industry to create a podcast or you're the latest in a long line of brands adopting the method. Podcasts can help you build up your authority. When you give people more ways to consume your content and hear from the experts in your team, you become the go-to people listeners want to hear from and talk to."
Distribute & Amplify via Social Snippets and Influencers
Andy Crestodina, Co-Founder of Orbit Media Solutions, once said:
"It's not the best content that wins. It's the best-promoted content that wins."
In a world where:
60% of marketers create a piece of content each day,
952 posts are posted on Instagram each second,
8,727 tweets are posted to Twitter each second,
There have never been truer words than Andy's statement.
And like Matthew Gratt opined:
"People don't find content by mistake or by accident. Every content plan needs a complementary promotion plan that combines paid, owned, and earned media."
Similarly, First Round Capital's massive success isn't by chance. Instead, distribution and amplification via social snippets is the secret to their virality.
For example, take a look at how they promoted their piece on Design Leadership Playbook: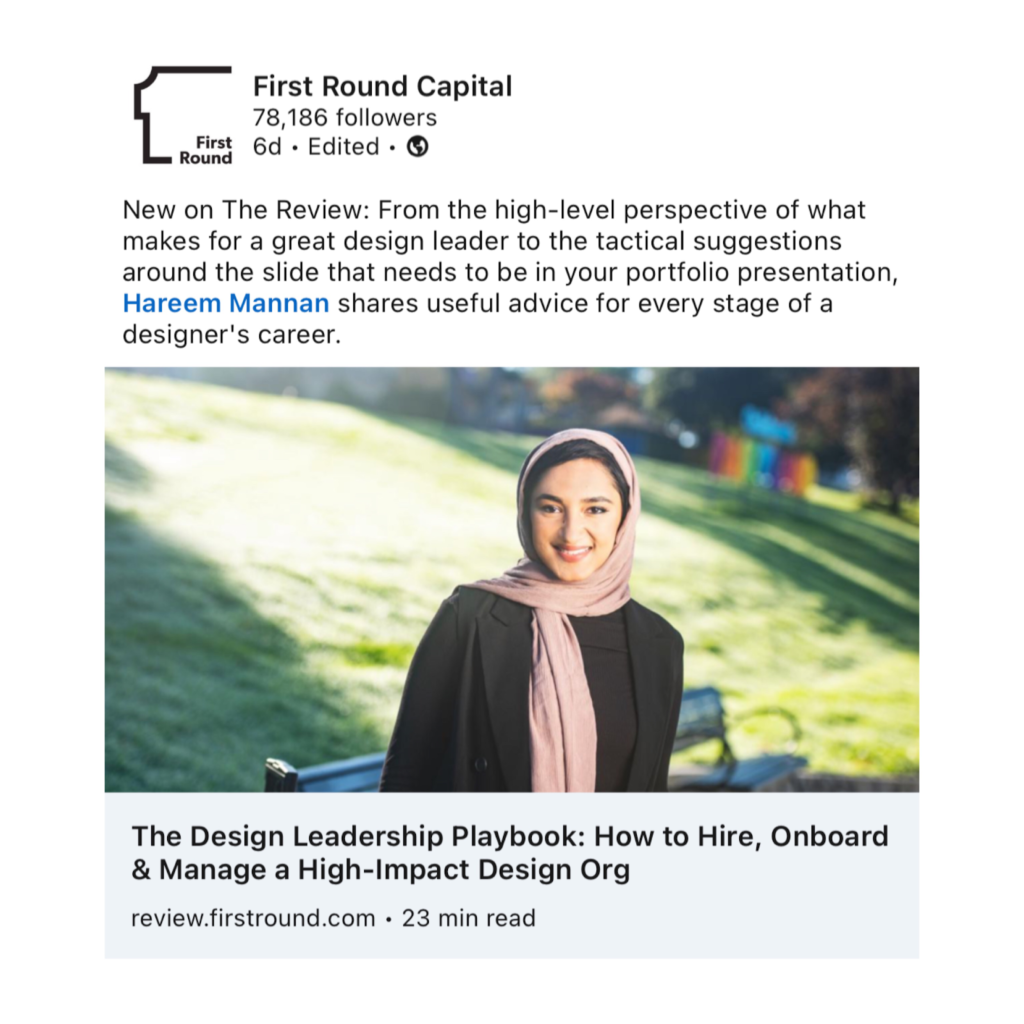 Via LinkedIn:
Via Twitter
That's not all.
The First Round Review's team also leverages their network of influencers to amplify their content across the web.
Camille explained this strategy in this interview:
"We've tried to cultivate our audience of influencers a little bit by building a slack bot—called Influencer Bot—so whenever anyone in our audience has over 10,000 followers and shares or reviews a story, we get pinged and can choose to engage with them further or help extend their brand by retweeting or sharing with our First Round staff internally. We nurture our influencer audience in a way that will keep them excited about our content."
The result of all these?
Distribute & Amplify via Social Snippets and Influencers
And there you have it, First Capital's B.E.I.D content engine:
Remember the earlier definition of content marketing [for VCs]?
"Content marketing is a strategic marketing approach focused on creating and distributing valuable, relevant, and consistent content to attract and retain startup founders – and ultimately to win competitive deals."
First Round Capital follows this definition to the letter.
Here's how:
Their marketing is strategic and aligned with their mission, which is, "get out of the way and let experts speak directly to you about what they believe is most important."
They create valuable, relevant, and consistent content in the form of interviews with business professionals and founders,
Through the distribution of these content pieces, they attract and retain startup founders,
Beyond that, they've become known as a reliable information hub for startup founders.
You, too, can replicate all these and even better.
Here's how.
Define your audience
When Camille started The Review, the first thing she asked was: "What is the number one thing that all of these early-stage founders want?"
And the answer?
"They all want to be able to go to coffee with somebody who's already done everything that they are thinking of doing."
She knew this because she had defined the audience she wanted the Review to attract. This helped them steer their content strategy in the right direction.
Likewise, you should define your audience before executing other aspects of your content strategy. If you have already defined your Ideal Customer Profile, good for you.
And if you've not?
Conduct a report on your best portfolio companies, then deep dive into their founders' social networks to note their job title, industry, and company size. Also, interview 10-20 "look-alike" prospects.
For better context, you can directly interview some of your existing customers by asking them:
What are you stressed about?
What are you trying to learn presently?
Who are your favorite writers?
Are there articles you recommend?
What about those pieces stand out for you?
Once you have your findings, document and try to distill them. Connect the dots to identify common pain points and topics they care about. These will inform the next steps.
Craft Your Strategic Narrative
You need a solid strategic narrative to build a strong brand.
A strategic narrative is a single short story that paints a long-term picture of what your brand intends to achieve. If this story is exceptional, you'll easily attract founders and compel them to believe in your company.
A strategic narrative doesn't benefit only you, though. It helps your customers figure how your brand resonates with them within the context of your service or their larger culture.
First Round Capital's strategic narrative is simple:
Become the Harvard Business Review for startups.
Accordingly, all their efforts are geared toward fulfilling that narrative. Just as Harvard Business Review is a trusted source for business and management professionals, First Review has become the destination site for startup founders.
Check this article to learn more about creating a strategic narrative.
Establish Your KPIs
Imagine I asked you to join me on a road trip, but when you asked me for the location, I replied, "no idea!"
Ridiculous, right?
That's akin to how companies try to execute content strategy without setting KPIs (the strategy goals). So it shouldn't be surprising that only 11% of companies rate their strategy as excellent, according to SEMRush's survey.
How do you fall in this small category of excellent companies?
By establishing KPIs.
You should consider what you want to achieve with your content strategy. Since you're a VC trying to achieve differentiation, your goals will most likely be to:
Reach a larger base of entrepreneurs,
Increase awareness among potential partners.
This boils down to brand awareness.
And so, your KPIs should include:
Branded visibility – This metric calculates the number of people who found you firm via organic search or social.
Brand name mentions – The frequency of how much people talk about you online is the best indication of brand awareness. This is where social listening comes in. You should pay attention to what people say about your brand and the number of times it's mentioned. There are tools to help you achieve this.
Share of voice – The measurement of how often your brand is mentioned compared to your competitors.
Earned media – Comprises organic references and mentions of your brand in external blogs, articles, and social accounts.
Referral traffic – Shows how much traffic comes to your website from external sources.
Social shares – Measures the performance of your social media campaigns. If your brand is quite popular, you will get lots of shares.
Unique page visits – Reveals the number of people visiting your page daily, weekly or monthly.
You can easily track your progress with these metrics.
Establish Your KPIs
A content audit is the right opportunity for you to analyze, organize, and re-optimize your content to achieve success similar to First Round Capital.
Here are quick suggestions to implement content audit for your VC firm:
Decide the type of content you want to review.
Take inventory of the identified content.
Catalog your content into the audience's journey stage, content type, content format, and their impact on the previously identified metrics.
Collect and analyze data using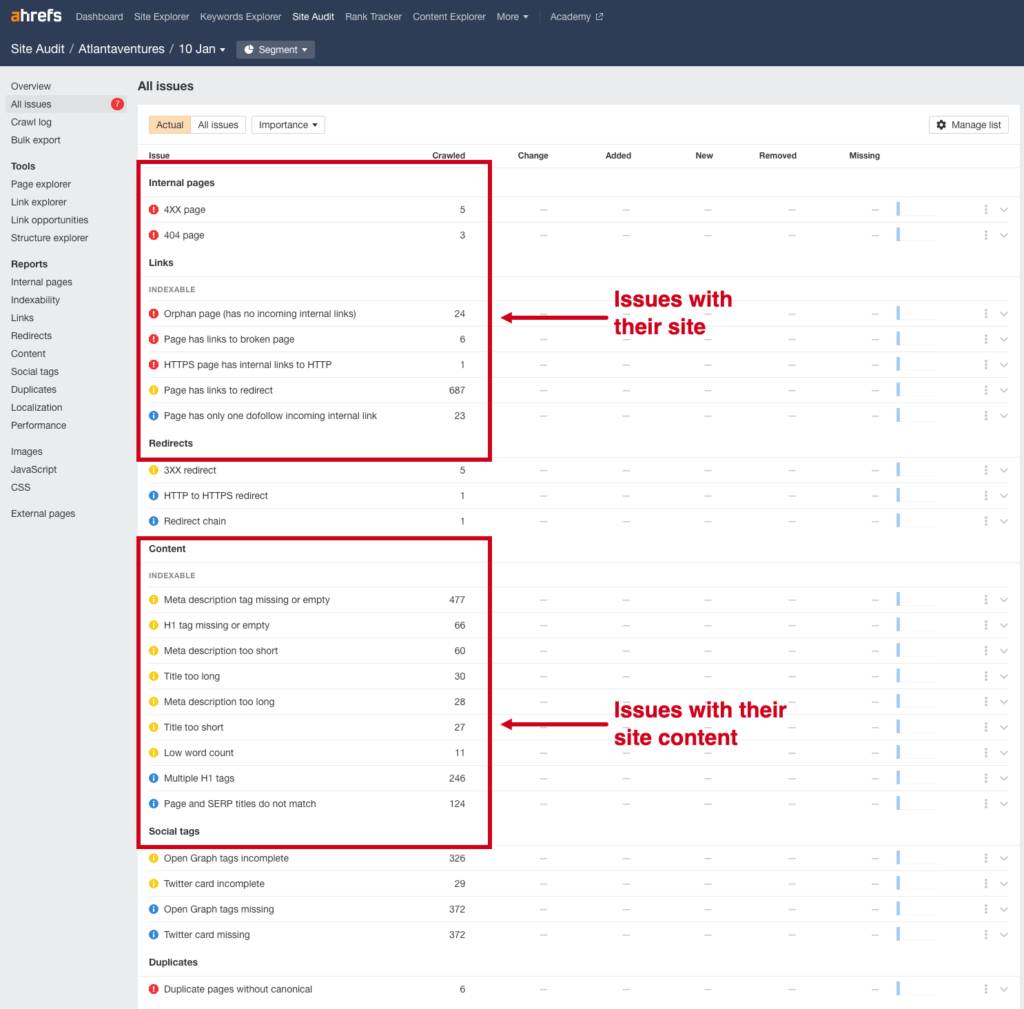 Site & content audit of Atlanta Ventures' VC firm with Ahrefs.
Assign the analyzed content assets into any of these statuses:

Keep: This covers top-performing content, success stories, and general information about your fund. You can reuse them as part of your upcoming content marketing strategy.
Update: This covers poor-performing content, including articles with outdated information and low traffic. Figure out how you can improve them.
Delete: This comprises irredeemable pieces of content. Examples include content related to a specific event, old campaigns, and duplicate content. Remove them from your website as they might be outdated.
In all, take note of what works and zero in on them. Your audit shouldn't stop here, though. Ensure you do it frequently, e.g., once a month or every quarter.
Create A Content Topic Cluster Strategy
Content topic cluster strategy means developing, linking, and promoting relevant articles around topics that can drive your business growth. In this case, you should cluster audited content and the new ones you'll produce under relevant topics.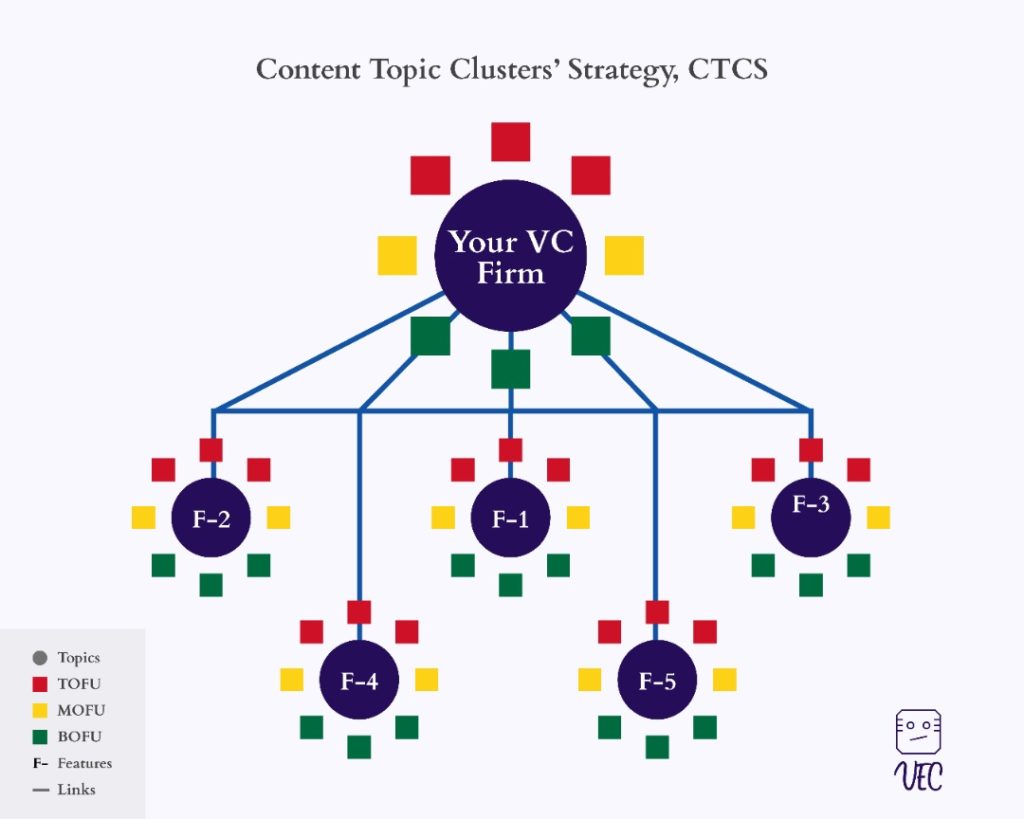 Doing this helps you build topical authority on those topics, as well as increased traffic and brand mentions. We wrote a guide detailing how to go about it.
Read it here.
Decide Your Content Formats
First Round Capital publishes mostly long-form articles. Although this was against the norm at the time they started, they managed to scale through because their research revealed their audience wanted comprehensive overviews of building and scaling a business.
Later, they added email newsletters and podcasts to their content formats because of their effectiveness in capturing their audience's attention.
In the same vein, narrow down the best content formats that can meet your audience where they hang out. Once you do, assign your CMO to create a budget highlighting the resources needed to execute your content strategy.
Figure Out the Best Content Channels
HubSpot defines content distribution channels as:
"the channels through which you share and promote the content you create. "
Just as there is a myriad of content formats available, there are several channels you can publish your content, namely owned, earned, and paid:
However, you shouldn't focus on all these channels. If you do so, you'll wear your content team thin. Instead, be strategic.
Cameron Chapman, Head of Content at Uxcel, conveyed this succinctly:
"Don't try to do it all. It's better to be awesome on one or two channels than to overextend on six."
Here is an article to guide you through choosing the right content channels.
Strategically Write, Manage and Promote Conten
This is the bread and butter of your strategy.
By now, you should have identified relevant topic clusters you can create to answer your prospects' queries and make them develop an affinity for your firm. Use an editorial calendar to document your topic ideas around those clusters. Afterward, your content lead should establish:
Who is creating what
Where content will be published
When it goes live
Once you do these, you can start creating content.
Don't just create content. Ensure you have a quality assurance system as well. For First Round Capital, this system was three-tiered, with these questions surfacing:
"How did you build that extraordinary team?"
What steps did you take?"
"Can you give an example?"
First Round Capital is fierce on interviews, so you might not want to use the three-tier system. Your own system could be the Triangular Feedback Framework, a quality assurance process coined by Tamilore Sonaike, our Lead Product-Led Storyteller: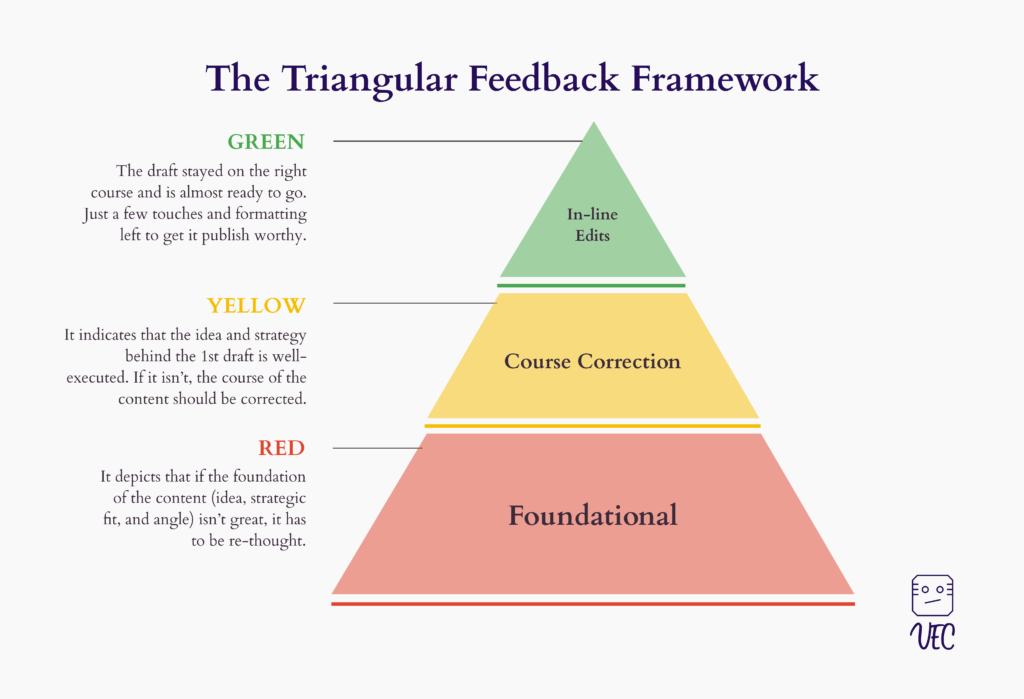 Remember to pay attention to your site design and user experience too. This attention to detail worked wonders for First Round Capital.
According to Camille:
"It looks good, so you feel like the work you put there has to be as good as the experience is. Paying that extra attention is compounding. It adds up over time."
Finally, add ice to the cake of your strategy by giving your content the amplification it deserves. Share your content via your chosen distribution channels. Also, prioritize influencers and syndication partnerships.
Product-Led Storytelling: How to Improve Your VC Content Pieces
Daphne Delacroix, an anonymous writer, once penned:
"Nothing and no one is perfect. It just takes a good eye to find those hidden imperfections."
This is apt. Because, even though I have hitherto established First Round Capital's content strategy as a steal, here's something missing in it:
The elements of Product-Led Storytelling.
Coined by Victor Eduoh, our Lead Strategist, Product-Led Storytelling is:
"the art of crafting discoverable stories that show how your product [in this case, your VC firm] will help overcome a specific challenge."
Although it is a form of SaaS content marketing, you can replicate its elements to scale your VC firm's content marketing program.
As seen in the definition, Product-Led Storytelling means weaving stories of how your VC services solve your ICP's problems into your content pieces. First Round Capital doesn't do this, and they have a reason.
According to Camille:
"The model was non-traditional compared to what content marketing is generally trying to achieve. It was not conversion-driven. We simply wanted to build as big of an audience as we possibly could to expand the group of brilliant founders that we could work with. It was a broad awareness play."
I understand that brand awareness is also your goal. After all, that's the entire premise of this piece. Nonetheless, like James Scherer, Content Strategist at Wishpond, opined:
"If we face the truth, we know that content marketing is about making money."
Also, Robert Rose, Founder and Chief Strategy Officer for The Content Advisory, was right when he said:
"Traditional marketing and advertising is telling the world you're a rock star. Content Marketing is showing the world that you are one."
So how do you make money and show prospective founders and partners that you're a rockstar VC firm?
By subtly using content to address problems founders seeking funding face while naturally introducing yourself as the optimal fund for engaged founders.
You can achieve this subtleness with our 9-step Product-Led Storytelling Formula. PS: I've modified the formula to suit your peculiarity as a VC.
[1] Write a benefit-driven title for your story. As your headline, use this to promise prospects that your content will show them how to solve a problem.
[2] Use story-driven introductory paragraphs to hook readers. At the same time, ensure you set the context right off the bat by calling out the ICPs (Ideal Customer Personas) the content is intended for. Doing this filters out non-fits.
[3] Right after you've lost a handful of readers who left because your product-led story wasn't for them, use media to augment your intro paragraphs. Your goal here is to show your tool in action, making it easy to solve the problem addressed in the article for the ICP you wrote it for. This is the point where you motivate the reader to say, "aha! I can't wait to see how I can achieve my startup fundraising goals with this VC."
[4] In the fourth section, follow up with more story-driven paragraphs. Here, you need to distinguish your VC by adding your point of view (PoV), facts, quotes, stats, social proof, etc.
[5] If you've managed to keep the readers to this point, they'll start visualizing how your VC can help them solve the problem the article addresses. Pique their curiosity by inserting media of how your VC has solved similar issues to your ICP's.
[S6] Follow [S5] with the first, subtle CTA inviting readers to reach out to you and partake in your founder-oriented programs. Make readers the hero of the story. Don't deviate.
[S7] Include a relevant testimonial or review by a client similar to the ICP your product-led story targets.
[S8] Invite them to start solving the problem addressed in the article with your VC. Doing this paves the way for [S9].
[S9] End each piece with a CTA to get in touch with your VC and start solving the problem addressed in the article. Remember, they probably won't take action if you don't ask.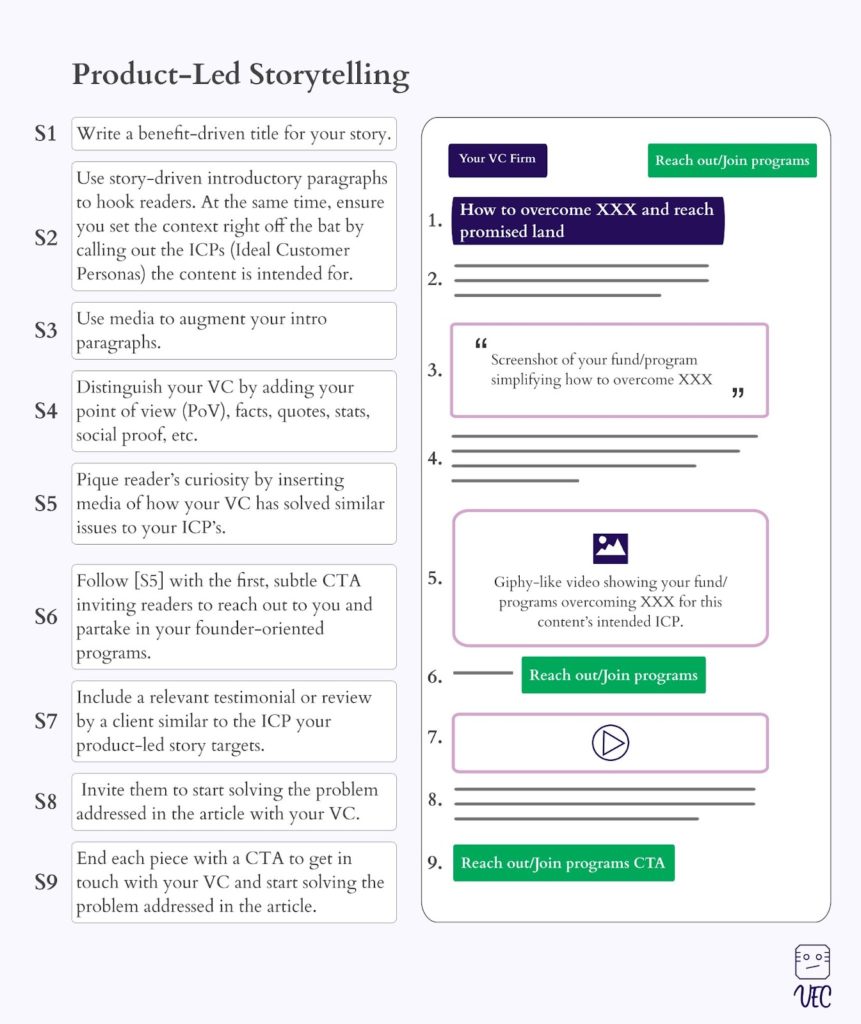 Pictorial representation of your content piece when you apply our Product-Led Storytelling formula
Here is a breakdown of one of First Round's articles and how they missed certain elements of the Product-Led Storytelling formula: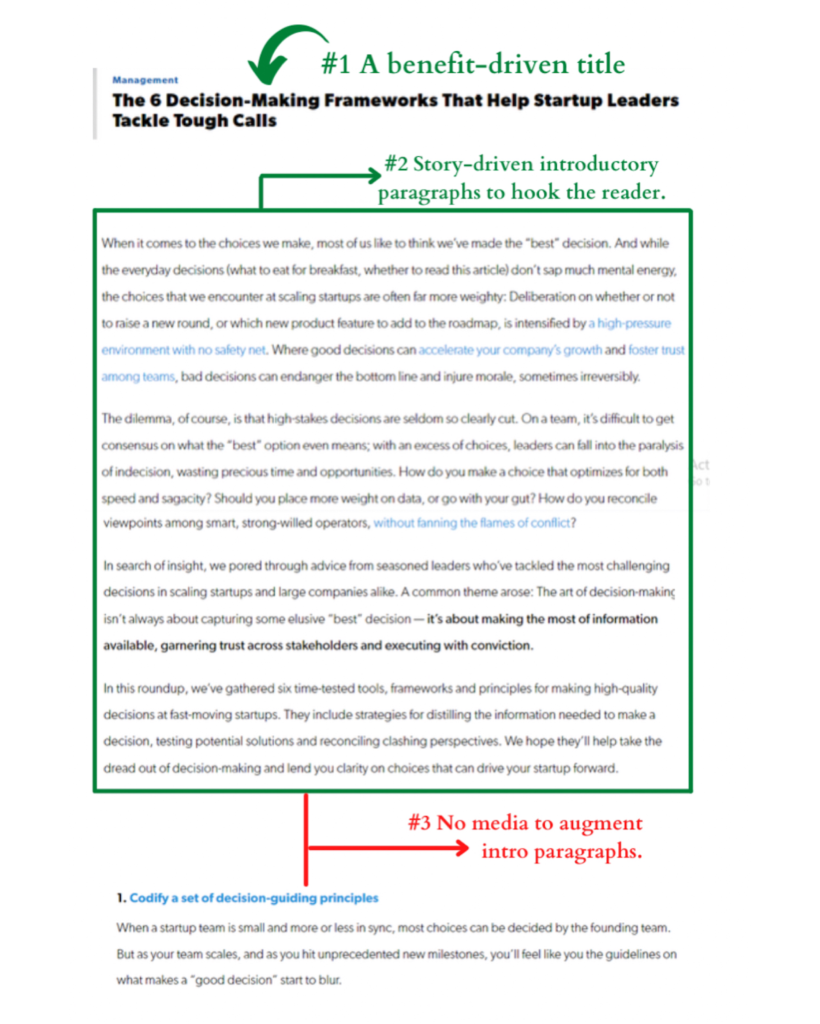 What's the aim of adopting this unique content approach, you ask?
It's simple.
To transform each draft you publish or distribute into a funnel-like asset for acquiring deals:
Optimize Your Funnel of Deal Flow and Win Competitive Rounds
About 88% of CEOs say a strong brand is vital for VCs to attract entrepreneurs. With a well-executed content marketing program, you can build a strong brand, cut through the clutter, and win high-flying founders.
But it's not enough to create content.
You need to weave the story of how your VC firm solves the problem for your readers. That's how you can convert your prospects into portfolio companies.
This is where our Product-Led Storytelling formula comes in.
Although it's a form of SaaS content marketing, I've contextualized it for you as:
"the art of crafting discoverable stories that show how your product [in this case, your VC firm, whether mentoring or funding] will help overcome a specific challenge."
Don't know where to start?
You can copy First Round's strategy of setting up a content team. This can either be internal or external. If you choose the latter, check out our pricing.
Prefer the first option?
Great.
Ensure you understand the importance of content marketing in setting you apart. Develop a content strategy unique to your business and craft stories that introduce you as the best VC for your prospects.
Want more insights on content marketing and how other VC firms power growth with it?
Subscribe to our newsletter.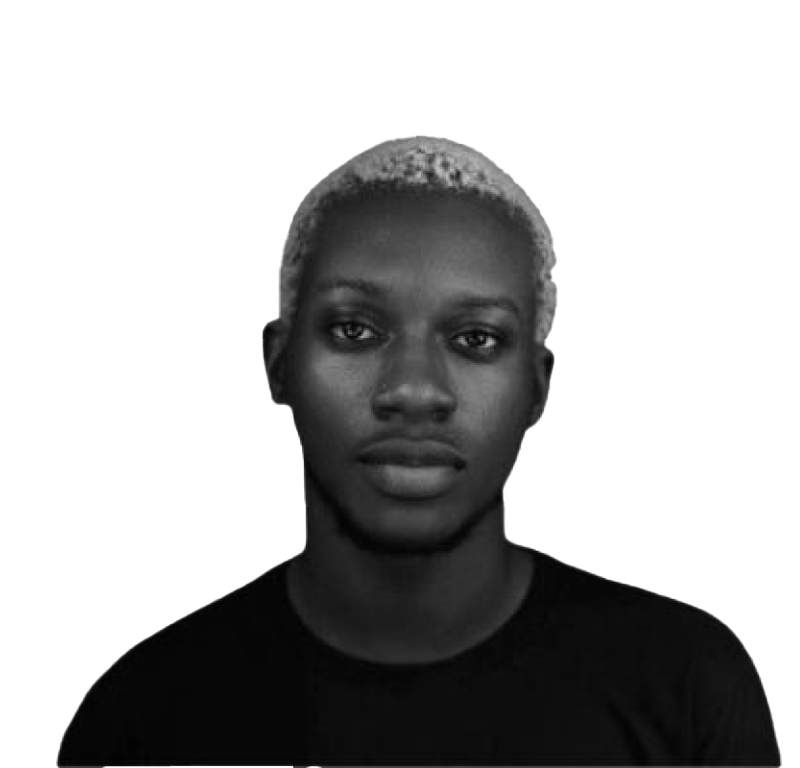 Jeremiah Ajayi
Jeremiah Ajayi is a Product-Led content strategist with passion for engaging storytelling and creative ideation. Outside of work, he loves deconstructing ideas that help people blossom into the best versions of themselves.
Get our insights in your inbox
Actionable summaries of stories told by experts on how they grow brands (and their careers) with content from our Growing with Content podcast. And well-researched insights crafted in the VEC Studio.
I will send you a copy of our Content Quality Checklist –FOR FREE– when you subscribe.