4 ways I find exceptional SaaS B2B freelance writers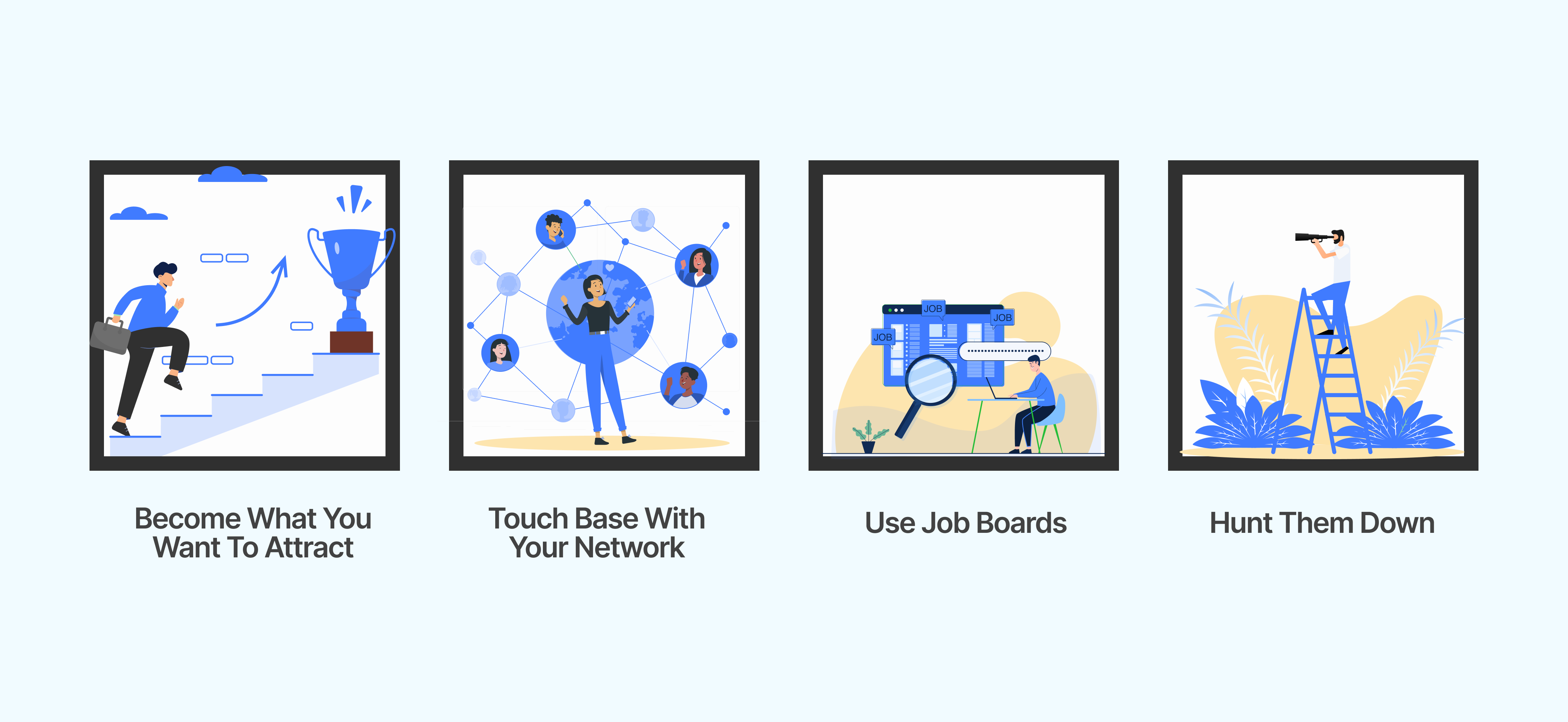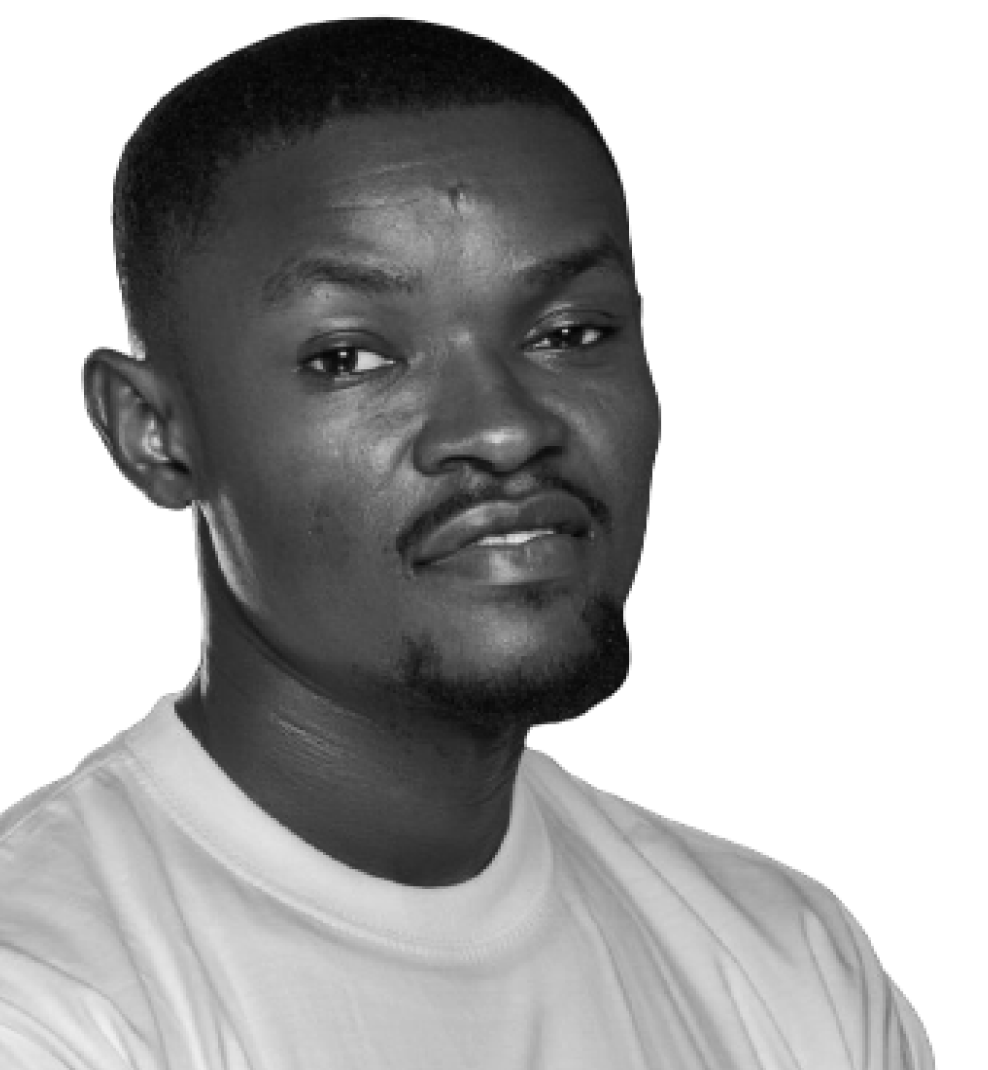 Victor Eduoh
Lead Strategist @VEC
Across the internet, you'll find stories of SaaS and B2B companies driving incredible growth with content marketing.
Some examples include:
How
How Intercom leverages "
How HubSpot and Drift used content marketing to
And many others.
Across these enviable success stories, you'll find a common denominator: They all rely on exceptional SaaS content writing.
As a founder or marketing executive, you know this.
But you're busy with more important things.
And, as a result, you don't have the time to craft all the content pieces to power your content strategy into traffic, leads, and sales.
Now, this is where SaaS B2B freelance writers come in.
The only problem?
Finding exceptional ones isn't easy. And this, to a large extent, explains why you're here.
But not to worry.
Using my experience, I'll walk you through how to find (and hire) excellent freelance content writers.
And what's my experience, you ask?
Well, four years ago…
I was a freelance content writer myself. Through dedication, hard work, and love for marketing SaaS products, I built two unique content frameworks:
1. For strategy development, the SaaS content topic clusters' strategy: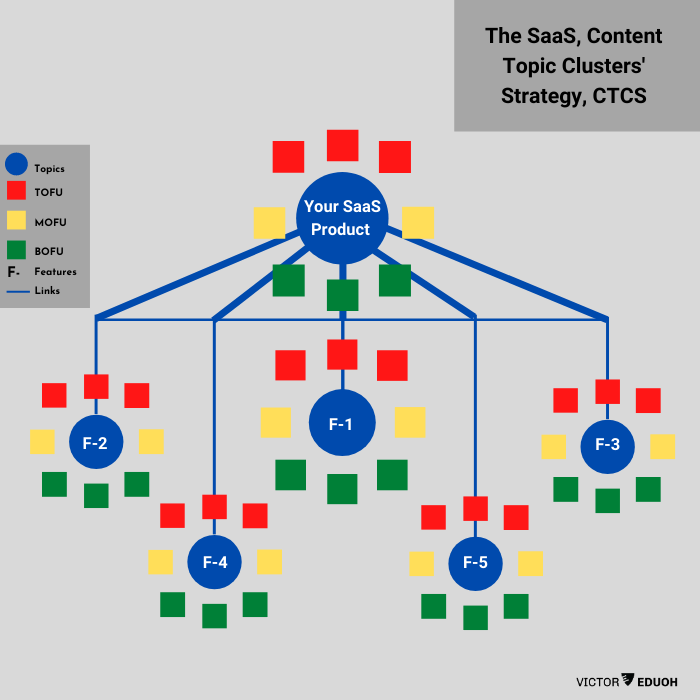 2. And for content creation, the 9-step Product-Led Storytelling formula: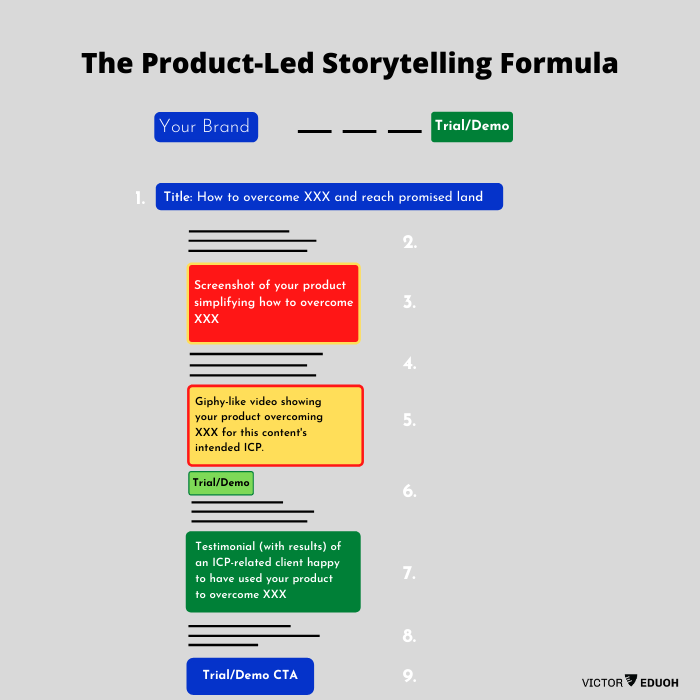 These frameworks differentiated me from the freelance park, earning me an invitation to speak alongside leaders from Intercom, Buffer, OpenView, etc.
…and empowered me to launch my SaaS content marketing consultancy (this one you're reading).
Then, for some time, I hired and outsourced work to freelance writers to fulfill increasing clients' work.
(I've stopped now. I train all our staff, and we do all clients' work in-house, albeit remotely).
Curious to know why I stopped?
As I walk you through how I now find excellent SaaS freelance writers, you'll see why.
It began when I… and you should…
Insist on Only Exceptional SaaS B2B Freelance Writers
The real question here is, why should you insist on this, as I did?
I'll come to that.
For now, just in case you're in haste, I'll remind you that there's no shortage of freelance writers out there.
Hop on freelance marketplaces like Upwork, Freelancer, Fiverr, and the likes, and you'll find them in their thousands, if not millions.
These marketplaces even claim to have vetted all freelancers on their site.
In reality, however, the internet is filled with companies and experts discouraging startups from hiring on these platforms.
Here's one for Upwork: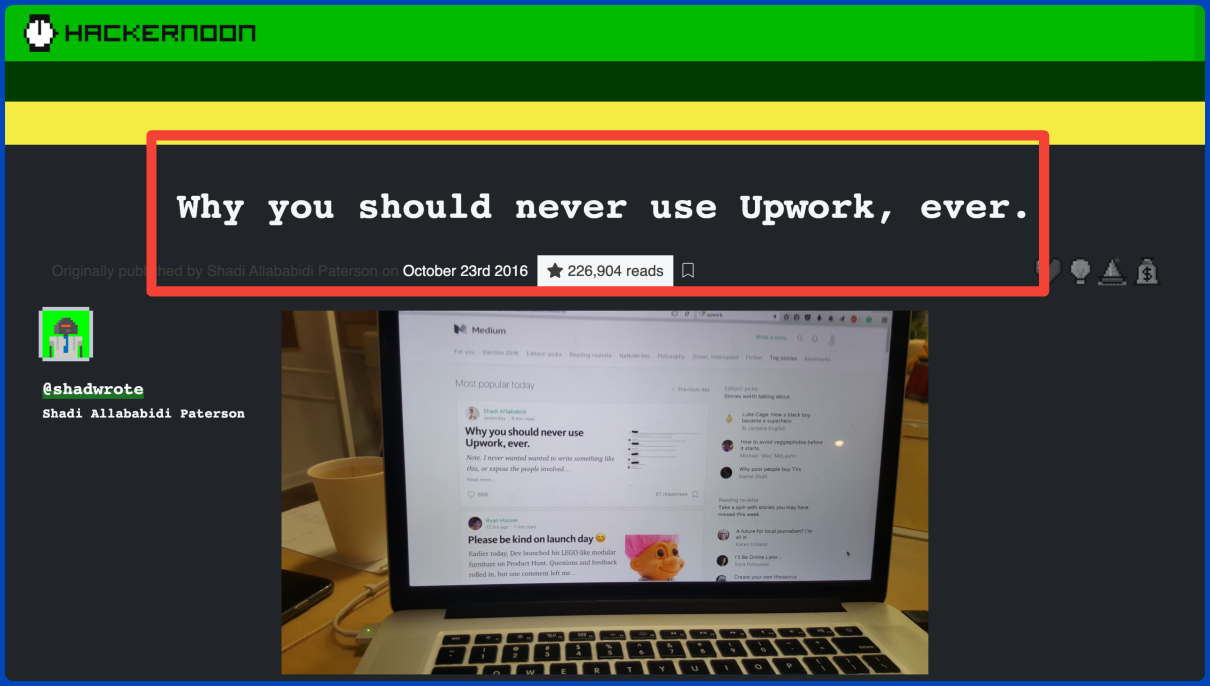 And one for Fiverr: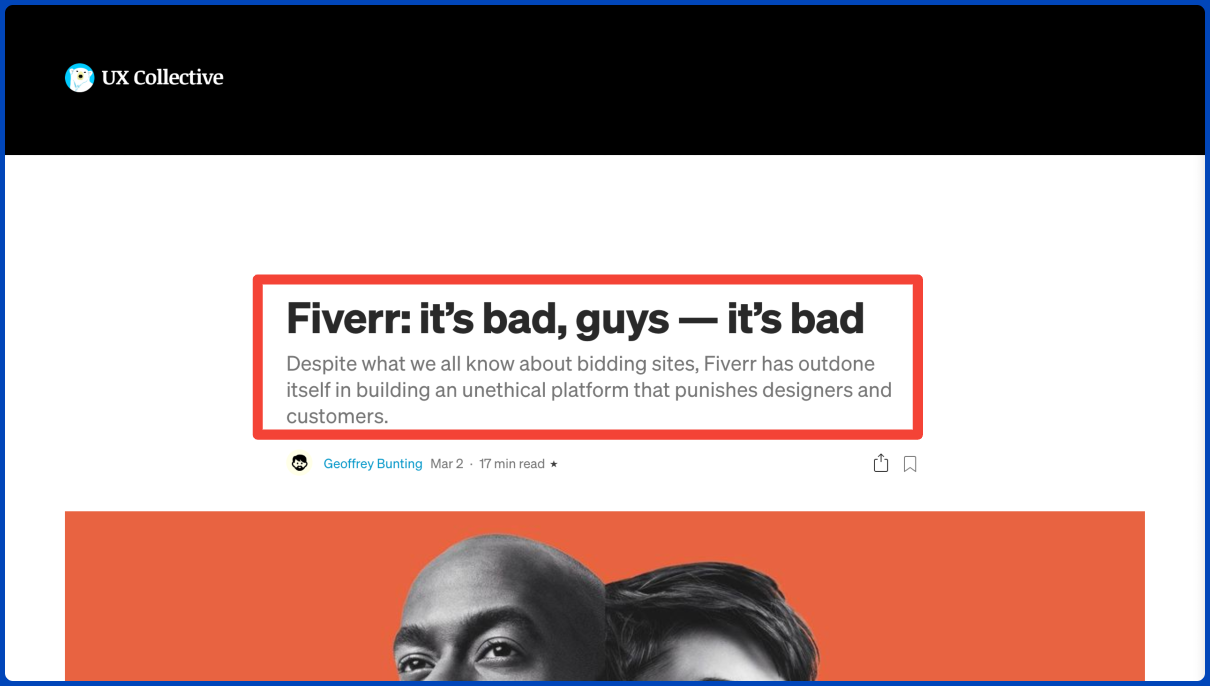 What about content farms such as iWriter, Crowd Content, Constant Content, Writer Access, and the likes, you ask?
They're no exception either.
None made the "exceptional" cut when Codeless test-ran them: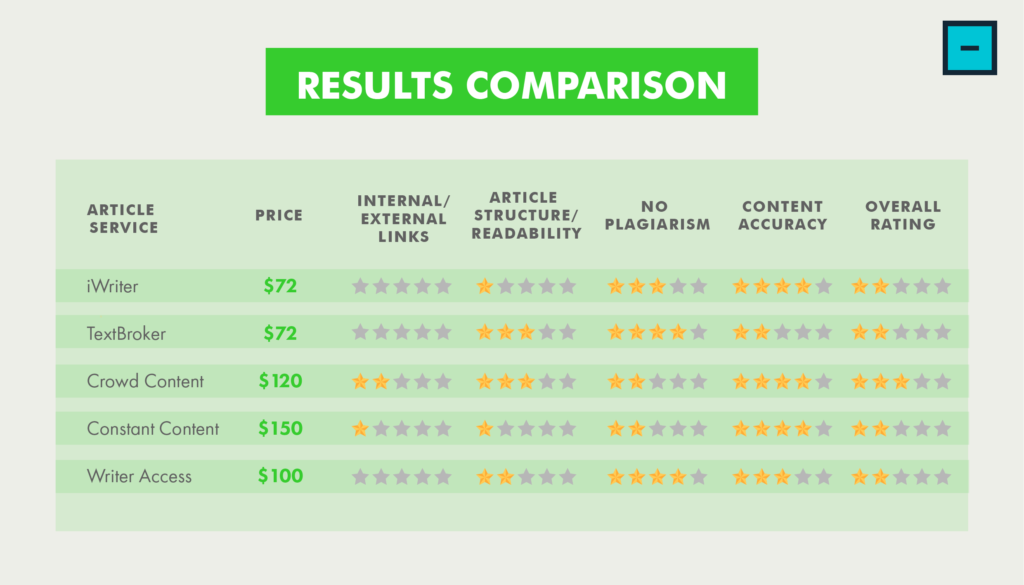 Since you're still here, what I want you to take from this is…
If you're looking for "exceptional," you should avoid popular freelance platforms and content mills, as much as possible.
That's not to say you won't find some rare gems in there.
You may–but, as you've seen, chances of that are very slim.
Now back to the question.
Why should you insist on ONLY exceptional SaaS B2B freelance writers, as most top companies do?
Brad Smith is the Founder of Codeless, a leading content marketing agency. He tells us why in an in-depth guide on using content marketing to ignite SaaS growth:
"Any content was fine a decade or so ago. There wasn't enough of it. And most of it was average at best.
But that's not true today.

Now, there's too much. And most of it is really, really good.

A content marketer needs to be the hybrid of a subject-matter expert who can also communicate complex ideas simply.

Finding one of such people is hard enough in today's competitive environment. But finding a team of them, pull all together, and produce content at scale that moves the needle?

It's incredibly challenging.

This, plus the fact that Google is a winner-takes-all environment, where only the top ~1-2 positions see an ROI, means that 'average' content doesn't cut it anymore."
Brad Smith, Founder, Codeless.
In other words…
You'll hardly find "exceptional" SaaS freelance content writers on platforms and sites similar to the ones I mentioned above.
According to Brad, the reason is…
Most of them aren't content marketers.
So, how can you find exceptional freelance writers who qualify as content marketers?
Let me show you four ways I do it, which I'll highly recommend anyday.
How I attract (and hire) excellent SaaS B2B freelance content writers
Below are four ways I've managed to attract/find SaaS B2B freelance writers who qualify as content marketers (and even go above and beyond).
You're welcome to try them, as I'm sure they'll work like a charm.
1. Become what you want to attract
Today, I consistently attract amazing freelance talents.
And from the freelancers who come to me, I hire those who show me the potentials of becoming "excellent" SaaS B2B content marketers.
Call me fortunate, but it didn't begin to happen by chance.
I was (and you can too if you become) intentional about it.
Content marketing thrives on great writing. And you need excellent content writers, in-house or freelancers, to execute your strategy.
Else, no matter how excellent the strategy, you'll struggle.
I learned this after taking on my third client.
After two awful experiences (similar to this one) trying to outsource to content mills or find hands from freelance marketplaces, I gave up.
But I needed to find them regardless…
So, I took a different route and became what I wanted to attract:
I published in-depth case studies of SaaS content marketing I knew would interest newbie content marketers.
I published articles detailing how I evolved from a freelancer vying for low-paying jobs on freelance sites to building my own business.
At the same time, I was sharing my articles and the logic behind how I craft them on social media (LinkedIn, to be precise).
I shared my vision and aspirations for founding my company.
In some cases, I shared tips to help freelancers become experts as I was becoming.
All along, the goal was to demonstrate I was an expert SaaS content marketer and an exciting person who valued personal growth.
I started amassing a following from freelance writers (oh! and SaaS businesses, too).
Then, one day I made a post that I was looking for freelancers to work with me as "business writers."
Many freelancers I believe were tired of the rat-race on freelance platforms and content mills reached out to me.
For example, this outreach from Adewale: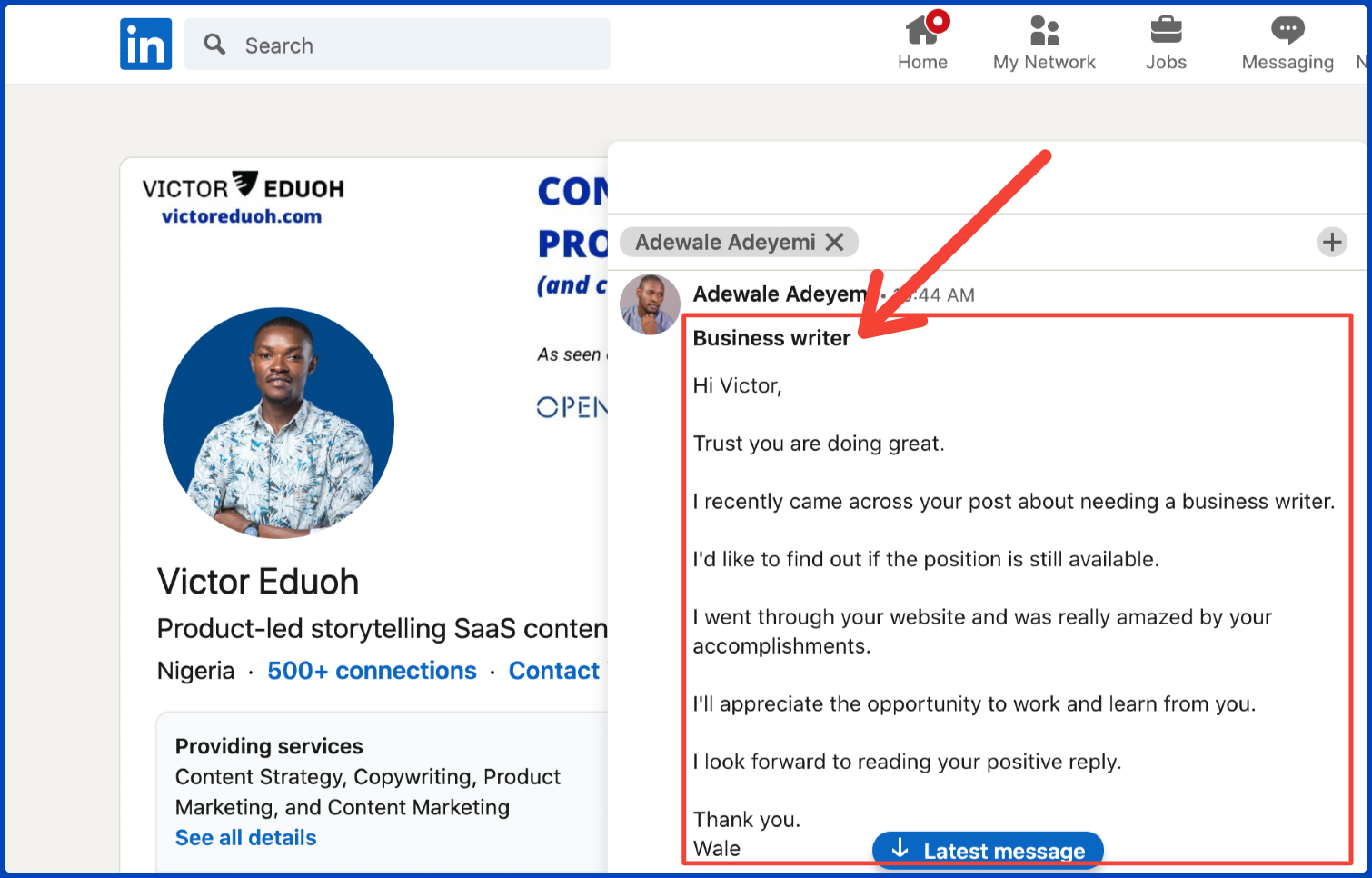 Notice his words…
"I'll appreciate the opportunity to work and learn from you…"
That's key.
The freelance writers I've found to be "exceptional" aren't just looking for a quick buck – they want to develop their careers, too.
So, to attract them, you need to show your company cares about people. Because such people will visit your website to learn more about your product and business before applying.
Wale said he did that…
"I went through your website and was really amazed by your achievements…"
Among the 20+ applicants I attracted from that post, I hired Wale because he demonstrated rare SaaS copywriting skills – what I desired.
Yes, It took me about two months to train him into "exceptional."
But it was worth every penny because the quality of work he now produces for our clients (and us) is nothing short of phenomenal.
For instance, his first article for Victor Eduoh Consulting, SaaS landing page copywriting tips, is a testimony to that: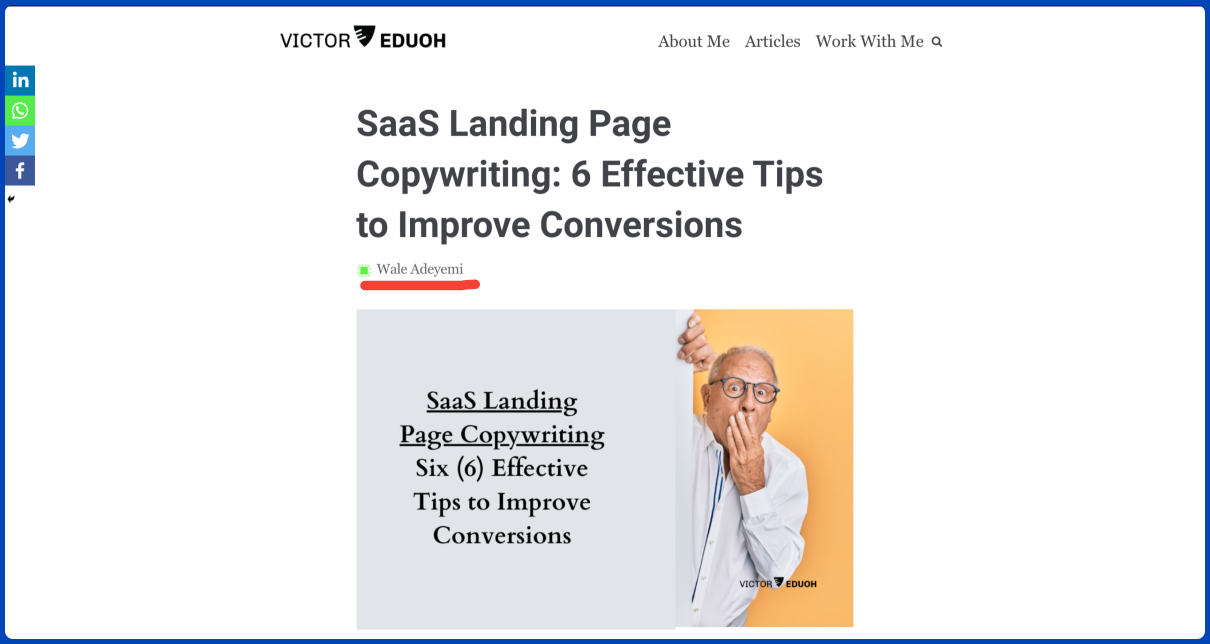 Take a moment to glance at the article's intro, and you'll see what I mean.
You may be thinking…
But Victor, can this tactic work if my company isn't like yours?
Yes!
All you need to do is to adjust the tactic to suit your case.
Take Saleswhale, an AI assistant SaaS tool, for example.
They struggled for months to find an exceptional marketer (to work remotely as freelancers do) who'll lead their marketing function.
The company's CEO, Gabriel Lim, then shared a counterintuitive post on reasons people "hate working for Saleswhale:"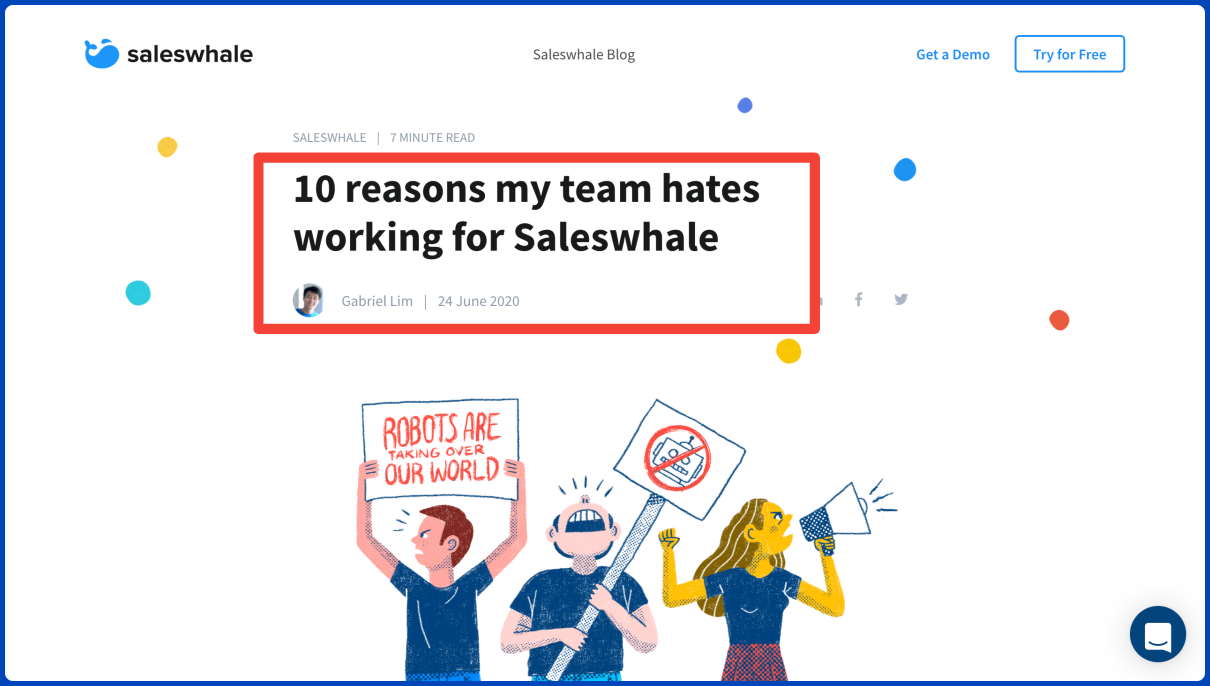 And less than two months later…
They finally attracted a top talent in Catherine Farley: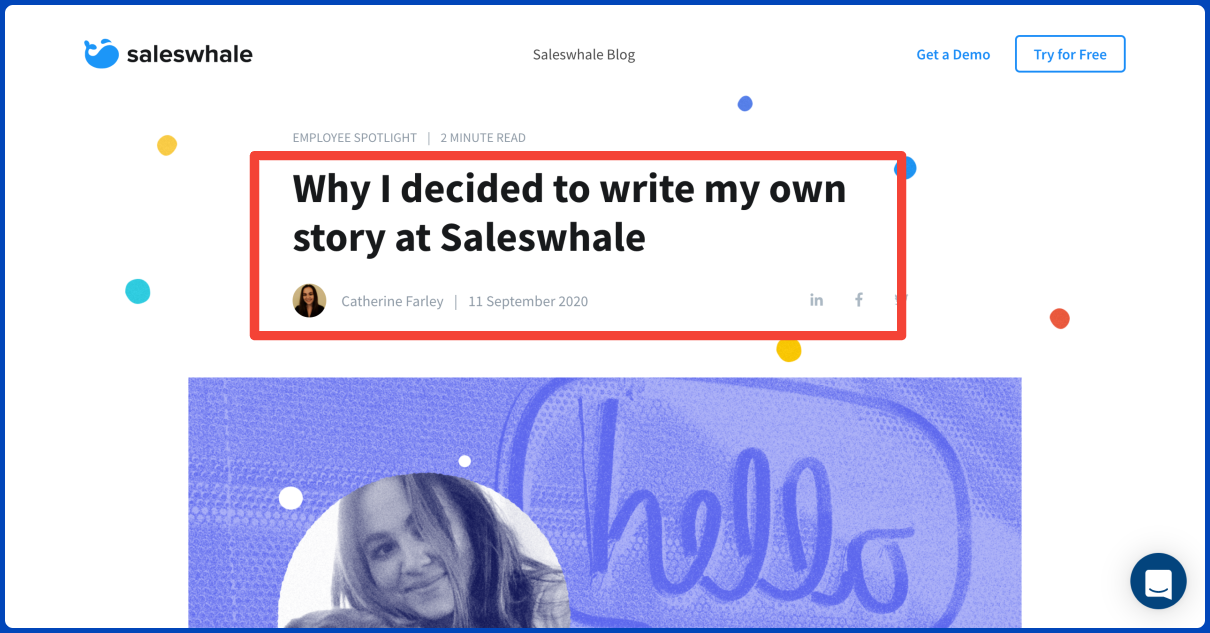 The bottom line with this tactic is to have or share something that shows who you are as a person or company.
Something that differentiates you from others and is inviting for top freelance talents to desire working for or with you when you seek them.
As I mentioned earlier, it works like a charm.
In short, you'll end up attracting great talents that you'll have a backlog to always fall back on.
I say that with certainty because it's how I attract lots of exceptional freelance talents, including those who just reach out seeking my guidance: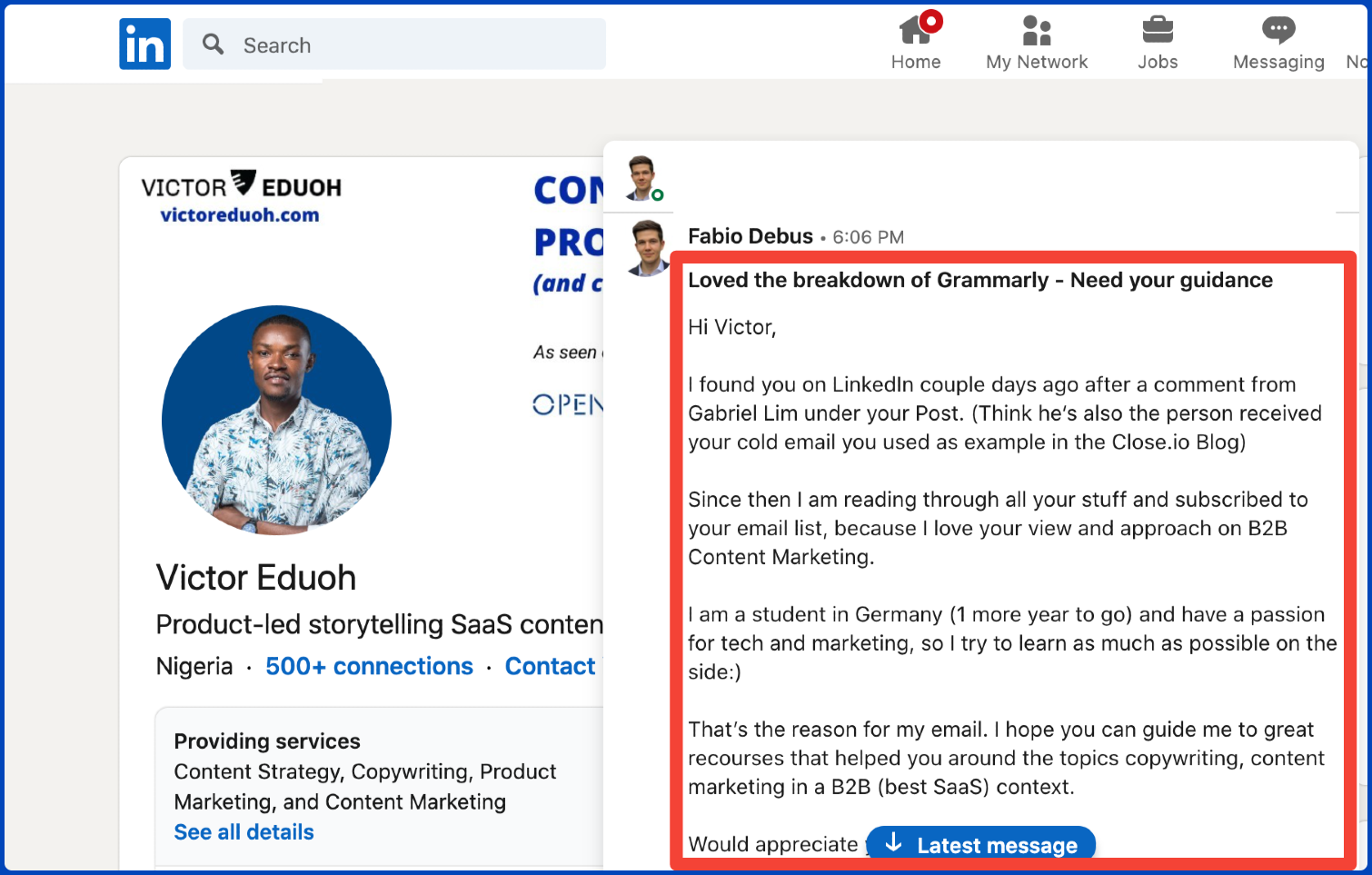 Now lemme be honest…
Attracting freelance writers this way takes hard work and time.
Because, as I've found, you may need to nurture and shape their talent a bit to suit your needs.
If you're not cut out for this, let me show you the second way I use…
2. Touch base with your network
This one is pretty straightforward.
People in your network know people who know people who know people…
And among that chain of people knowing people are freelancers with the skills you need.
In other cases, the people in your network may belong to communities where exceptional freelance content writers hang out.
I see this happen a lot in the Content Marketing Career Growth (CMCG) Slack group: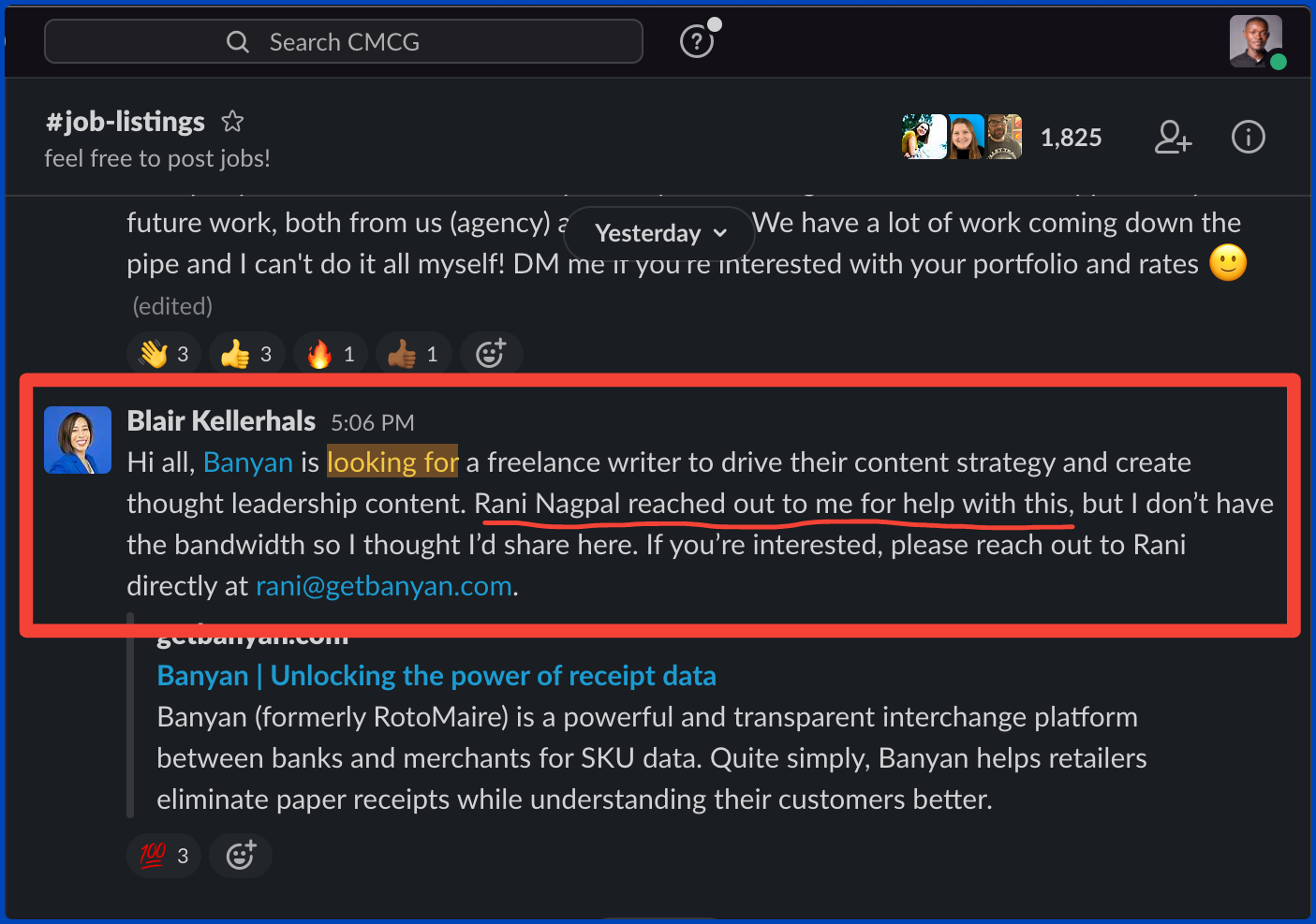 Touching base with my network is how I found and hired Jessica Orika, who I considered a rare storyteller.
How I did it, you ask?
Simple!
I told select people in my network I was looking for exceptional B2B SaaS freelance writers.
And Emmanuel, a SaaS product designer (and former colleague) told me about some interesting articles by Jessica he read.
I asked him to make the intro…
I loved what I saw. She loved what I was offering and building. The rest, as they say, is history.
Today, after hiring her on a freelance basis and training her for some months, she's not just a storyteller…
But a product-led SaaS content strategist helping my company craft high-converting content for our amazing clients: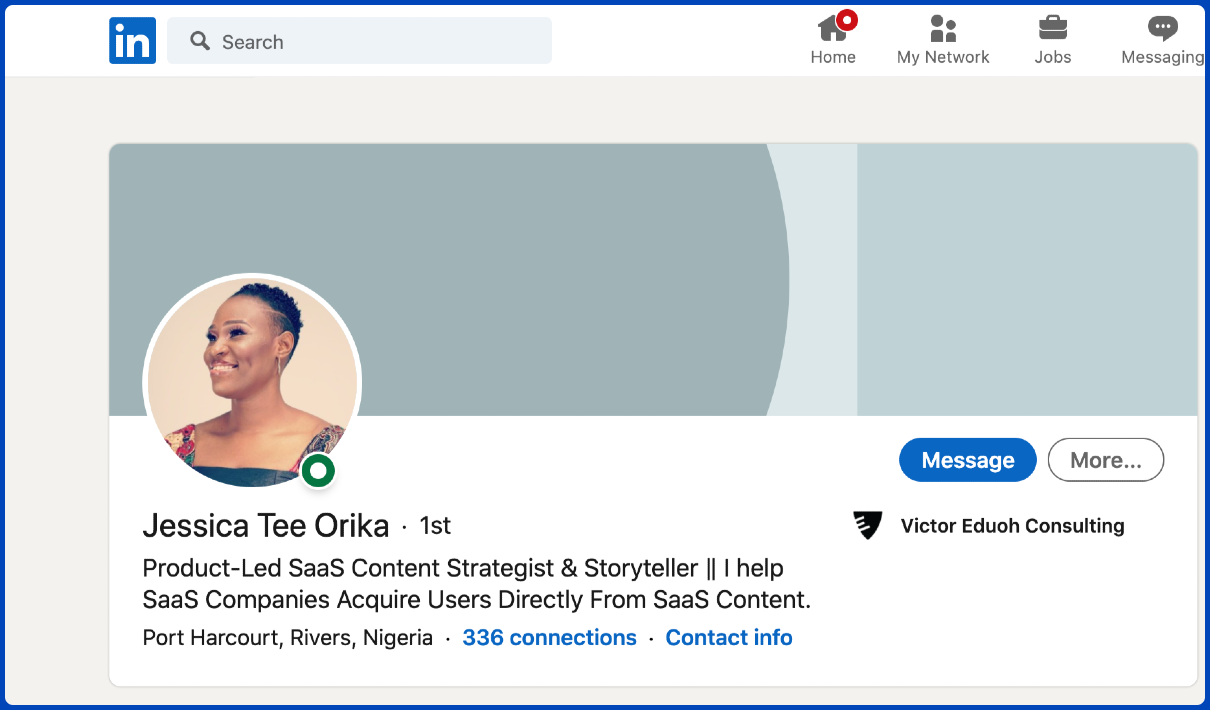 So far, the two ways I've shared demands some upfront investment.
And that's because most writers I attract using those tactics are raw talents who need some polishing to bring to the level of "exceptional."
For me, it's worth the effort because it allows me to teach them my company's values and approach to SaaS and B2B content marketing.
That doesn't mean you can find freelancers who aren't ready to go.
If that's what you want, try either of the two ways below
3. Use job boards
Good and above average freelance writers stay away from marketplaces and content mills who pay pennies on the dollar.
I did this.
So, if you're looking for them, you're more likely to find them on reputable job boards where companies have to pay to post vacancies.
The three I used to find quality work, which I recommend you to post your freelance opportunities are:
a. We Work Remotely (each job post cost $299):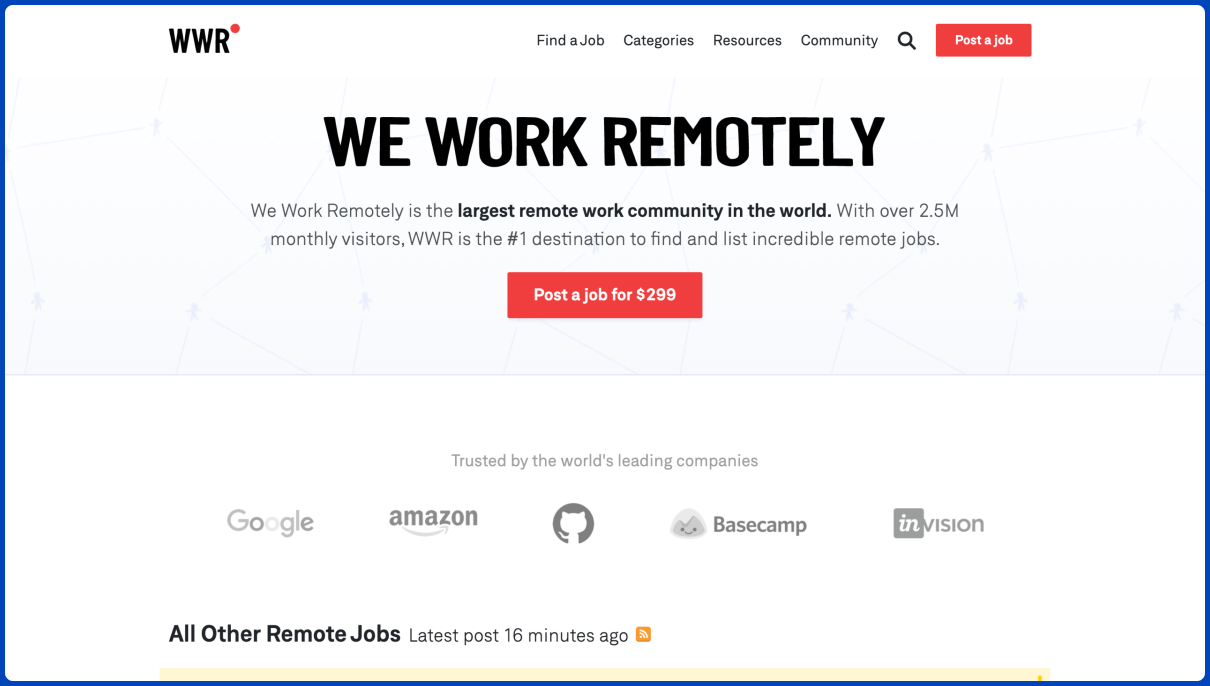 b. Problogger job board (each job post cost $70):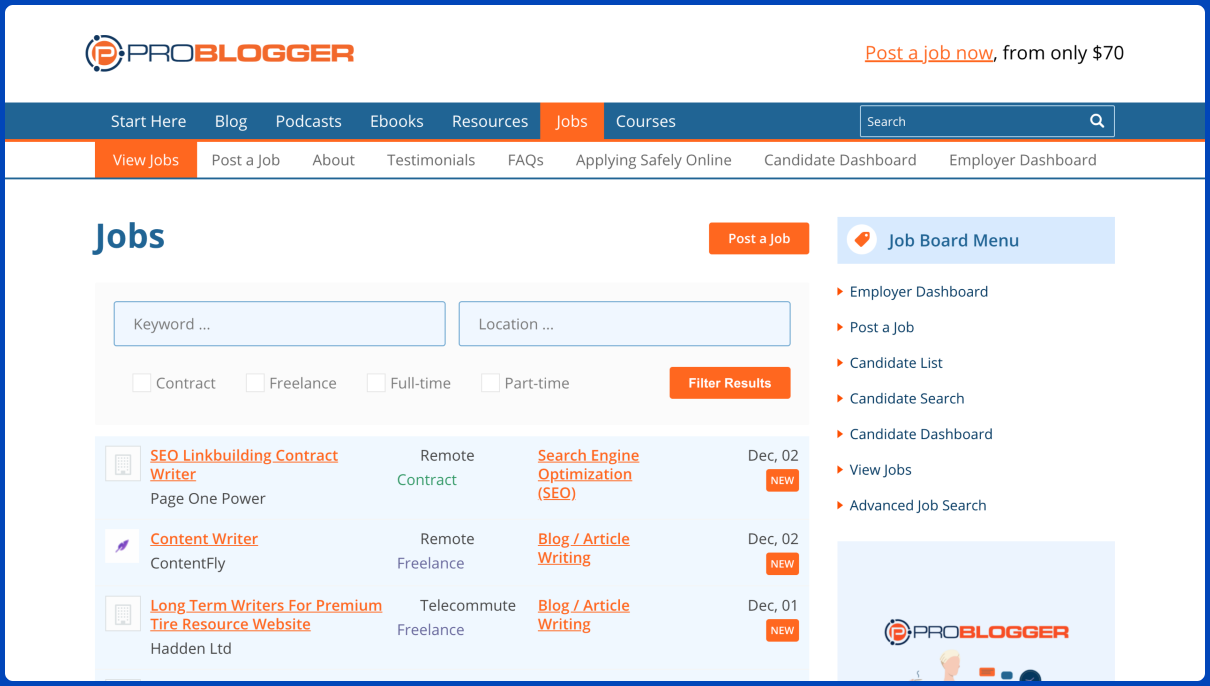 c. Growthhackers job board (free to post, but highly vetted):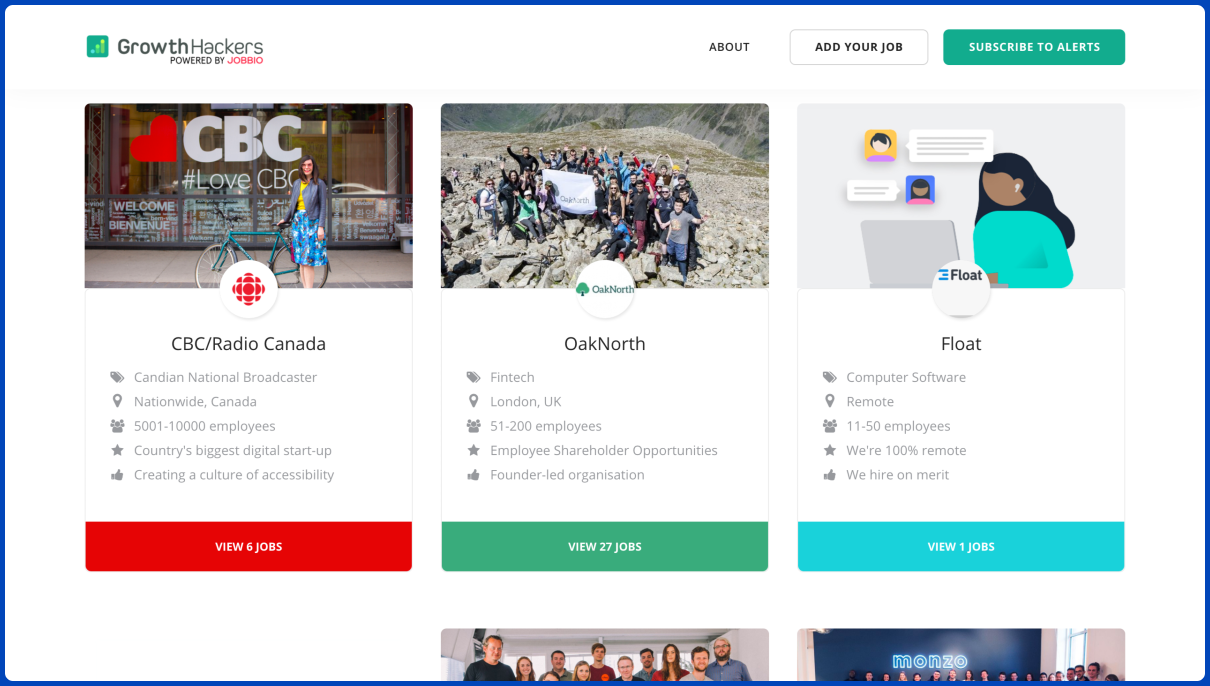 Here's why you can trust to find exceptional freelance content writers on these job boards.
Not only do they vet all freelance opportunities before it gets posted, companies have to pay. To freelancers, that gives them confidence that you're not looking for cheap, words-without-substance spitting freelance writers.
So, they hang out here waiting for good opportunities to pop-up.
Just ensure you provide crisp-clear details of what you're looking for and your hiring criteria to filter the applications you'll receive.
And if you still don't find anything you consider "exceptional…"
4. Hunt them down
If what you seek are freelancers with 5-10+ years of proven experience, you'll have to hunt them down.
As experts who know their onions, most have more client work than they can handle. So you won't find them anywhere close to freelance marketplaces, content mills…
…or even job boards.
Two ways you can find them are:
1. Browse sites that publish the quality of content you seek
Are there sites you know publish the quality of content you seek?
Good.
Chances are, these sites also work with freelancers.
So, visit the blog of those websites and look at the byline of their authors.
For example, CoSchedule is a SaaS company with an enviable content marketing program (heck, they drive over 470K organic visits monthly):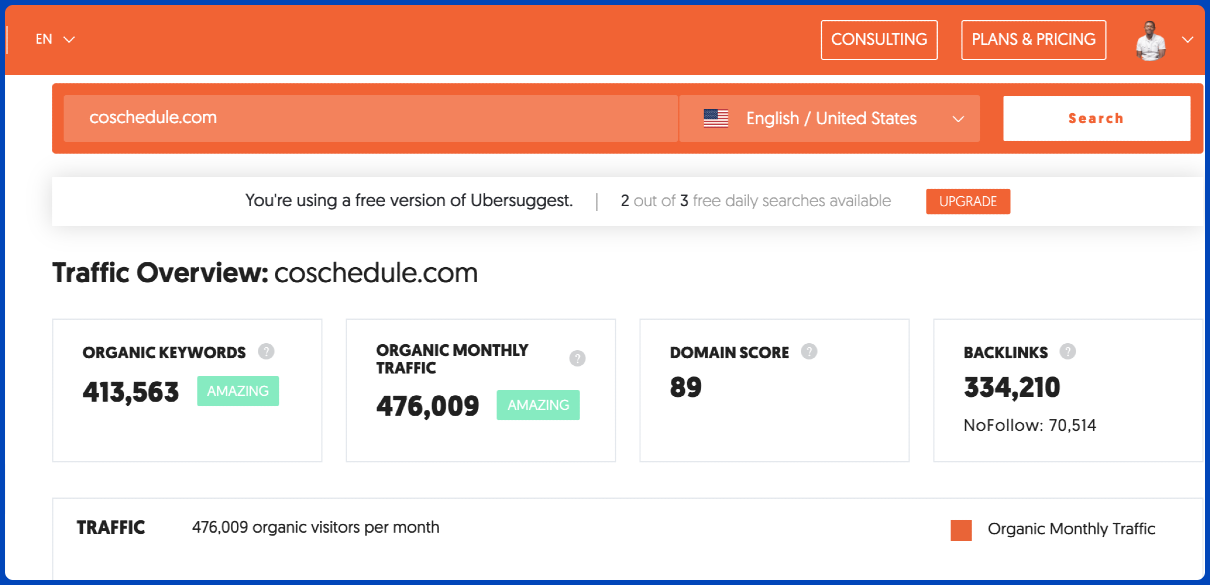 I browsed their site and found this interesting post: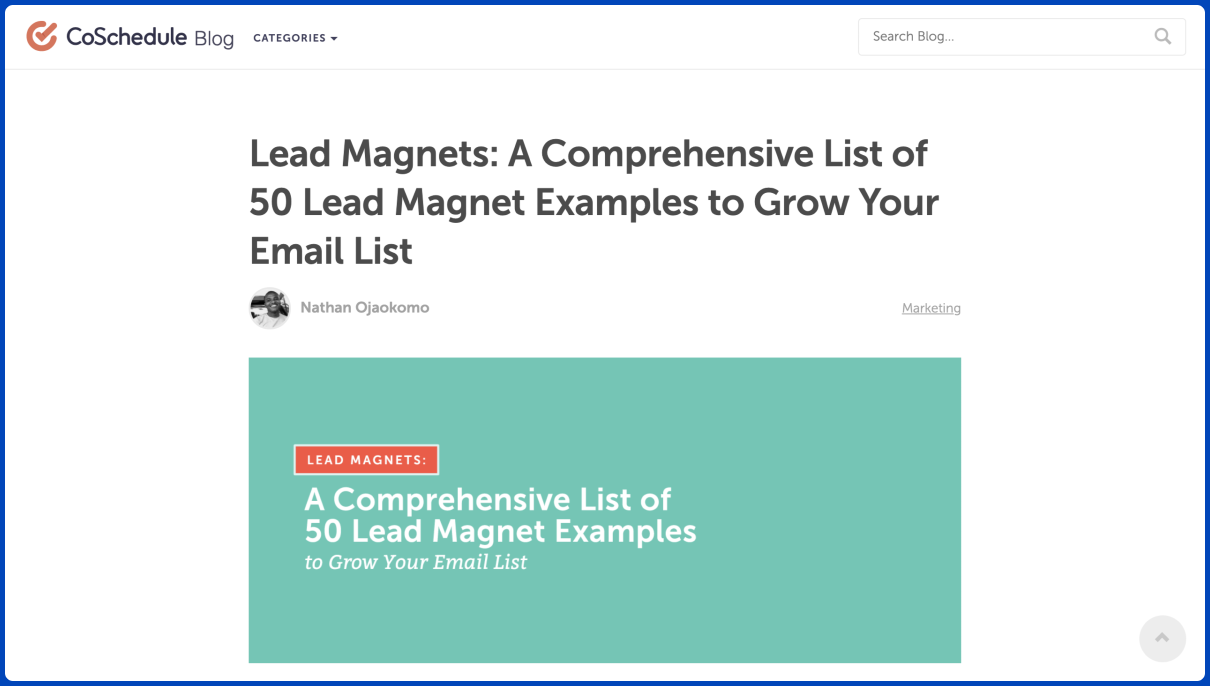 I clicked on Nathan Ojaokomo, the author's profile.
Lo and behold, he was a freelancer content writer: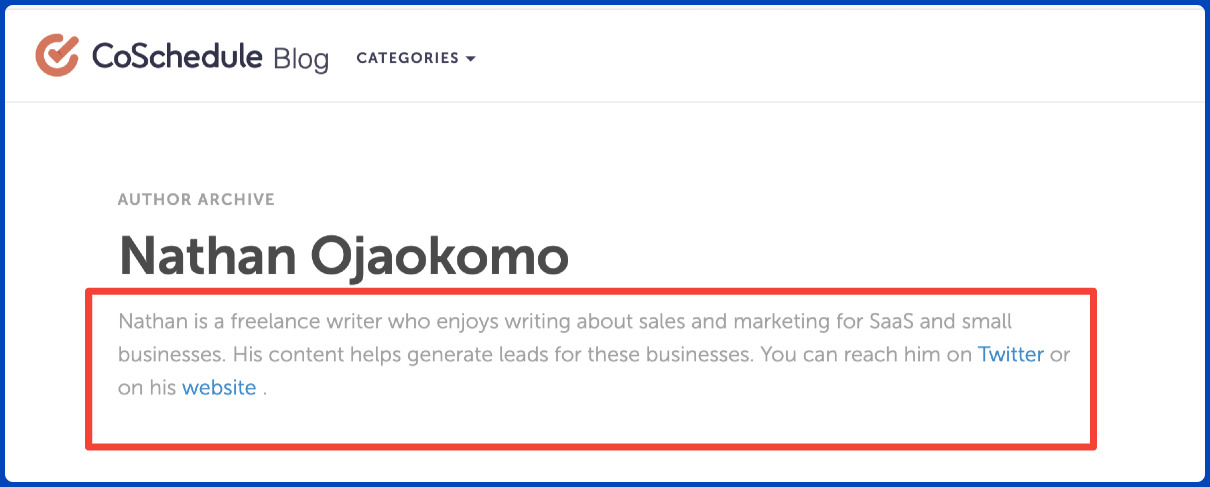 The next step?
I clicked on his personal website link, Copy By Nathan, to contact him: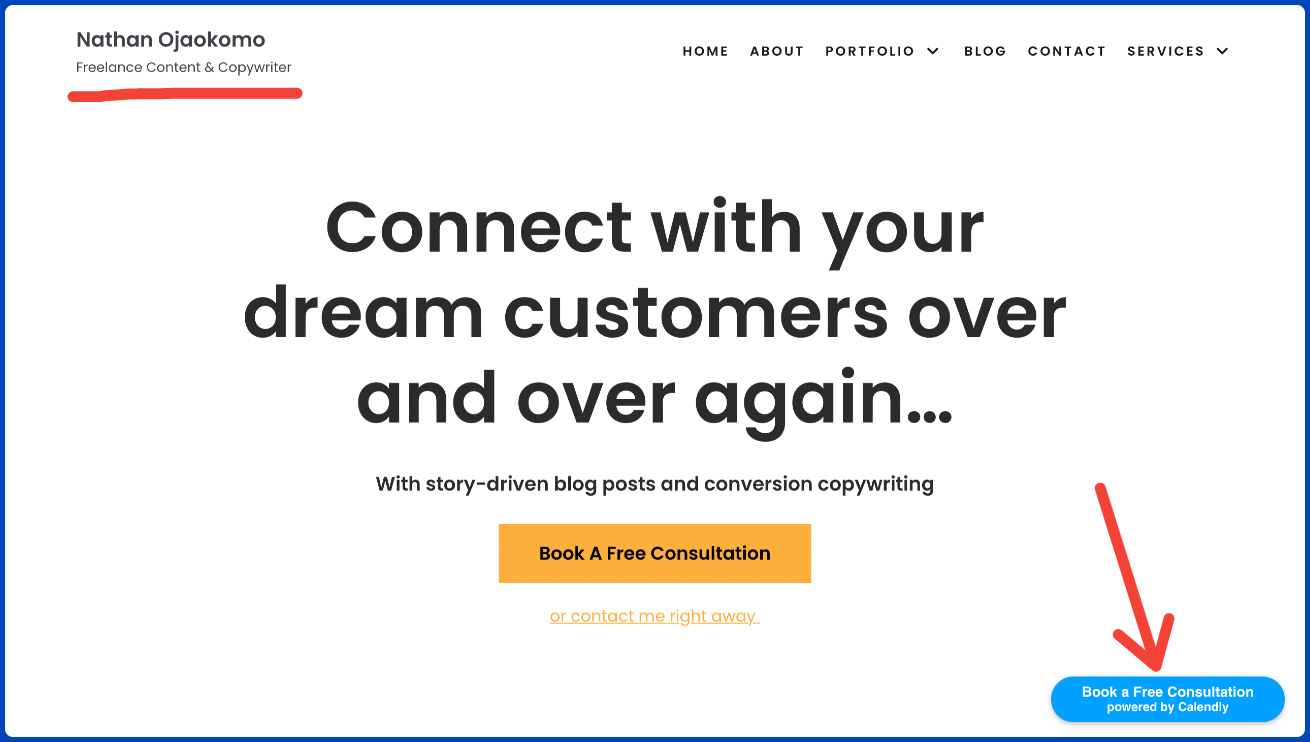 But what if you don't know or have a list of sites publishing the quality of content you're after?
You can still hunt down exceptional freelance content writers by…
2. Using trusted directories
By trusted directories, I mean domains with algorithms (i.e., BuzzSumo, Google, etc) to rank the best content based on search queries.
BuzzSumo ranks the most-shared content across social media.
For example, let's say you wanted to find those behind the most shared content on the topic, "SaaS content marketing:"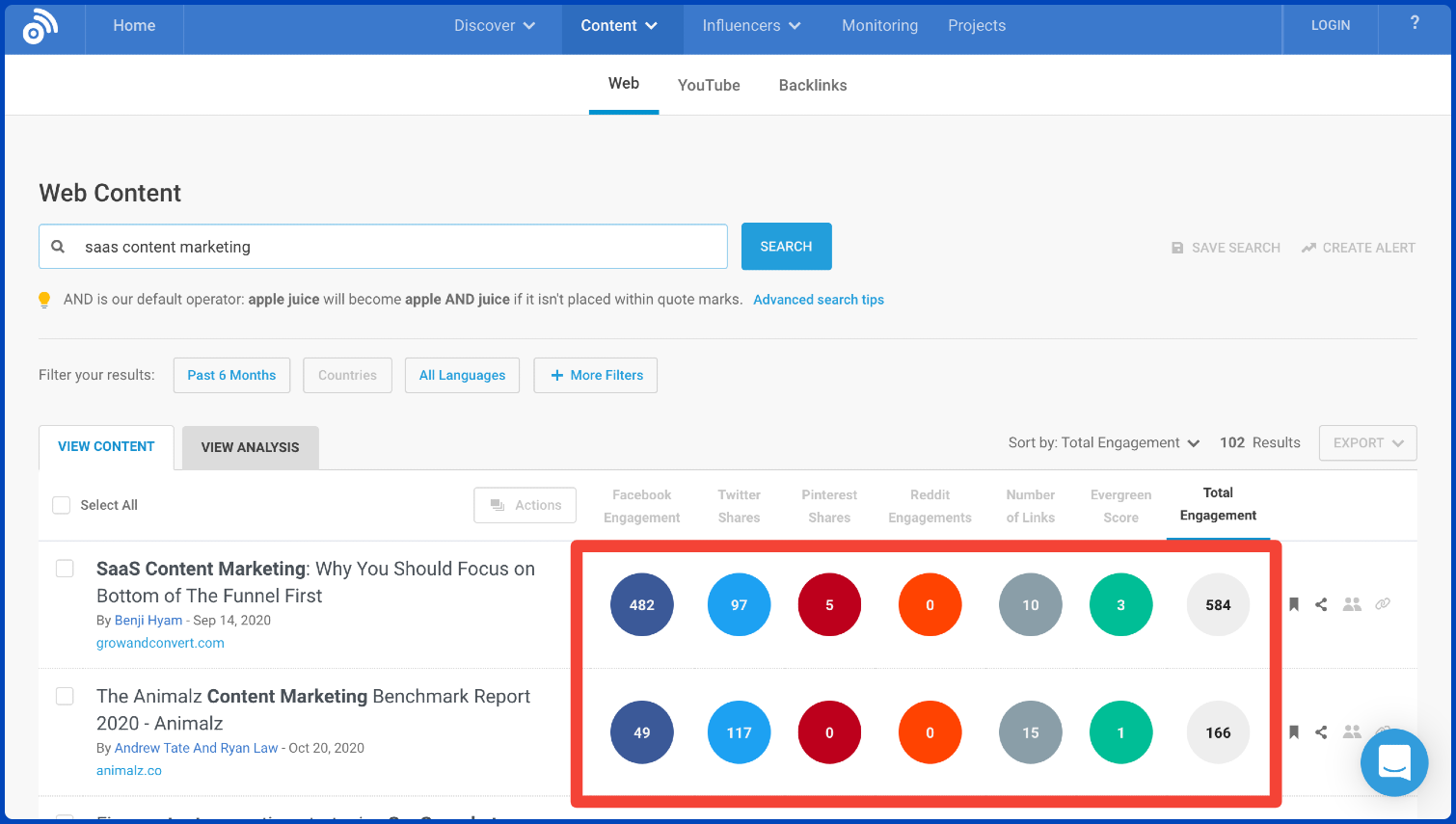 According to BuzzSumo, Benji Hyam and Andrew Tete are the brains behind the most-shared content on this topic across social media.
You can then proceed to check out the content and byline to see if they offer free content writing services.
Here's what I found for Benji (of Grow And Convert):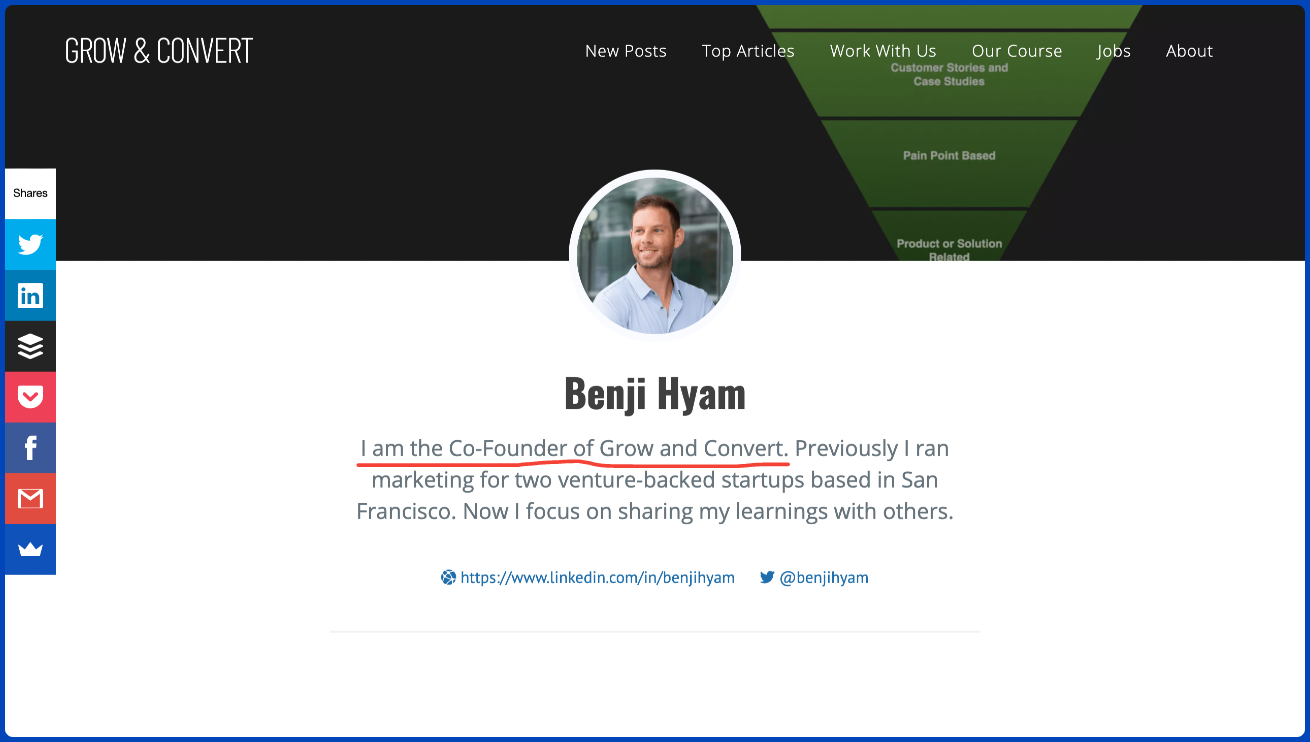 And Andrew Tete (of Animalz):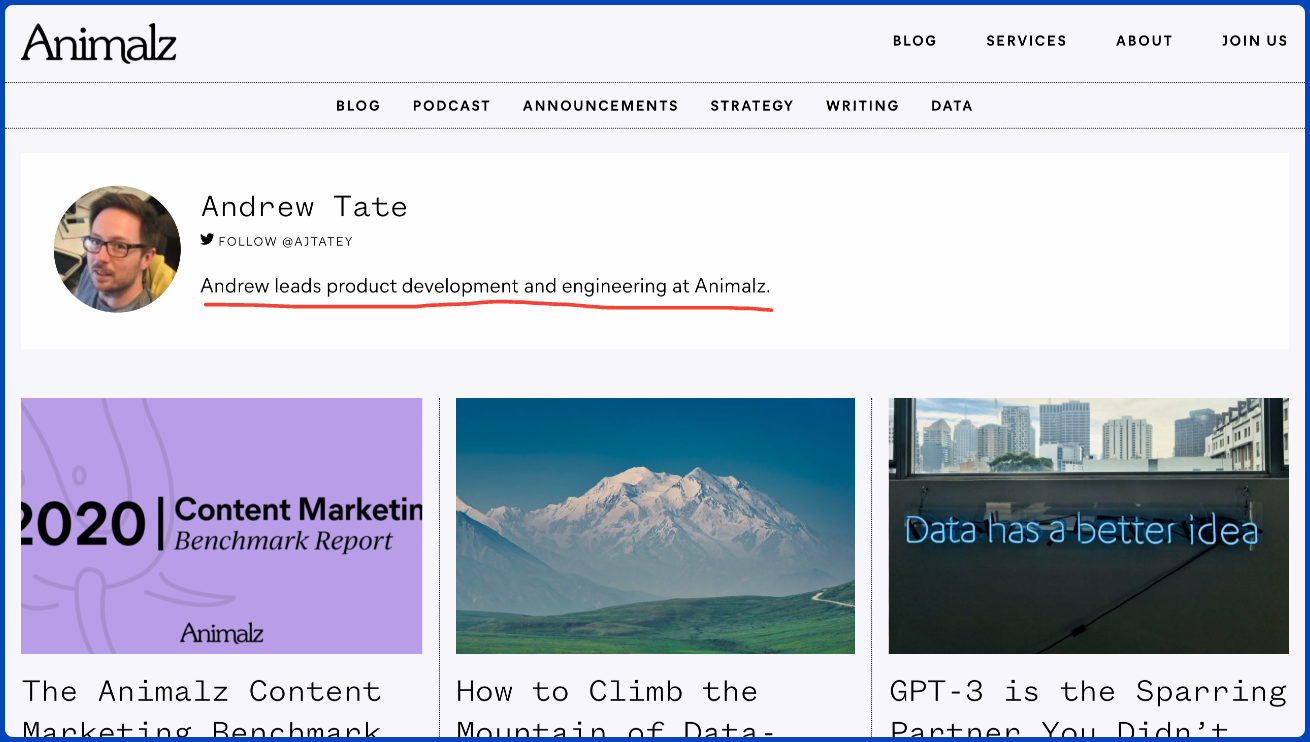 Going through their sites and byline, I see that they don't offer one-off freelance services. But they're experts leading agencies who offer full-scale SaaS content marketing services.
And what does that tell you?
If you want expert SaaS content marketing services, even on a freelance basis, it may be optimal to first seek help from an agency.
Let's see if we'll find something different from good ol' Google.
This time, let's say you want to find who Google trusts and ranks top for the topic, "SaaS content writing."
Here's what I found: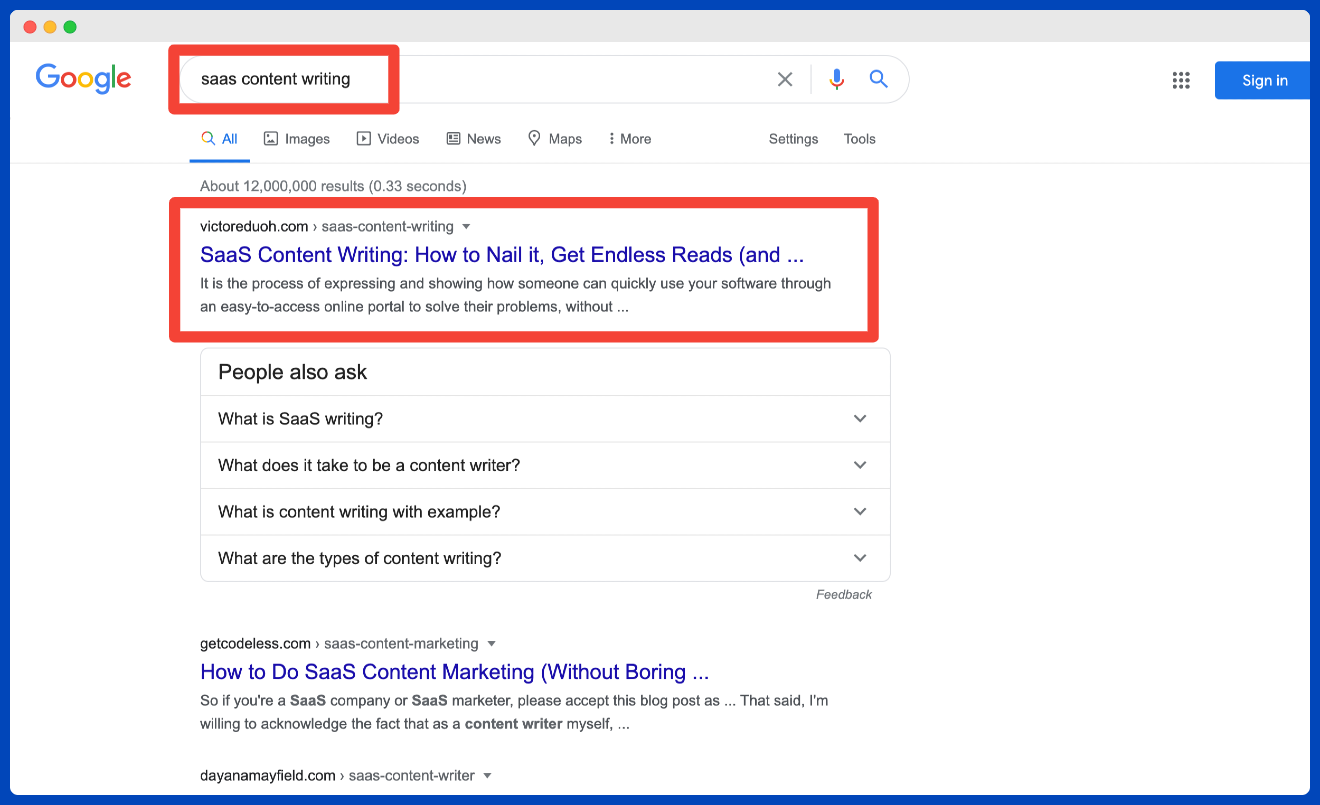 As you see, yours truly is who Google thinks has the best content on this topic. That's the logical explanation why we rank #1 for this topic.
Well, don't take my work for it.
Random people who find this article of mine on Google agree: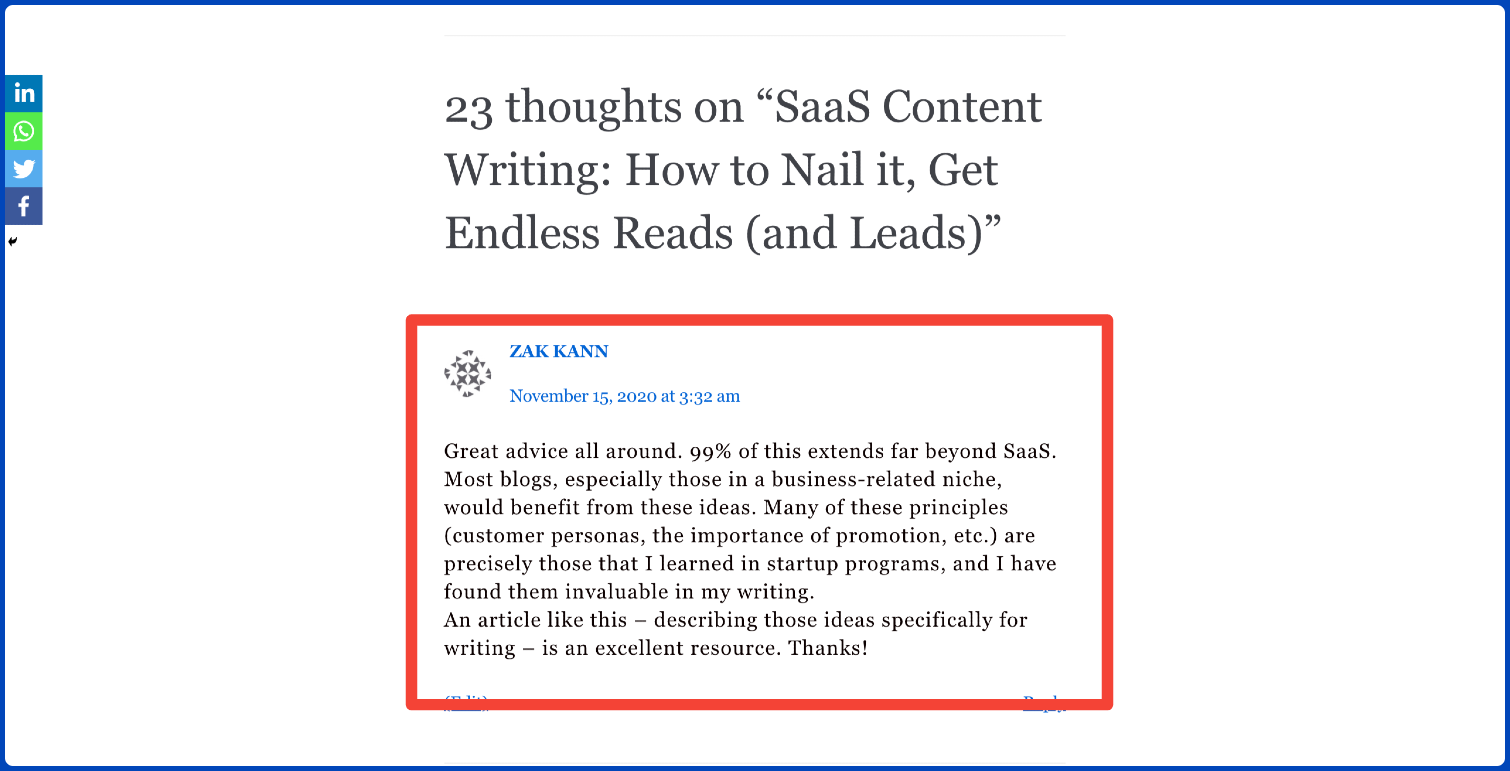 Now, to the purpose of this post: do I offer freelance content writing?
Well, if you consider outsourcing your entire SaaS and B2B content writing needs to a knit team of product-led storytellers who work as an extension of your team…
Yes!
And that's to say that because…
Our focus on using content marketing to drive growth for SaaS companies, we don't offer a one-off freelance writing service.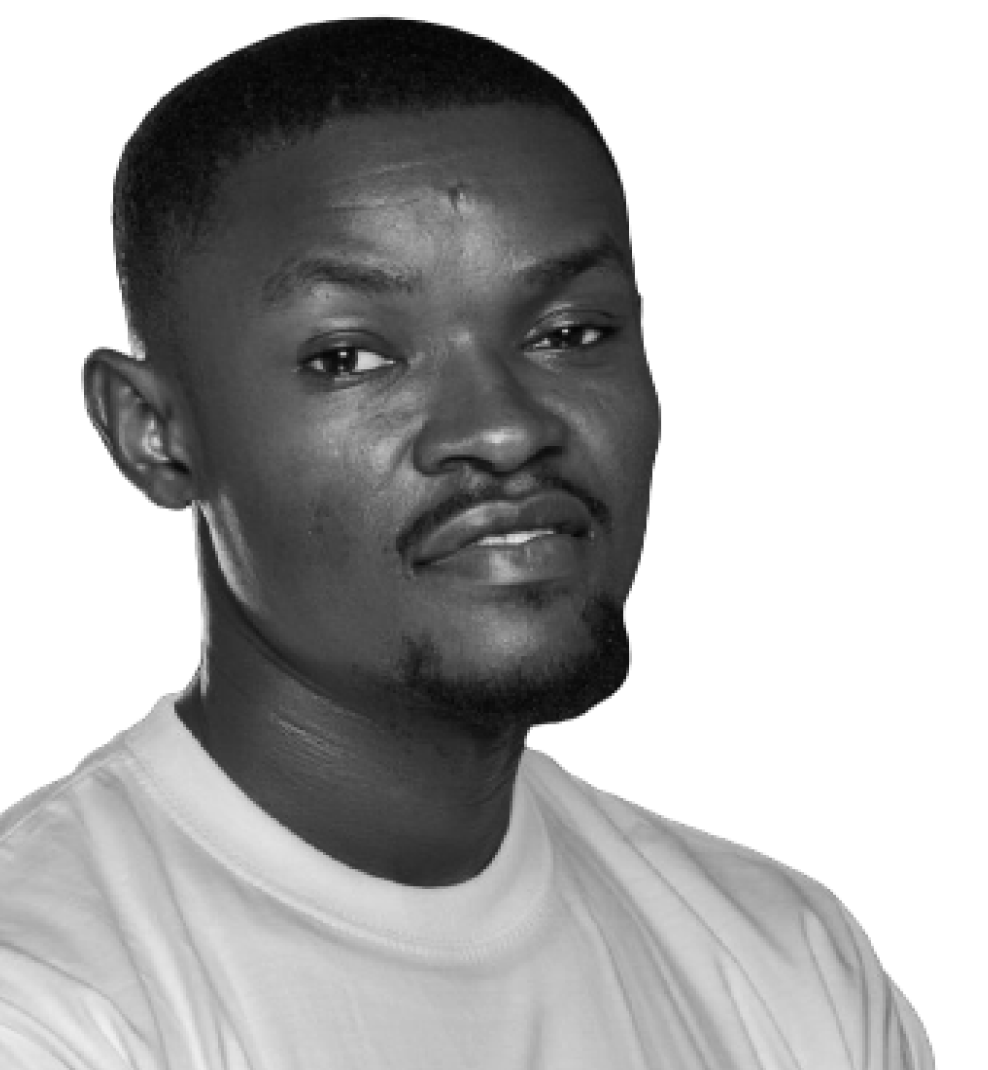 Victor Eduoh
Lead Strategist @VEC
Founder, Lead Strategist @VEC. Thinker, reader, words-crafter, and husband to Omosede. Besides crafting product-led stories, I love scouting and grooming rare marketing talents.
Get our insights in your inbox
Actionable summaries of stories told by experts on how they grow brands (and their careers) with content from our Growing with Content podcast. And well-researched insights crafted in the VEC Studio.
I will send you a copy of our Content Quality Checklist –FOR FREE– when you subscribe.