How to Manage a Content Team: 9 Experts Share Their Insights
Are you a new content head or lead, learn how to manage your content team from these 9 experts.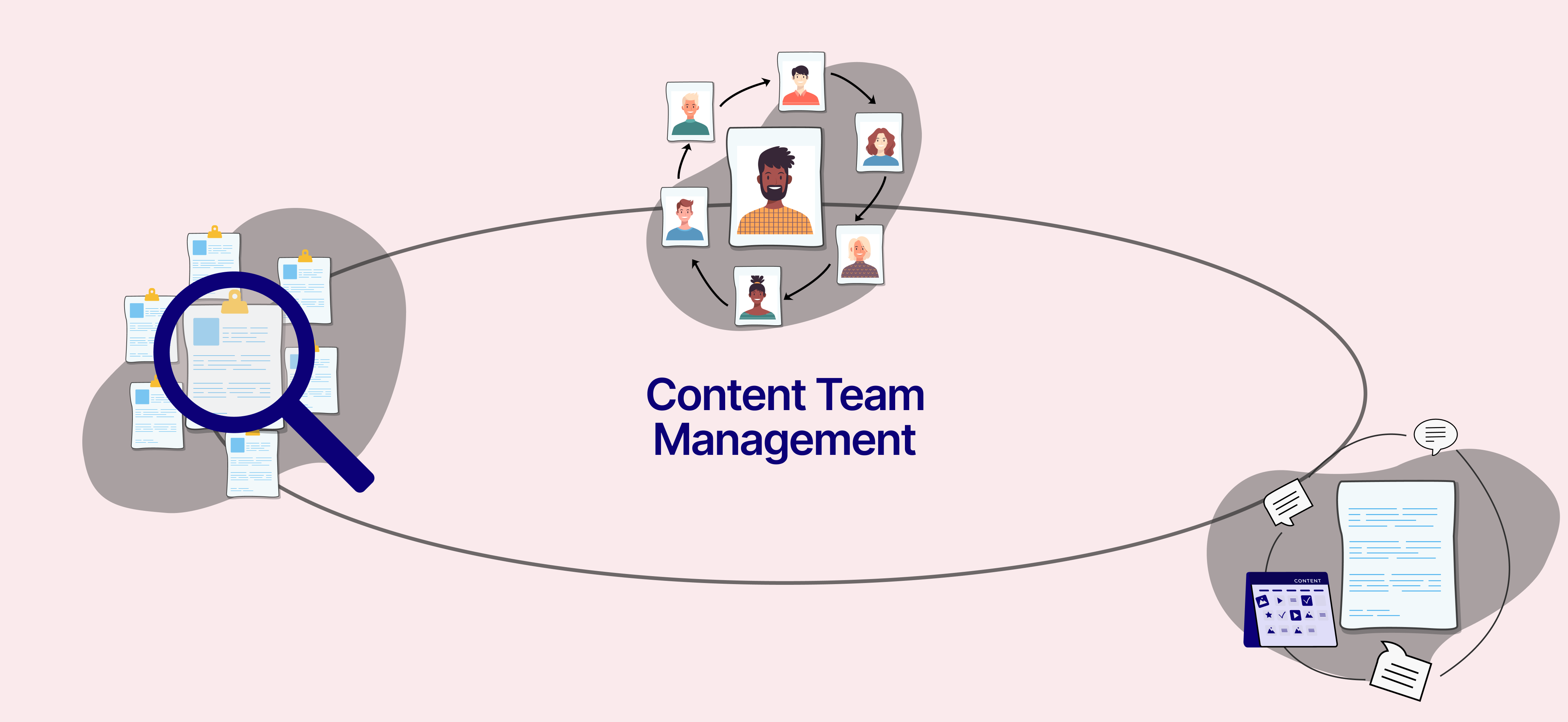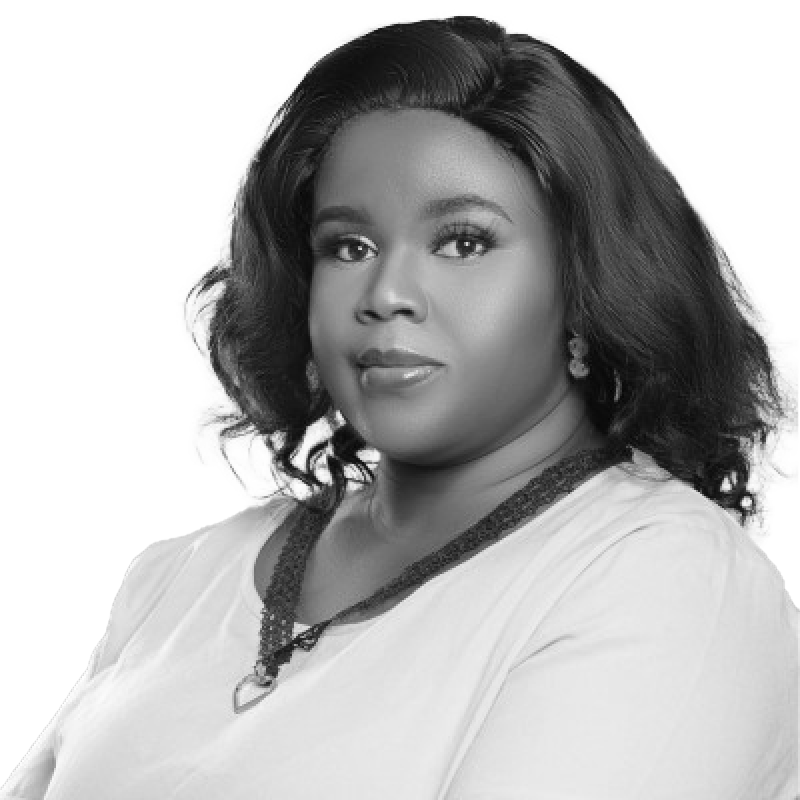 In 1969, Lawrence J Peter coined 'The Peter Principle.'Later on, he explained the concept in his famous book co-authored with Raymond Hull. The TL;DR of this concept is that skills are not always transferable. And people shouldn't be made managers just because they excel at a particular position, i.e, writing.Others have proven this concept to be true like this 2018 research. But perhaps, one of the most striking examples of The Peter Principle is Michael Scott of the sitcom 'The Office.' If you watched the series, you'll know that while Michael is a great salesman, the same couldn't be said about his management skills.Why am I bringing this principle up?It is a crucial reason why (new) content leads struggle to manage their teams effectively.Most times, content leads and heads are thrust into this role based on previous performances as writers or content marketers. Adjusting to the demands of the content managerial role can be difficult as it has a lot of pressure and requires juggling abilities.But content team management, like other skills on earth, can be learned and improved upon. To help me (and you), I interviewed veteran content marketing leaders and they shared practical tips on how they manage their content teams successfully.
You'll learn how to do the same today.
How to Manage a Content Marketing Team
Content team management can be broadly segmented into three – recruitment, people operations, and content development: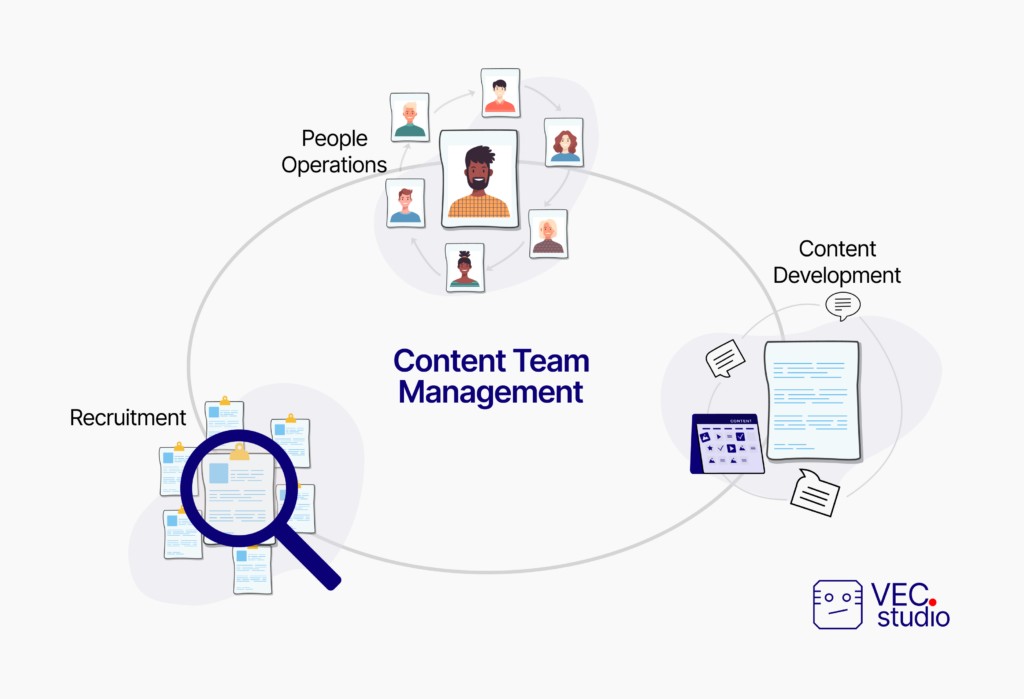 Each of these segments is indispensable.
So I sought out nine (9) industry experts to share insights on how they effectively handled these areas in their teams.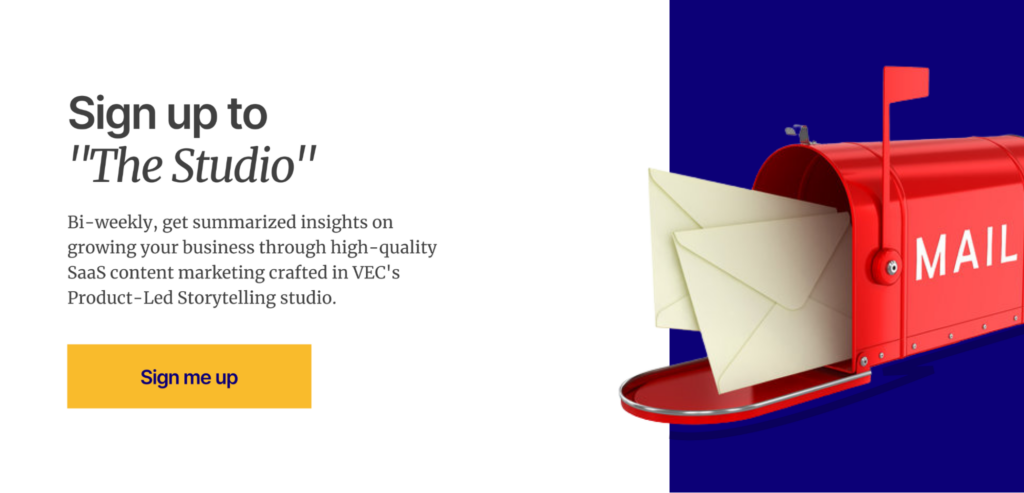 Recruitment
As a content lead, you're going to be actively involved in the hiring process as you're in the best position to know who is a good fit for your team.Now, what are the traits to prioritize when recruiting?According to Jess Cook, Head of Content at Marpipe: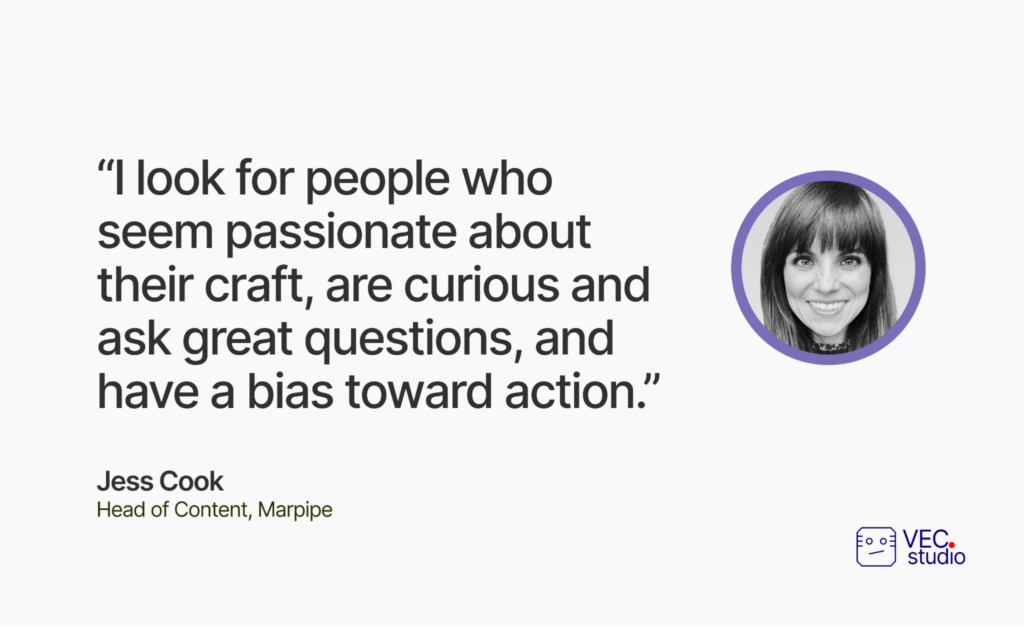 For Stephanie Totty, VP, Marketing at Joinr, "Team cohesion and personality fit is super important." In her words: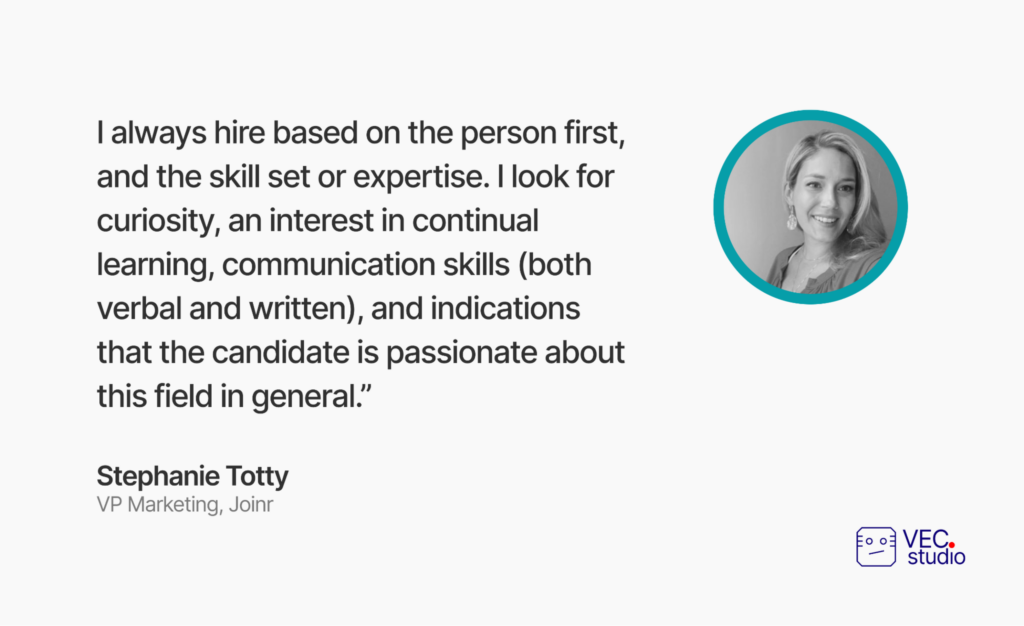 But all these can only come after you have a substantial number of candidates. This might be more difficult than you think.Many factors influence the number of applicants you'll receive. E.g. the job description, offer, medium/platform the job was posted on.
For best results, make your job description simple & helpful. Provide fair compensation and be transparent about the benefits you offer. Also, post available roles everywhere, i.e., on job boards, social media, and communities.
You should also reach out to promising people on social media.
Divyank Jain, Co-founder, and Content head at The Wise Idiot, says a lot of their writers come through references. They also post on platforms like LinkedIn and utilize the network of connections of both founders to draw applicants in.But it is not enough to hire experienced talents. Sometimes you should make exceptions and go for less experienced people.
As Divyank said: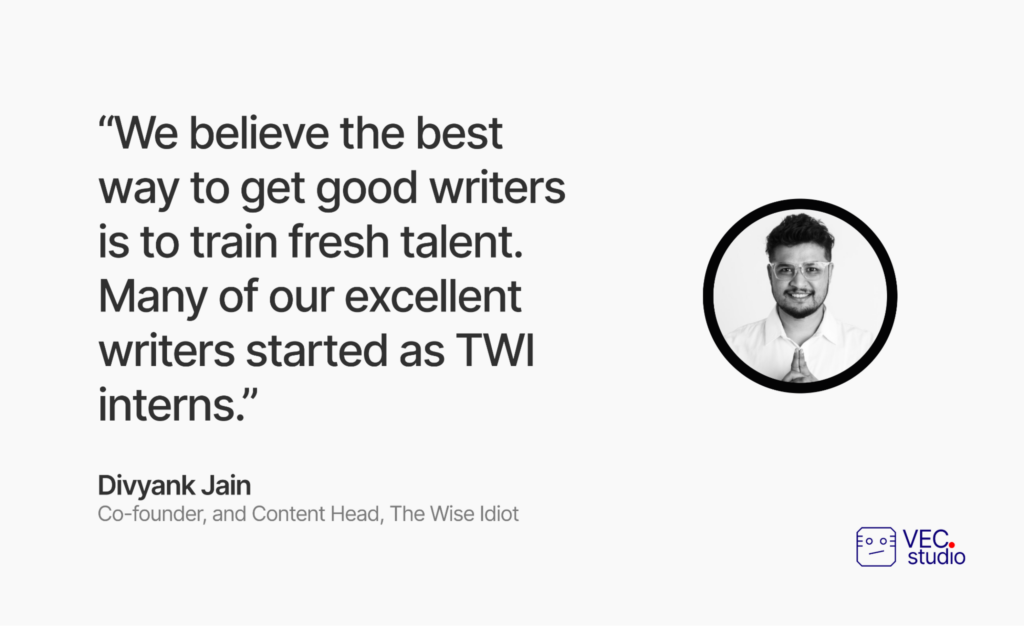 Victor Eduoh, our Founder & Lead Strategist, follows this principle. He believes in training and nurturing talent. I dare say it is a good move and could pay off. After all, I am a product of his internship program (Hello there!)
On how long the hiring process should take, Jimmy Daly, Founder of Superpath, answered in his guide on How to manage a content team:
"Give yourself three months to hire for a content role. Most positions can be filled in this window, and if they can't, something is broken. It could be low pay, bad benefits, a nonexistent employer brand, rumors of bad culture or something else."
He further said you'll need to devote about ten hours per week to hire during the three months.
Sounds like a lot?
Well, that's part of what makes the job of content team management taxing. However, you're up to the task.
The second aspect of your job is…
People Operations
People operations or control is not as straightforward as other aspects of team management. Yet it is vital.Without proper people management, your team will be a revolving door. You won't retain people for long.What does people operations involve?
See below: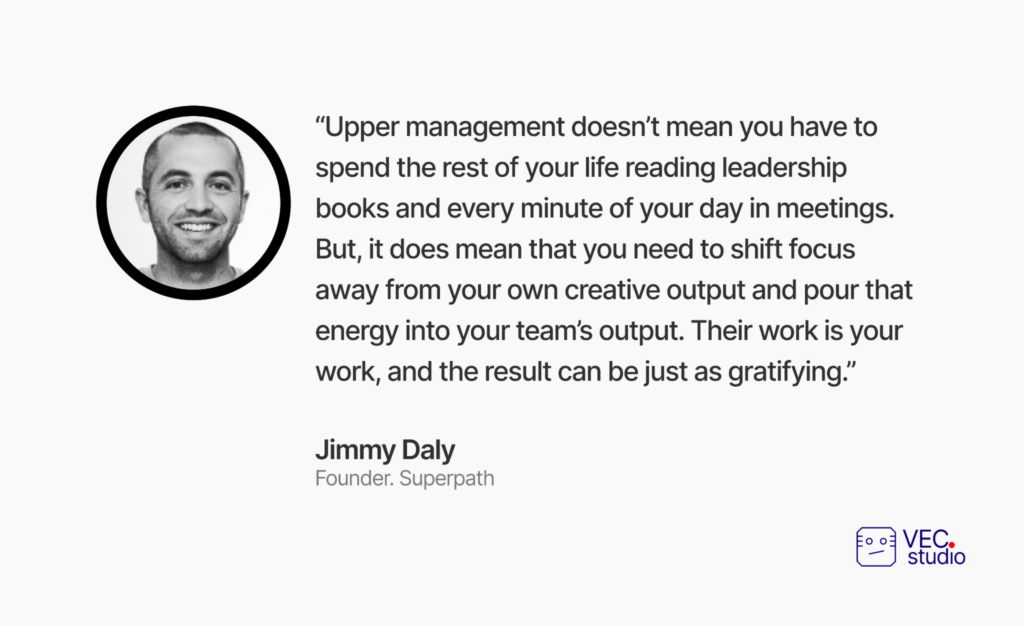 As one in charge of a content team, you should ensure they maintain a healthy work-life balance. Otherwise, they will burn out quickly and not be useful to the company. As Miljo Dragutinovic, a Professional Content Marketer at Repeatearner, puts it: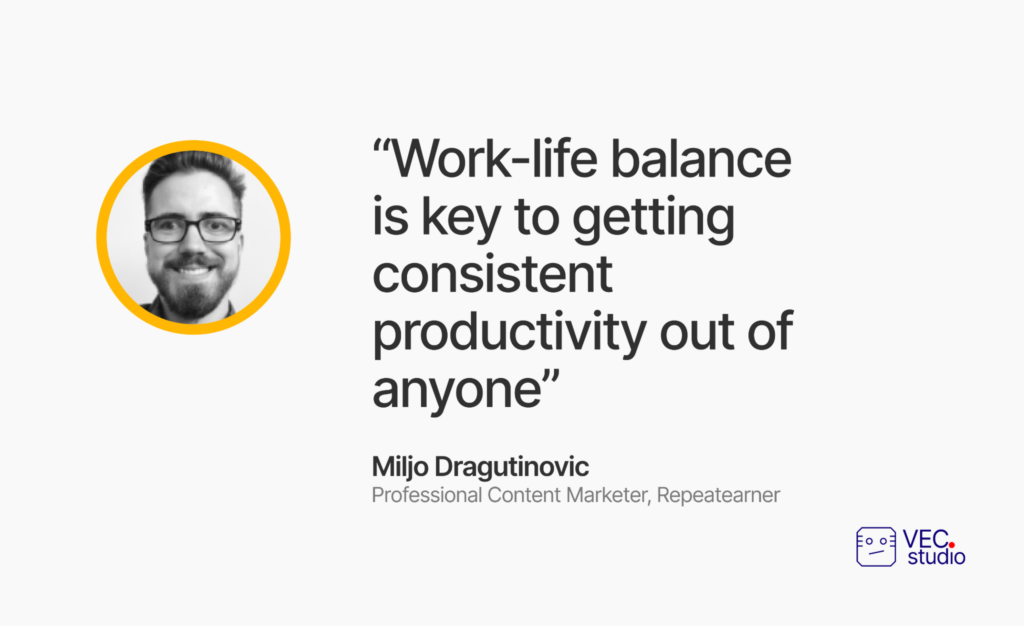 To promote this balance, Jess says, you should lead by example because…
"Your team will not think they can fully disconnect at night or while on vacation if their leader doesn't."
On the other hand, Eric Forster, Content Head at Letterdrop puts in long hours due to the nature of the company he works for. Despite that, he makes it clear to his team that they are only expected to work the normal 40-hour week.
He is firm about maintaining this balance for his team.
Eric also meets with his team of 5 every day for about half an hour. He does this to know if his teammates have any roadblocks and if the morale is good. To him, every content lead also has to be a mentor, and I agree. You need to guide your juniors and provide support as needed.
Content Development
We have the third segment: how you coordinate the content development/creation process.
This phase involves ensuring deadlines are met, and team communication and collaboration are present to produce content that helps achieve your company's goals.
Jess gave great advice on how to ensure your team members meet not only their deliverables but also submit quality work. She said:
Here in VEC, we have a quality checklist every writer and strategist must checkmark before sending any project to the editor. This helps ensure a base level of quality content. See a sample of the checklist: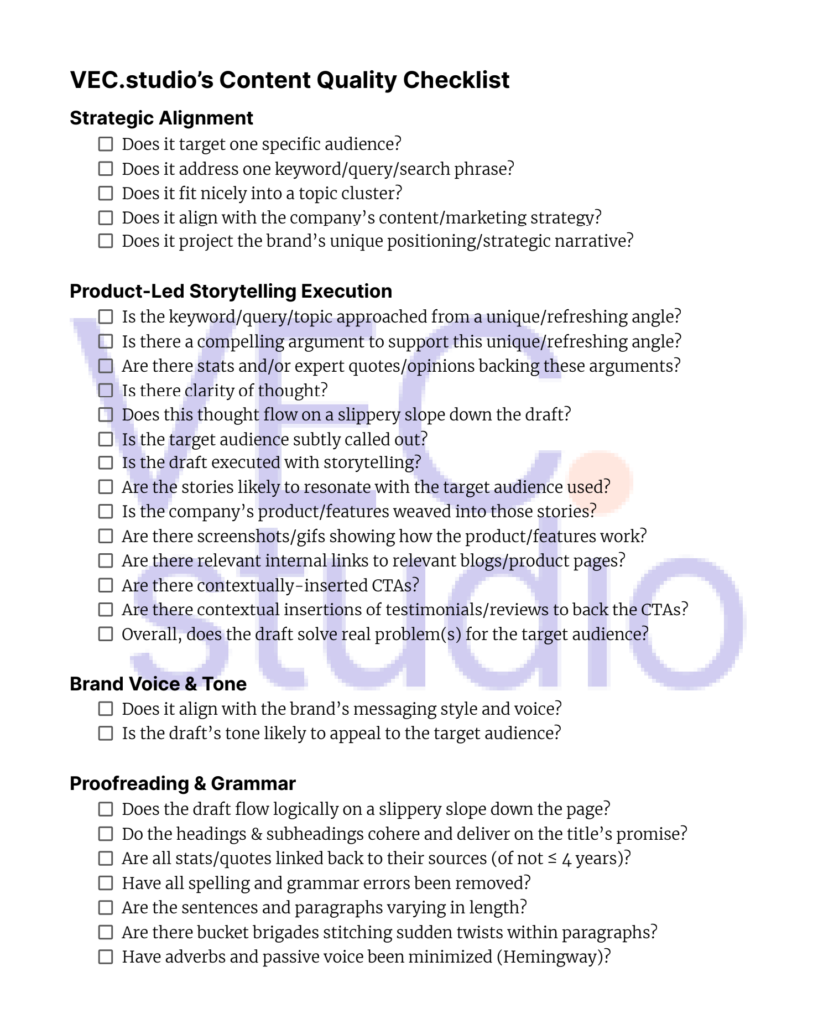 You can download this content quality checklist here. We also provide B2B content feedback by following the Triangular Feedback Framework.How about how to foster effective collaboration and communication?Sean Blanda, the VP of Content at CrossBeam, agrees getting everyone to collaborate to produce great content could be hard. But he believes in planning and knowing what you want to do weeks or months ahead. This will give enough space for good work. According to him,"Creative work requires large blocks of uninterrupted time and lots of breaks," which he tries to give to his team.Since last-minute requests derail timelines, he likes to get his team to be aligned and accountable.
For Adina Timar, Head of Content at Userpilot, her solution is similar: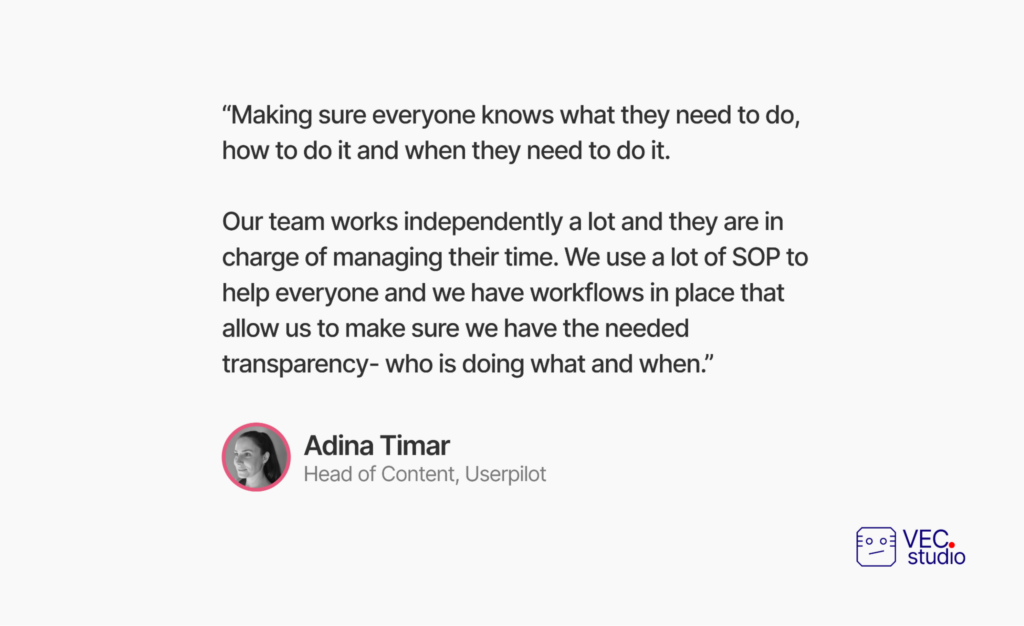 Divyank's approach is encouraging the use of project management tools like Basecamp (which he uses in his team).
You've heard it from the experts above on how to manage your content team. However, to achieve great results from your content marketing efforts, your team should be well structured.
That brings us to the next section…
How Should You Structure Your Content Marketing Team?
Sorry to disappoint you. But there is no straightforward answer to this question. Like every other marketing question, the answer is …
"It depends."The size and structure of a marketing team depend on several factors such as the size and growth stage of the company, available finances, industry/niche, etc. Some companies have a one-person content team, some six, ten, or even fifteen. It all depends.In fact, according to Semrush's State of Content Marketing 2022 Global Report, 42% of companies have one to three specialists in their teams. While 20% have four to ten specialists in-house.The answer varied widely among the experts I interviewed.Sean Blanda has a team of seven with two writers, one content marketing manager, one marketing event manager, one graphic designer, and one video editor.Miljo Dragutinovic, who has been in charge of content teams for over ten years, said he has five people on his team: a video editor, UX/UI designer, Social media specialist, and two freelance writers.Stephanie Totty has only one person on her team. Due to working only with startups throughout her career, a 3-person content team is the most she has ever led.
If you need a definitive answer, you can model your team structure after our five-people creative fold.
Steal Our Process – How VEC Manages Content Projects
This structure was borne out of the 5 key roles for a content team, and it's how we manage each of our client's projects.
Here's what it looks like: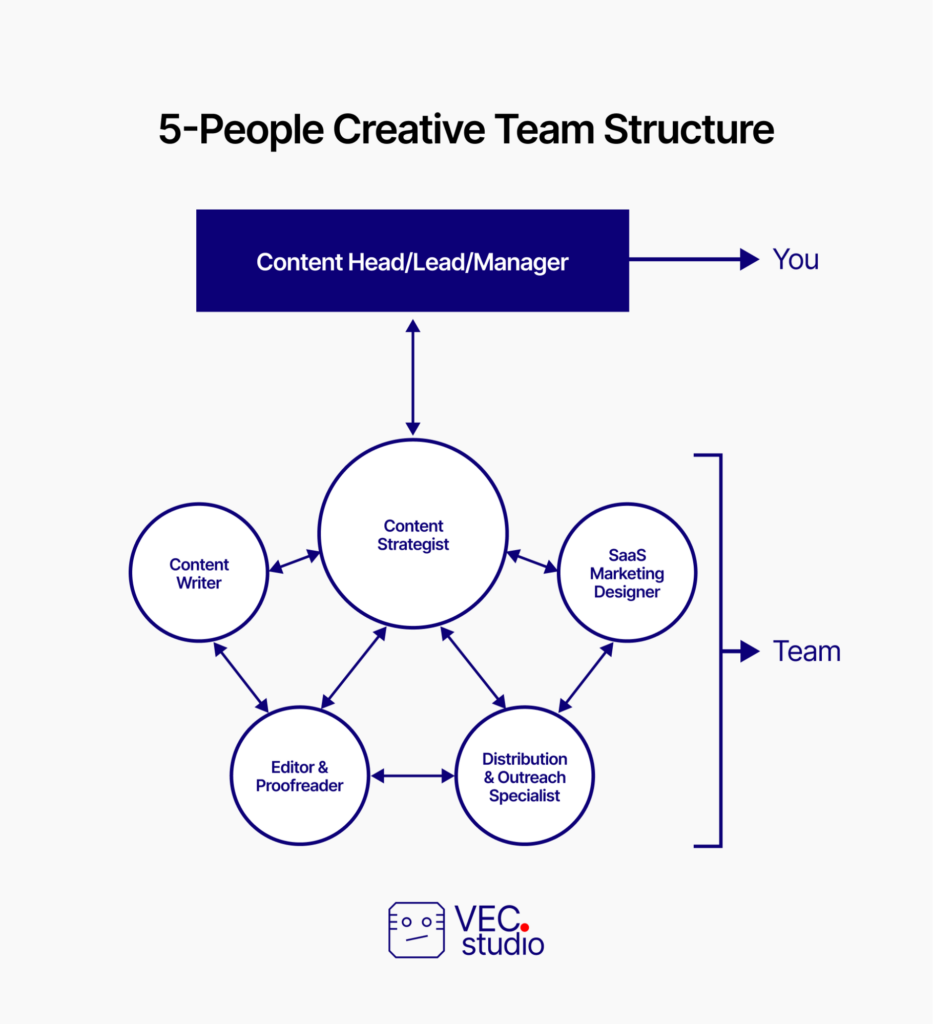 Strategist(s): The thinkers and backbone.
They strategize, plan, direct, and influence the content produced. Their ultimate goal is to ensure all the company's content activities are strategically aligned to its business goals. We take strategy seriously because it heavily impacts the success of the content effort judging by the fact that 78% of brands who had success with content in 2021 had a documented strategy.
Writers: Or Product-Led Storytellers, as we call them.
They are at the center of all written, story-driven content. They write blogs, case studies, articles, and excerpts for newsletters and socials. They also highlight where the designers should help with in-content designs.
Editor(s)– They are the unsung heroes.
They edit the content written by the writers, ensure quality deliverables, and give the final word for work that's ready for client reviews (or to go live).
Designer(s)– The designer creates graphics to further explain some parts of the content or promote the content on visual-heavy social channels. A designer on this team created the illustrations and quote designs used in this piece.Distribution & Outreach Specialist: These are the people who work to distribute, repurpose, and amplify published pieces.
Depending on your needs, you can hire a social media/outreach specialist and a professional video editor to handle this. Or you can have one person handle both aspects.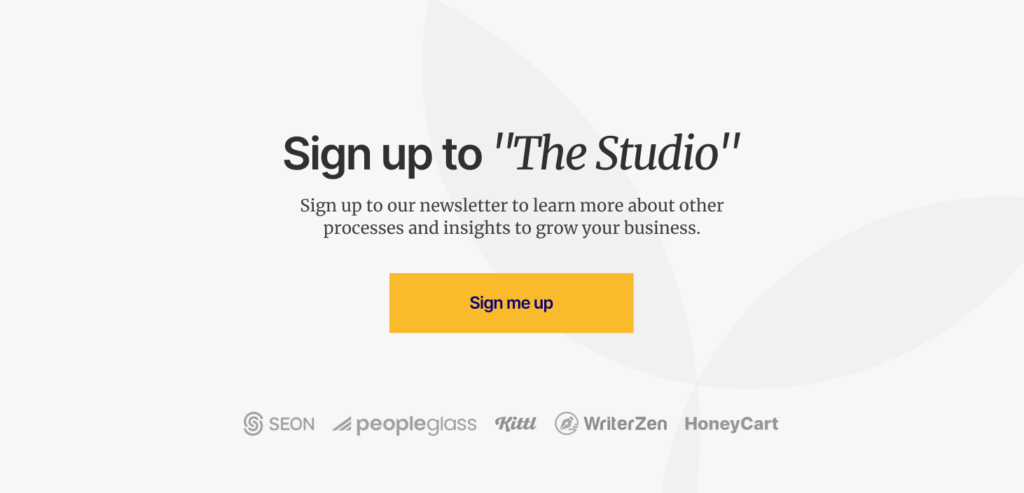 Finally, to be an effective content head, you need to keep abreast of the ever-changing landscape.
How To Keep Up With Marketing Trends
There are so many ways you can stay informed of industry happenings, and some of these ways include:
Communities: There are a lot of marketing communities like
Social media: This involves being active on social media, following relevant thought leaders, and possibly turning on post notifications for their posts.
Industry Events: You should also attend industry events (physical & virtual). A good deal of noteworthy information that shapes trends are passed across in these events.
Blogs, Podcasts, Webinars: Consuming different content formats goes a long way in keeping you updated. Don't restrict yourself to only one or two websites. Binge on content from different sources. Examples are
Newsletters: Finally, you should also subscribe to newsletters from companies and thought leaders. Notable among these newsletters are
What Next?
You know one piece of advice that came up one too many from the above interviews?Don't micromanage!The overwhelming nature of your job might force you to police your teammates in the name of keeping them motivated. Unfortunately, this does more harm than good as it demoralizes them.As Adina remarks,
"Never micromanage- for the sake of your sanity, your team's sanity and the overall performance of your team. Managing a content team is about ensuring everyone has the needed support and resources in place to do their job and clarity on what it's expected from them."
Give them room to make mistakes without fear of condemnation.Above all, see them as humans first. And treat them accordingly.
You don't have to implement all the lessons in this piece at once. Take it one step at a time. You can start by fixing the work-life imbalance (if any) or taking steps to promote better collaboration.
It is not an easy job, but it is worth it.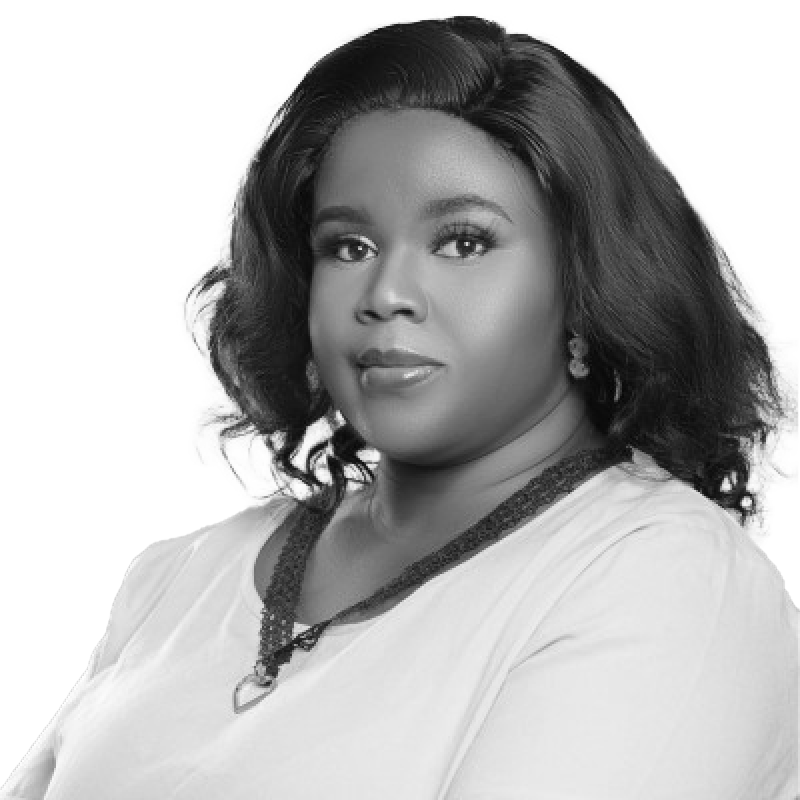 Tamilore Sonaike
As an introvert, the way I express myself is through my written words. I continually hone this skill through constant learning and practice so that you can find great value in what I write.
Get our insights in your inbox
Actionable summaries of stories told by experts on how they grow brands (and their careers) with content from our Growing with Content podcast. And well-researched insights crafted in the VEC Studio.
I will send you a copy of our Content Quality Checklist –FOR FREE– when you subscribe.