Content Recall: Why Most B2B Blogs Don't Bite (and How to Solve It)
Content recall gives B2B blogs teeth to bite and drive demand. This essay explores how you can create recallable content.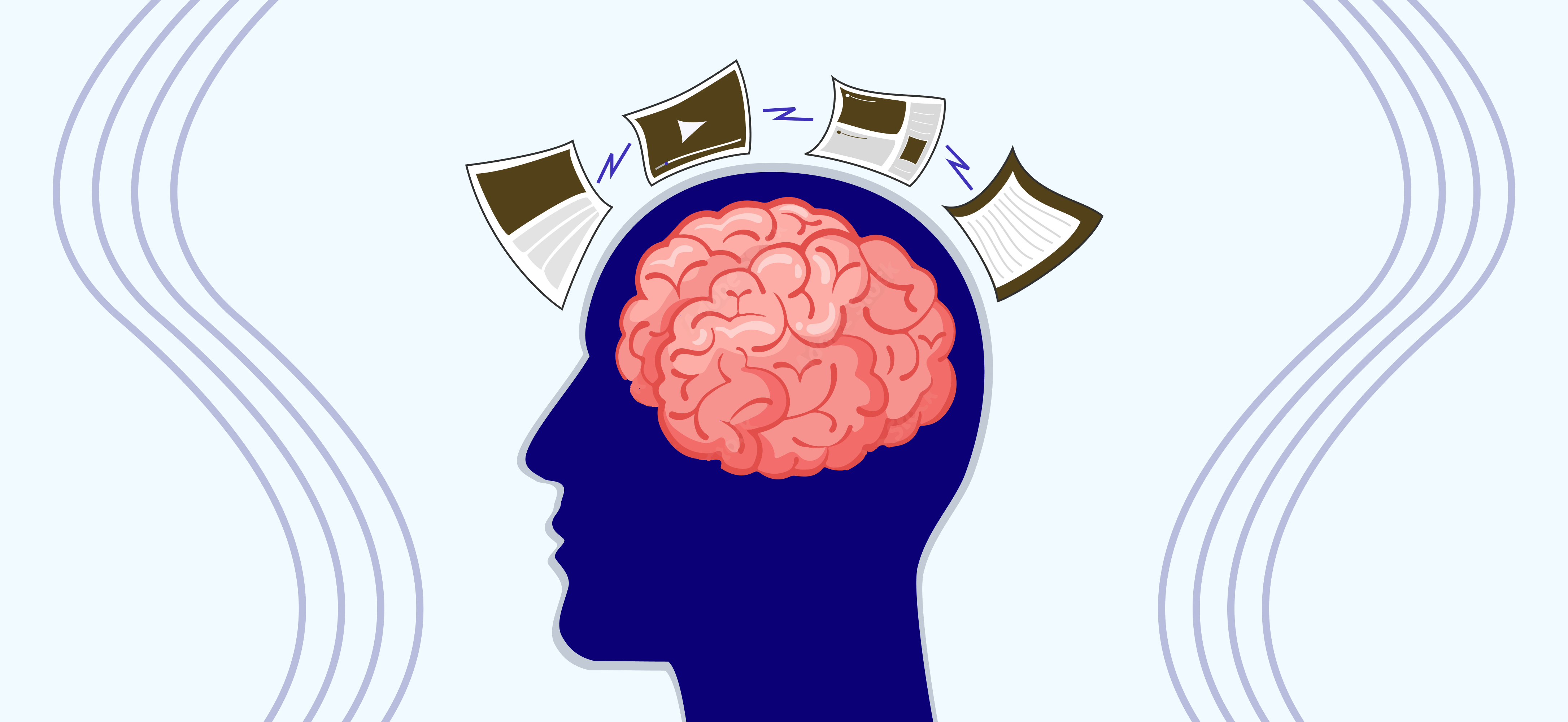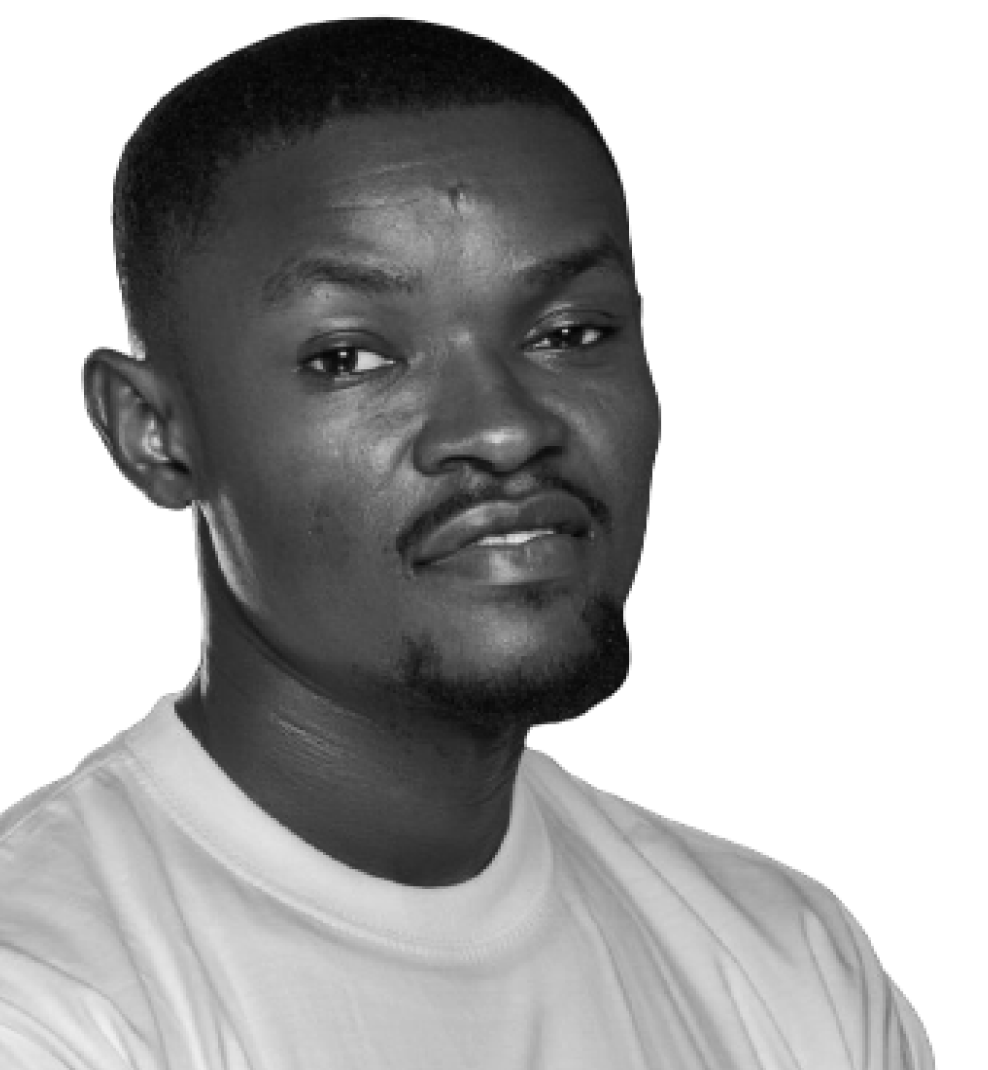 Victor Eduoh
Lead Strategist @ VEC
Think of all content forced onto your feeds last week.
From emails to links shared in forums and Slack communities, to guides, and articles you binged on. Add social media posts, podcasts, YouTube videos, and tens of millions of content from search engine result pages, if you did any research.
Put a number to it.
How much content did you come across last week alone? More importantly, how many can you recall today?
Why We Don't Recall Content
My rough guesses to the questions above are:
You came across a boatload of content last week, and
You didn't read most, if any, let alone remember them or the brands that produced them.
These guesses may be rough, but they're not blind.
Daily, not even weekly, the volume of content created on the internet crosses 2.5 quintillion bytes of data. In those staggering 2.5 raised to a whopping 18 zeros bytes of data produced per day are billions of emails. Hundreds of millions of Tweets. Dozens of millions of new blog posts. Hundreds of thousands of hours of YouTube videos. Over two million LinkedIn new posts.
I could go on and on, but you get the point.
Now, based on these mammoth volumes, one may argue that it's okay for people to forget content they come across weekly. And there's a point there.
But neuroscientists have found otherwise.
According to various memory encoding studies, when people forget, it's not predominantly due to volume or because they're bad at remembering things.
This report by Interesting Engineering said it best: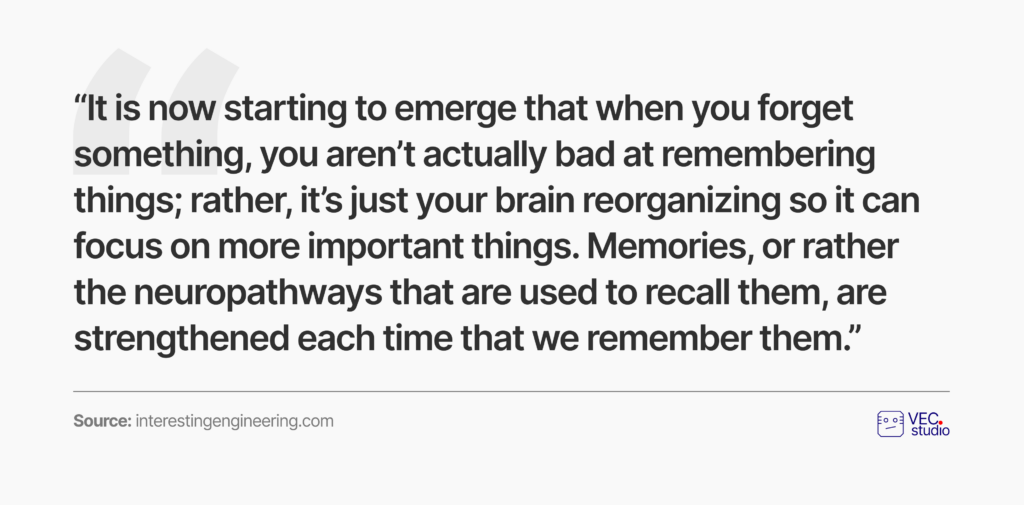 In other words, we forget because the brain doesn't recognize most content as 'important' when our episodic memory reorganizes what the brain picks up in a given period, say, last week.
So the neuropathways for remembering them don't strengthen enough for them to be recalled.
This is a huge problem for B2B marketers.
After all, if people don't recall your content, how on earth would they remember your brand or consider your product marketed in said content?
Not much.
Today, we'll explore ways our studio is taking to solve this recall problem for every SaaS content marketing piece we craft.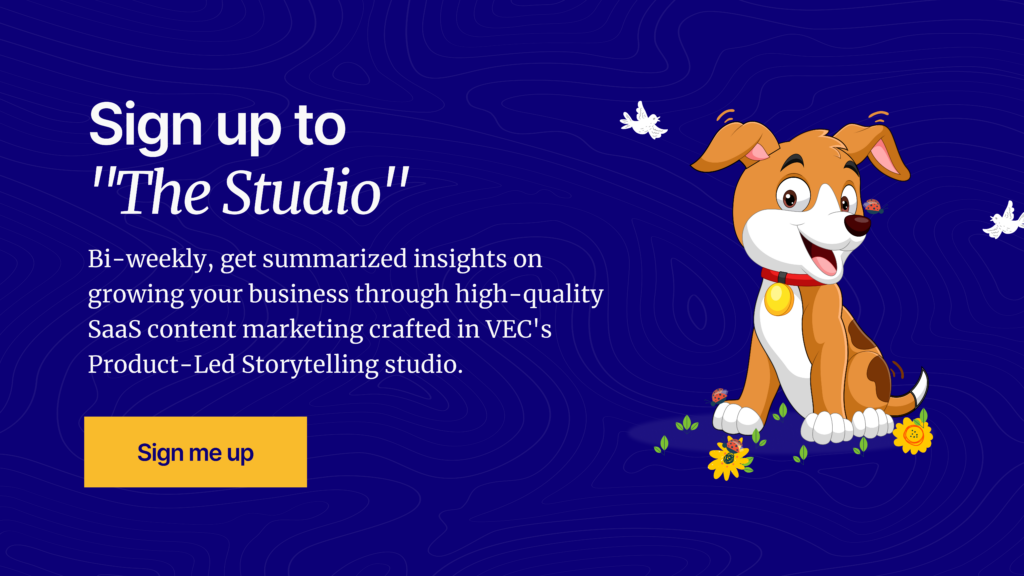 Perception & Attention: Where It All Begins
How target audiences perceive the content your team creates is the first step in whether they'll recall it. Neuroscientist Richard C. Mohs noted this in a recent article.
He wrote: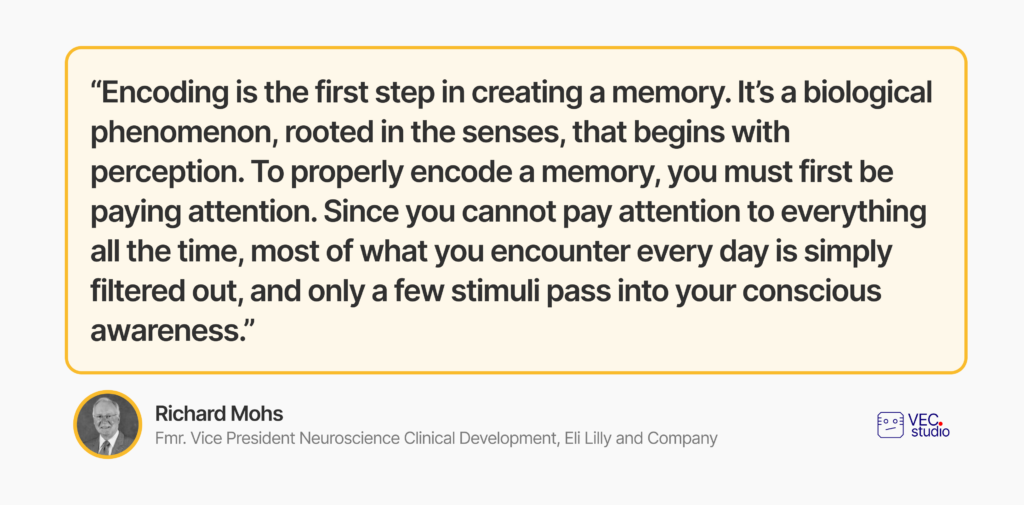 So perception, followed by attention, is where it all begins. As explained above, both are fundamental and inevitable.
But they're not enough.
For your content (brand or product) to be recalled, it needs to get 'encoded' in people's conscious awareness. And that'll only happen if they spend considerable time reading it.
Several studies by Chartbeat shine a light on this.
In one, they gave a content piece to 1,500+ participants. Those who read over 15 seconds were 25% more likely to recall the brand behind the content than those who read it for less than 10 seconds.
In follow-up research, Lauryn Warmick, Chartbeat's Fmr. Head of Brand & Marketing further revealed how crucial getting people to actually read your content can be.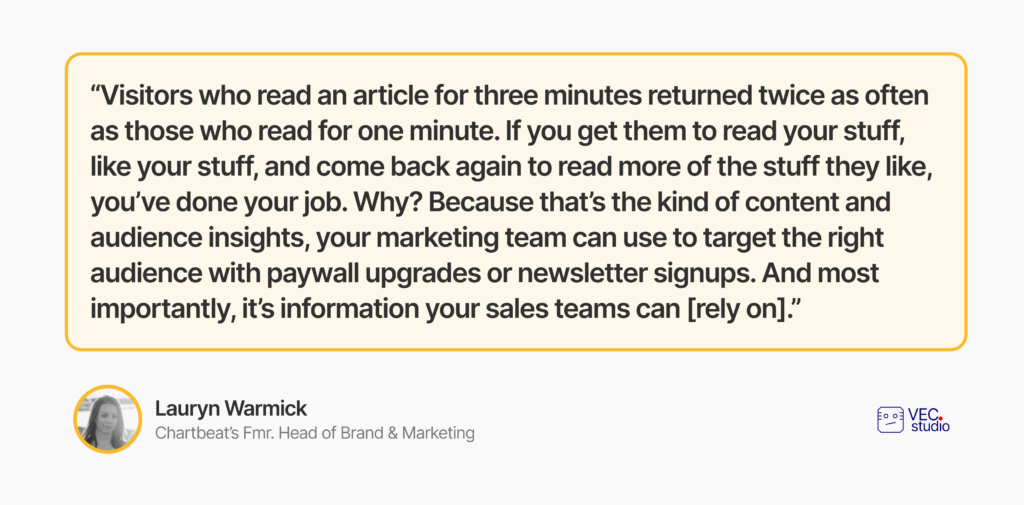 Here's what you should take from all these.
Using distribution tactics to force content onto prospects' feeds is necessary. But it's more important to craft (emphasis on craft, not create) content that, once people chance upon, they'll not just read, but they'll love it enough to sign up for more.
It's our watchword here at VEC: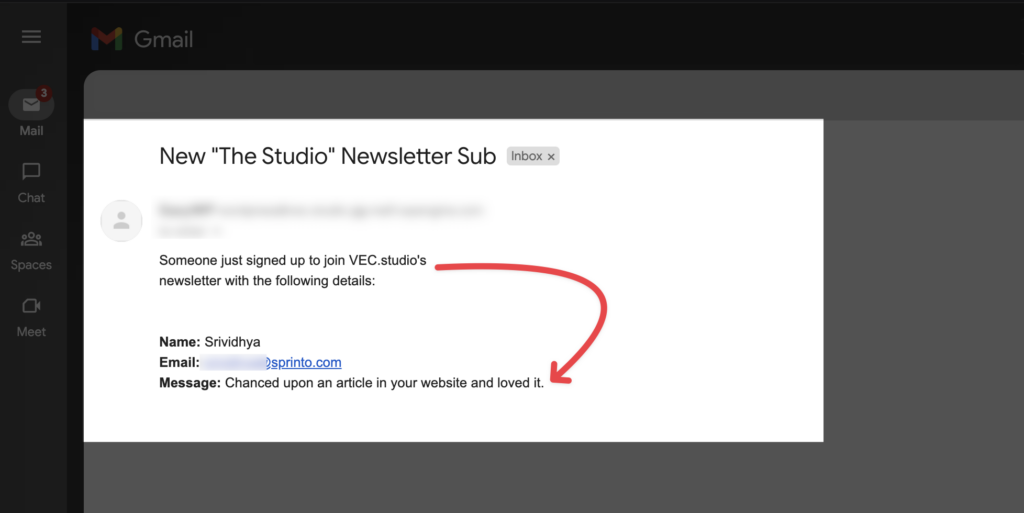 How to Create B2B Content Prospects Will Recall
Content prospects recall does three things:
It shows and inspires them to act now,
It empowers or entertains them, and above all,
It educates and teaches them something new:
Of all three, the third—educating via content, so ideal readers learn something new each time they come across an article by your company—is the most crucial.
Researchers at Johns Hopkins University explain why: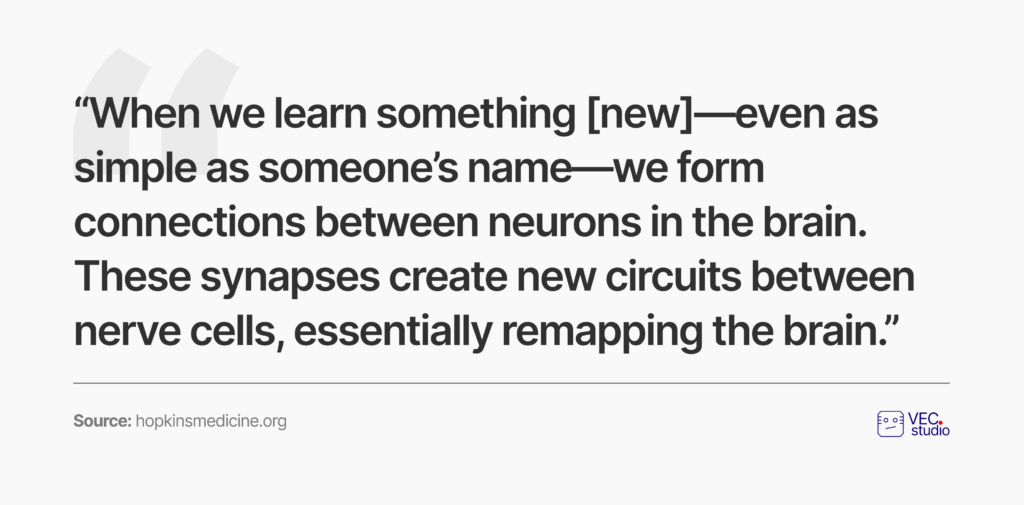 Again, that's also a watchword of all VEC-crafted pieces.
We do our best to educate readers in each piece, which is how we get unsolicited reviews like this: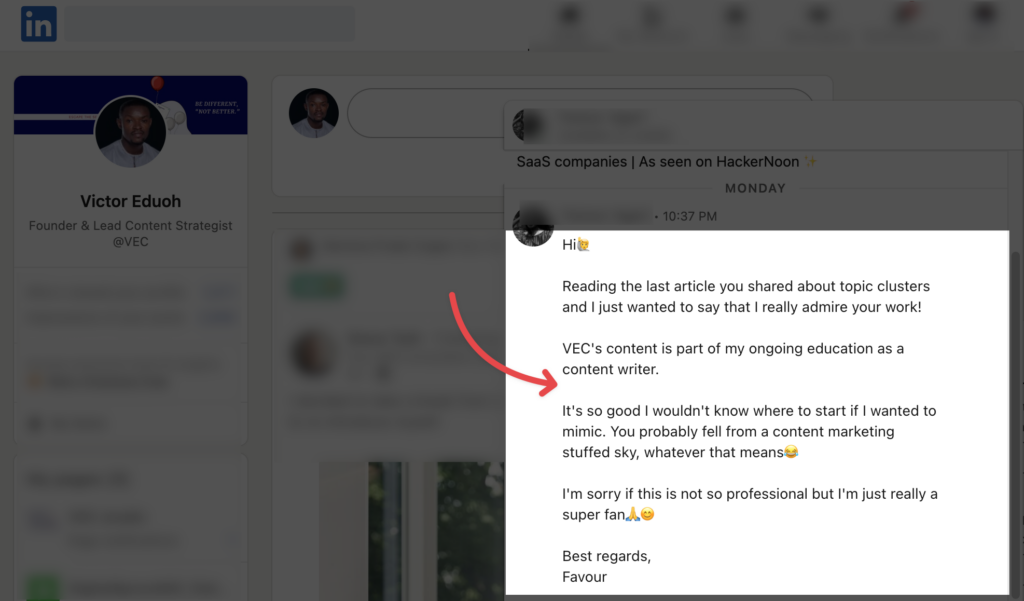 The steps below are how we (and your team can) create recallable content to achieve results like the ones above.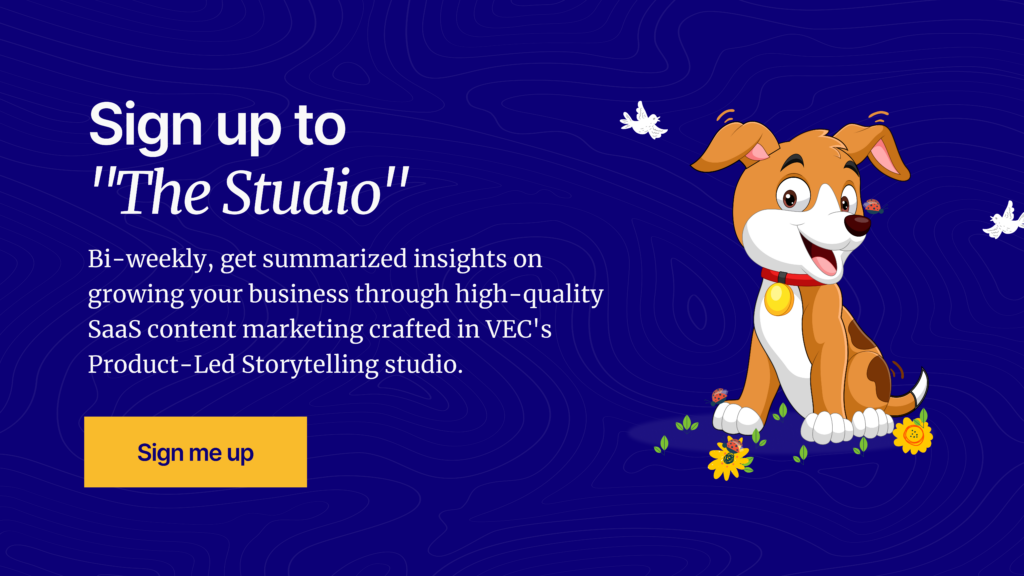 Invitation Specificity & Soft-Landing
In this digital age of content overload, people tend to recall those with:
Invitation specificity, and
A soft landing right from the start.
Let's explain both with an example.
Imagine you're a manager seeking a SurveyMonkey alternative to help improve employees' engagement. On Google, you search: "surveymonkey employee engagement alternatives."
And get this SERP: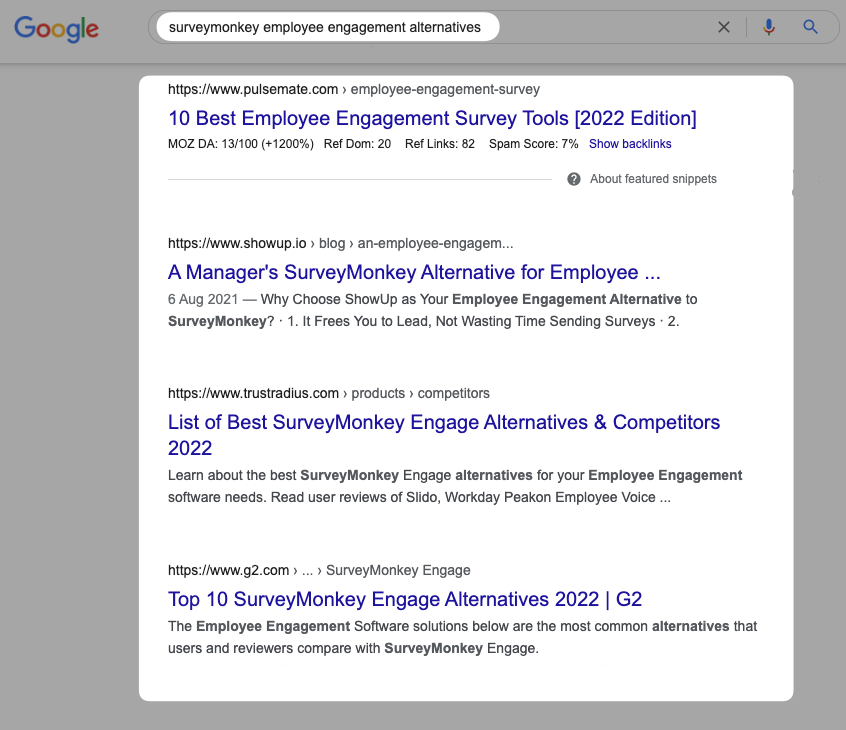 As a manager, chances are you'll seek information specific to managers. Based on that, I bet you'd most likely check out the 2nd search engine result by ShowUp (a Dovico company):
"A Manager's SurveyMonkey Alternative for Employee Engagement."
Compare that option to others on the SERP, and you'll notice things that make target readers blind to most B2B content pieces:
They looked alike (hi, copycat content).
They appeared to be trying to outcompete each other on which had the longer list of alternatives (hello, skyscraper content). Worse, and this is the more worrying part,
You couldn't tell who the content was for specifically.
All these make it nearly impossible for prospects to have a positive perception of your content. I mean, which busy manager wants to read random stuff over one written specifically to help them?
Not me.
So avoid clickbait and generalistic headlines that don't speak to anyone nor promise any specific person anything. Going forward, write the title of your content to be an invitation to someone specific (your target reader).
Next, introduce your piece to give that target reader a soft landing. The ShowUp article in question did just that: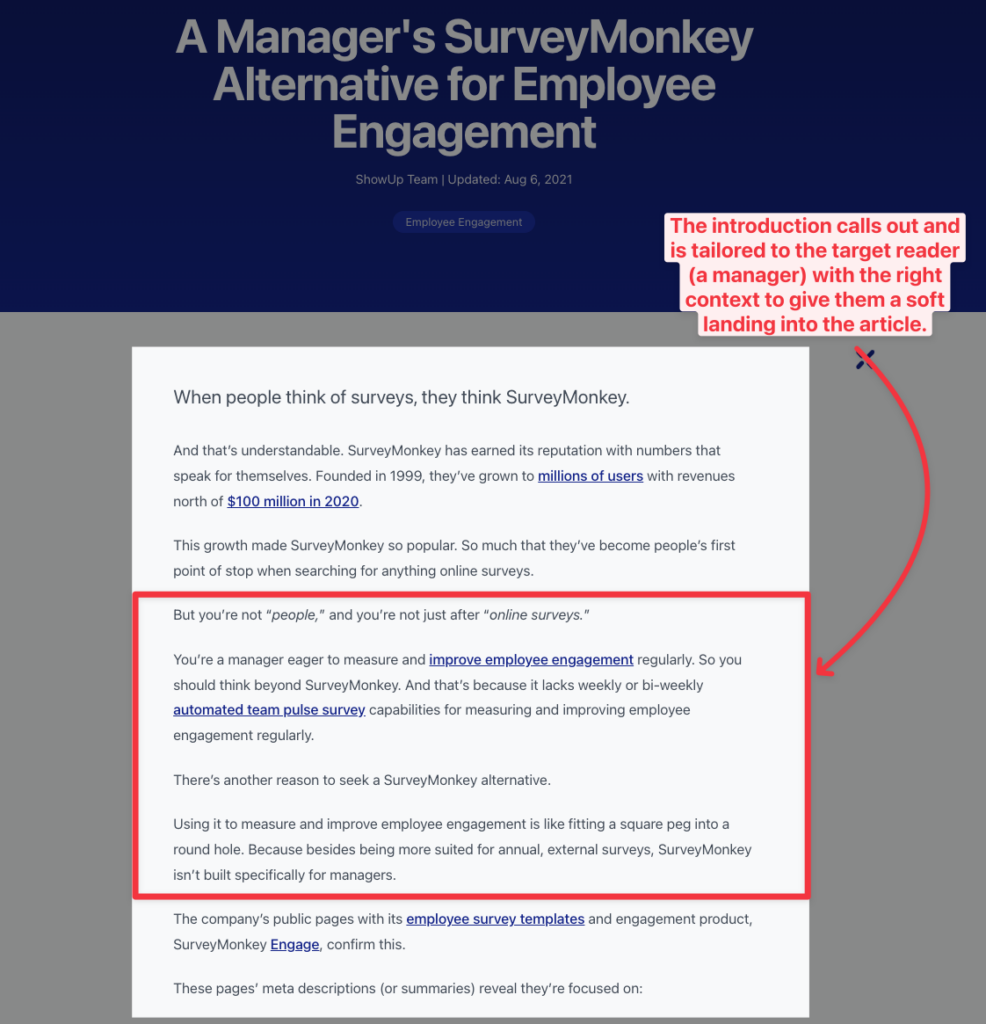 ShowUp's introduction in this piece does three things well:
It doesn't play with the reader's intelligence. How? SurveyMonkey is a huge brand. Best to first acknowledge that (and earn the reader's trust) before anything else.
It downplayed SurveyMonkey as an employee engagement tool without bragging about ShowUp.
It uses a contextual storytelling angle super-tailored to the ideal reader. In other words, it didn't start by trying to appeal to everyone with a generalistic question like, "are you looking for employee engagement alternatives?"
These essentials, (1) invitation specificity and (2) soft landing, lays the foundation for crafting B2B content target readers are more likely to recall.
Because it serves to attract and filter those most likely to get the most value from reading your content right off the bat. Going by our Product-Led Storytelling approach, that's the first goal of all VEC-crafted pieces: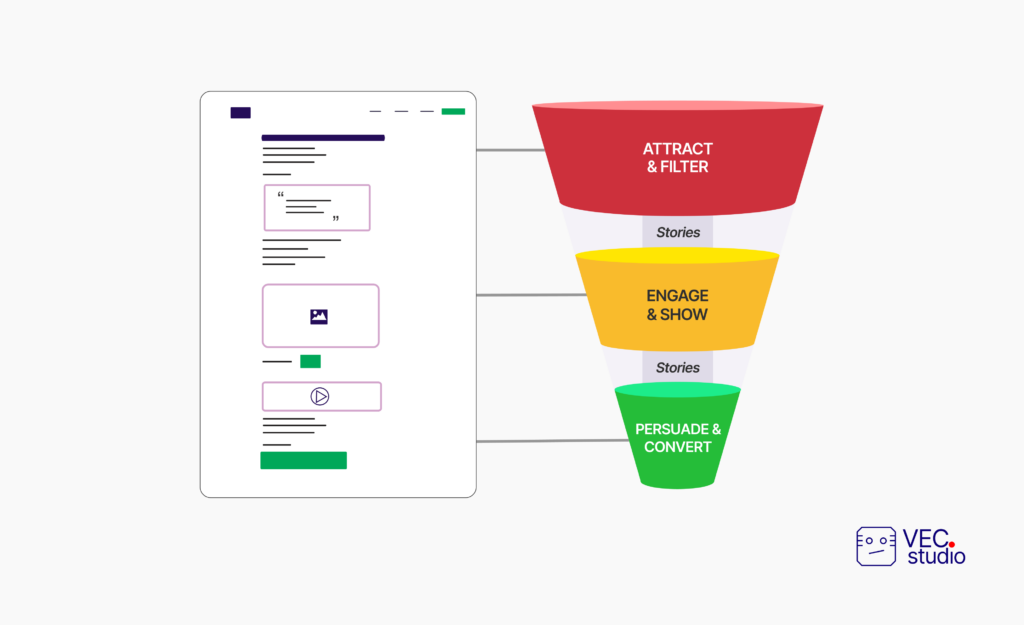 Before we proceed…
It may interest you to know that VEC produced the blog post in question (and many others) for ShowUp. It got Jamie, Dovico's Product Marketing Lead for ShowUp, to say things like: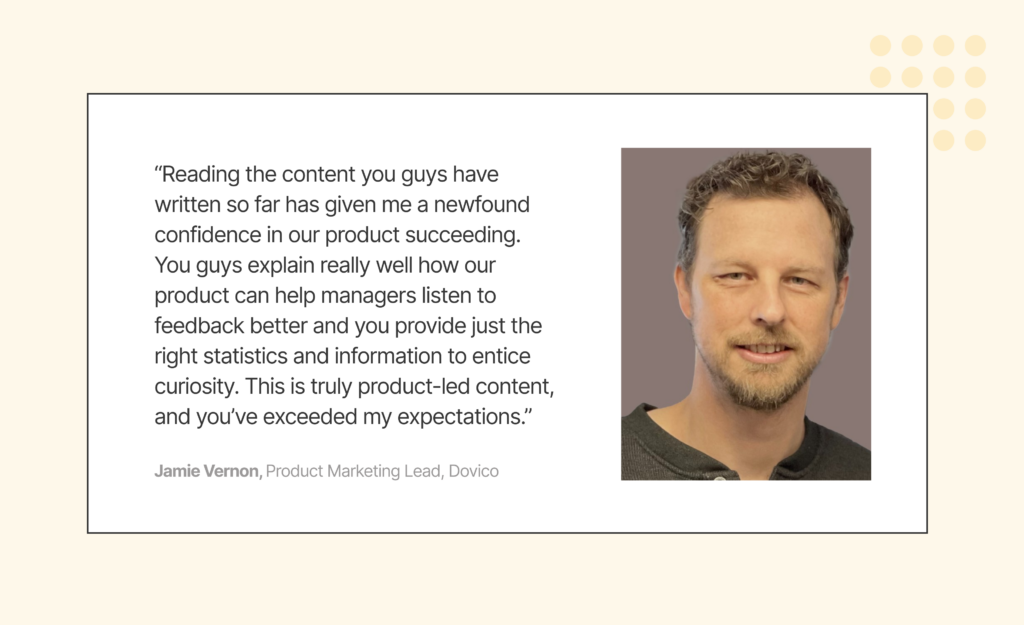 Have a Take, Don't Suck
Go right now to Google and search 'content recall.' You'll most likely find a 2012 article featured on the SERP by A.J Kohn, a veteran Digital Marketer & Startup Advisor.
In the article also titled "Content Recall," Kohn advised anyone creating content to always: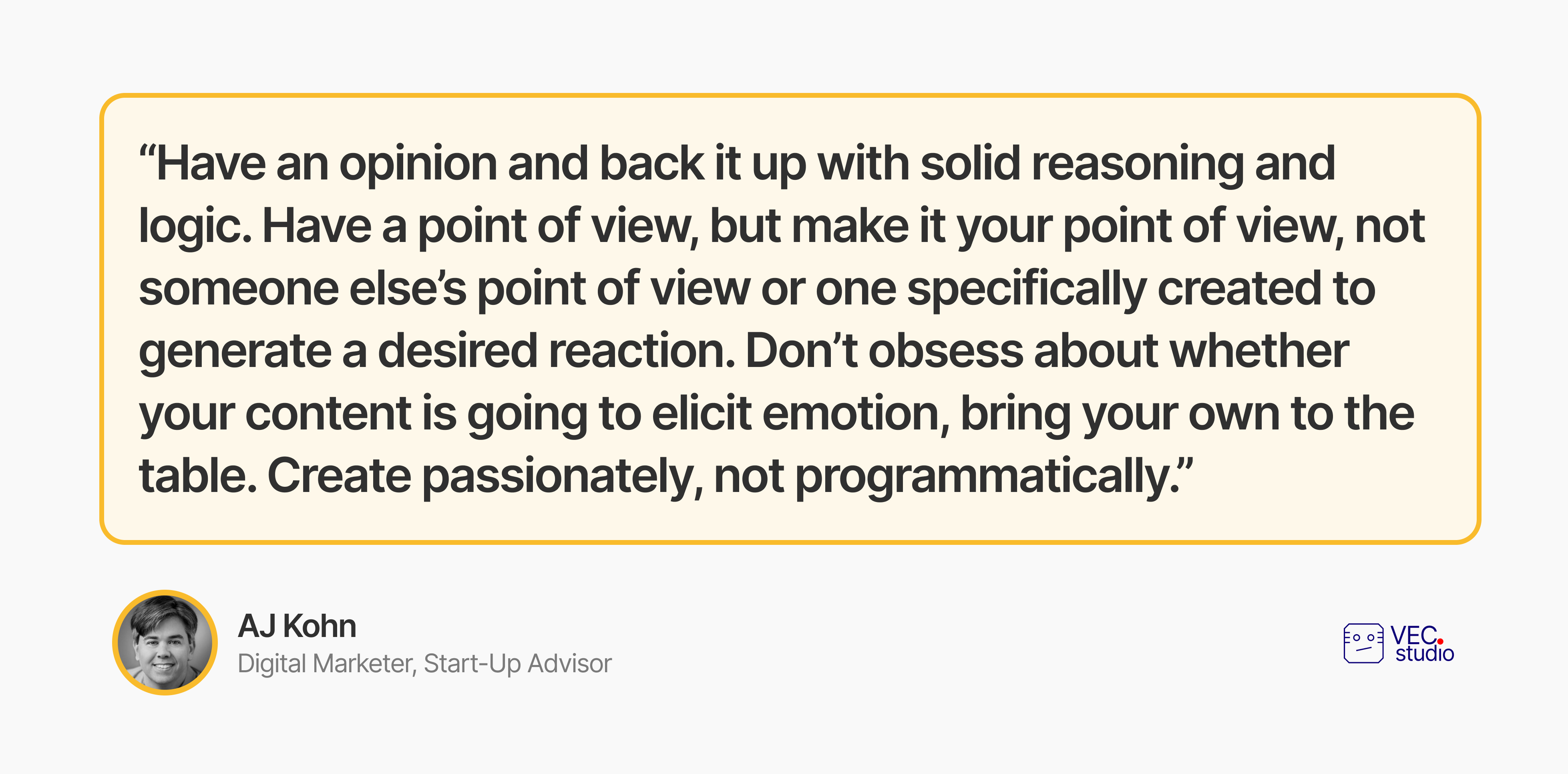 People don't recall me-too content.
This isn't to say you shouldn't create content on topics already covered extensively before. You should. But while you do so, keep Kohn's advice culled from the headline, "have a take, don't suck."
That is, ensure to bring something new or refreshing to every piece, and demand the same of everyone on your team.
Take this one you're reading.
I didn't me-too what Kohn (or others) had written about content recall. If you read Kohn's (or others') article on this topic, you'll see that my take doesn't suck because it's different and specific to today's B2B marketing leaders.
How do I know this?
If it sucked, you wouldn't have read up until this point. You would have bounced long ago. It's why all VEC-created pieces go through a quality assurance checklist that ensures each piece we produce is:
Approached from a unique or refreshing angle,
Has compelling arguments to support that angle: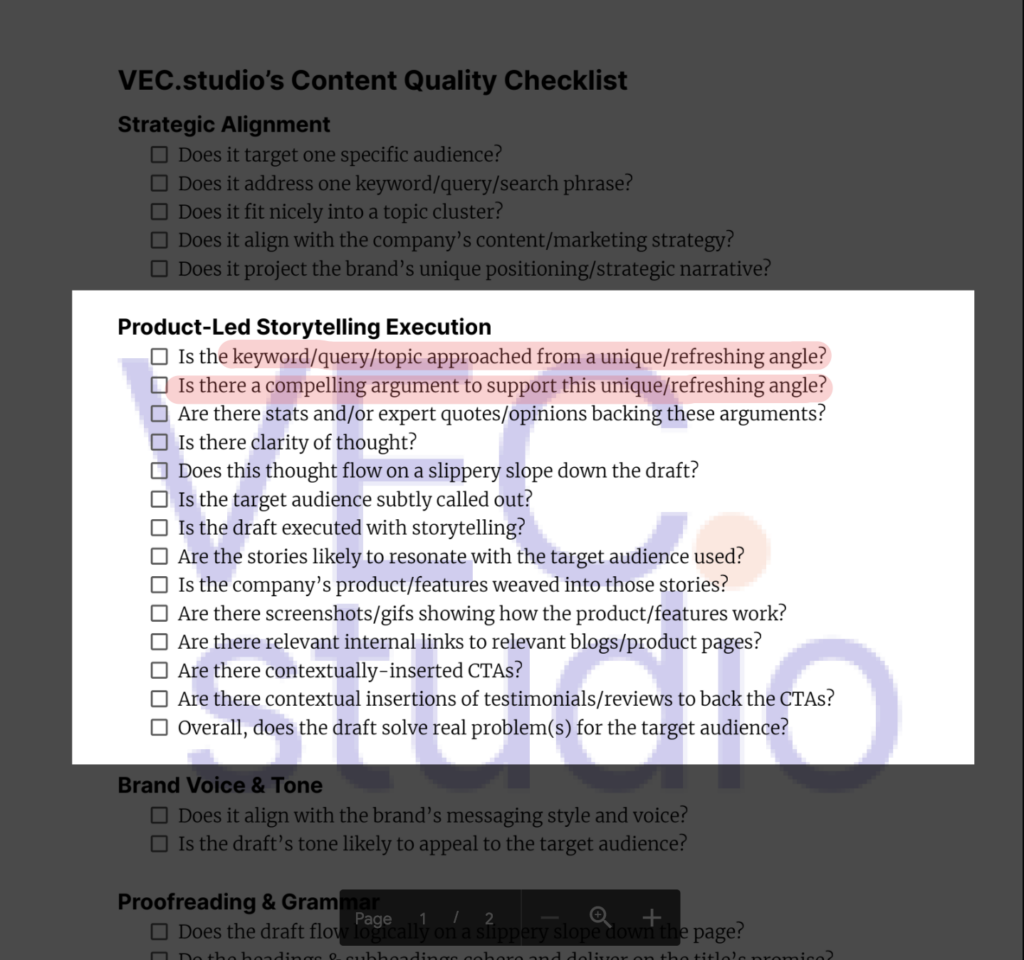 [Download our QA checklist for free]
Show, Don't Just Tell
Recall the first of three things I highlighted of recallable content: It shows and inspires target readers to act now.
By default, content creation, especially written ones, does a lot of telling. And telling isn't bad. It may help to engage target readers when done with the right storytelling mix.
But many will forget the 'telling' of your content the second something else captures their attention, like a cute cat picture on their Instagram feed. That's why you should combine both and show, don't just tell.
Dr. Fio Dossetto, Editorial Lead at Postmark & Founder of Contentfolks, said it best in one of her newsletters.
According to her: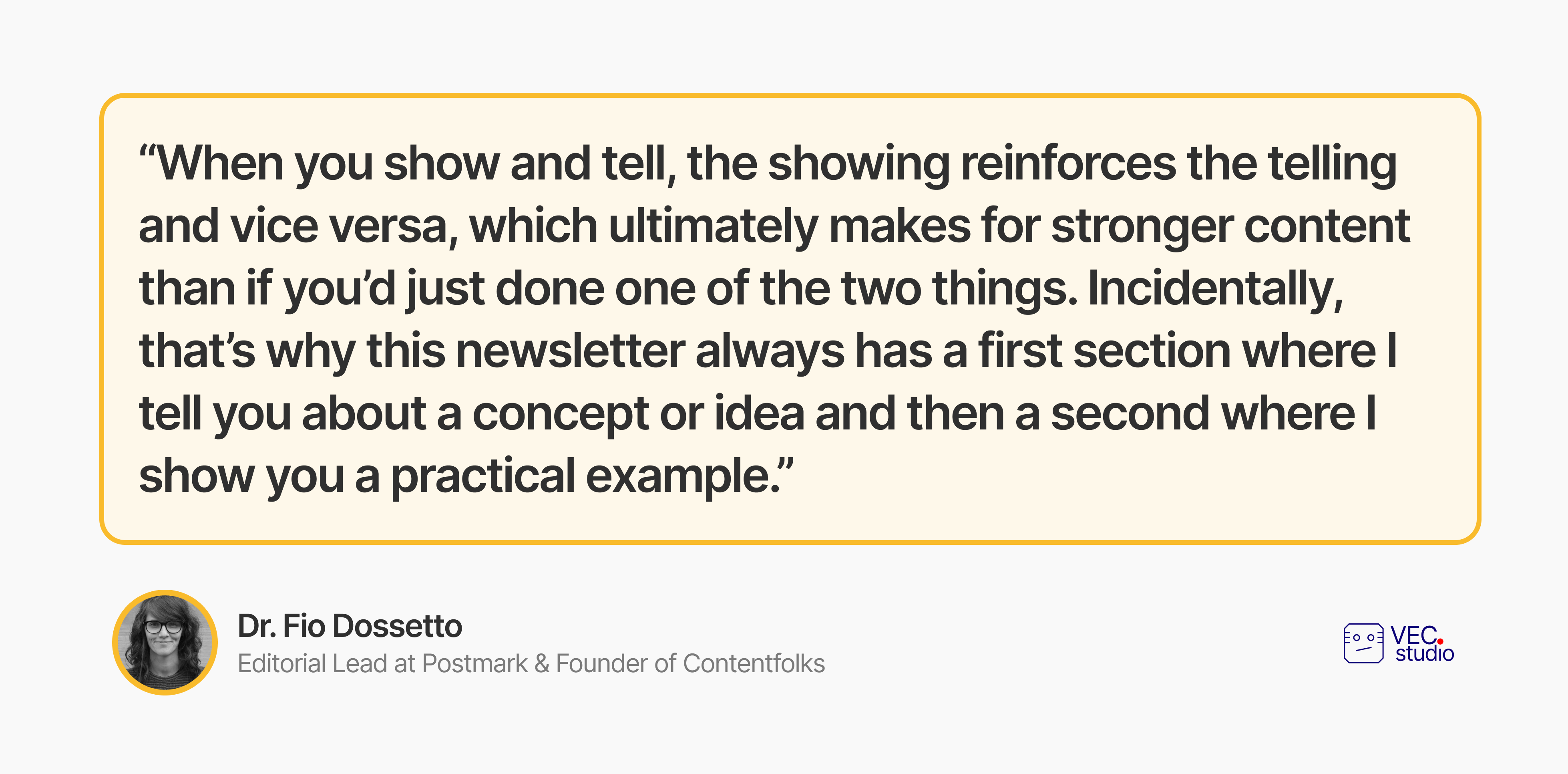 Coincidentally, 'show, don't just tell, is the third of VEC's four core values (safe to say we embody this principle company-wide):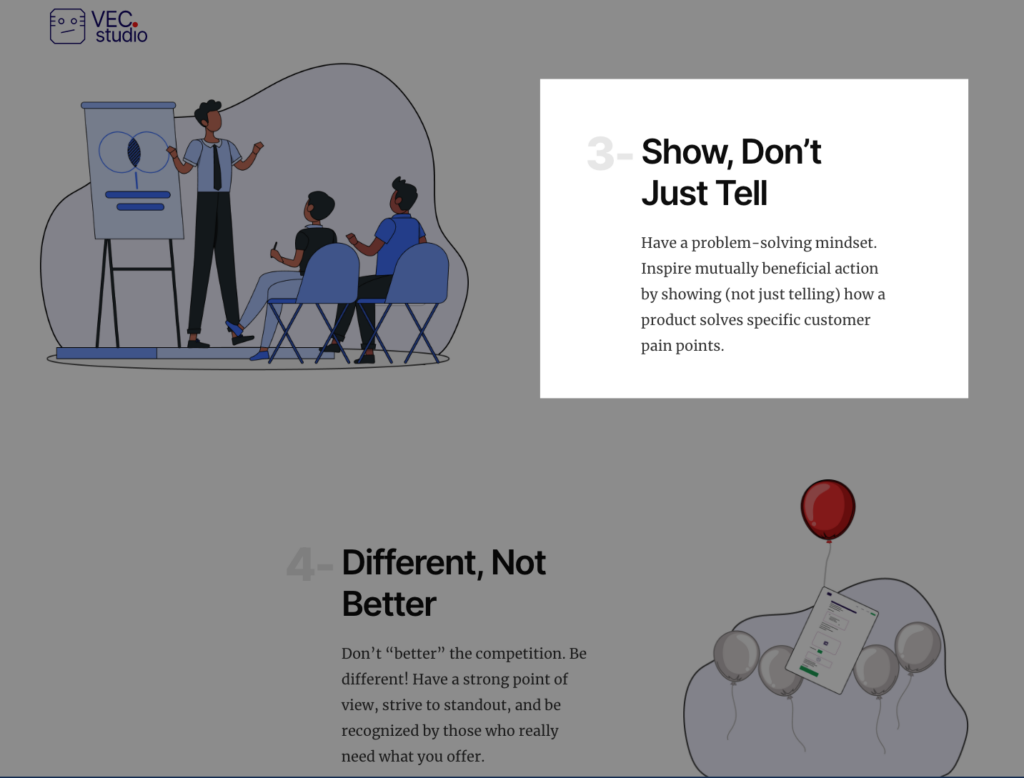 [See VEC's other core values here]
Here's how we (and you can) do it:
Create each piece with a problem-solving mindset. Essentially, your goal should be to solve a problem for the target reader.
As you talk about the problem and the target reader's pain points in your content, show (with product screenshots, gifs, video walkthroughs, etc.) how your product solves the problem.
Don't just tell them.
Inspire them to act now by weaving in your product to show target readers how it works and can solve the problem addressed in each article. That's another reason marketing leaders love working with VEC:
Control Your Content Recall Pathway
I went through recent B2B content marketing studies by HubSpot, the Content Marketing Institute, etc., while researching this draft.
Two statistics, among others, caught my attention:
About 90% of marketers using content marketing said they'll continue using it through 2022, and
As much as 66% of respondents said they'd be increasing their content marketing budgets.
These trends point to B2B companies, including your competitors, producing even more content. And you should take it seriously.
Yes, I've shared practical steps we (and your team can) use to craft content that increases the chances of it standing out, getting read, and recalled.
But reality check.
What if you apply all these steps and craft exceptional pieces, but your target readers never find them? No one will recall something they don't even know exists.
And that's why you should control your content recall path.
Stop waiting to 'rank' high and get discovered via Google search. Reason being that despite Google's Information Gain patent and recent Helpful Content update, most B2B buyers aren't researching (and discovering content) as they did in the past.
They're finding them through LinkedIn or Twitter feeds or engaging in niche forums and Slack communities. Others mostly only read articles shared by newsletters they subscribe to (I'm in this league).
You can control these recall pathways mentioned above, and here are ways to start doing so from today:
Create multiple excerpts of each article your team produces.
Use these excerpts to distribute and amplify on channels and mediums where your target audience hangs out.
Reach out and share your blog posts with influencers and thought leaders mentioned in them. In short, infuse them into your pieces, so you can amplify your content through them to target audiences who trust them.
Better still, start a community or newsletter (I don't just mean a place to dump your blog links), where you can freely share with your owned audience.
Controlling a brand's content recall pathway is a core part of VEC's process. We understand that excerpts of an article can become pathways for bringing specific audiences' attention to each piece of content we craft.
So when crafting each piece, we produce these excerpts and use them to amplify content where those audiences hang out: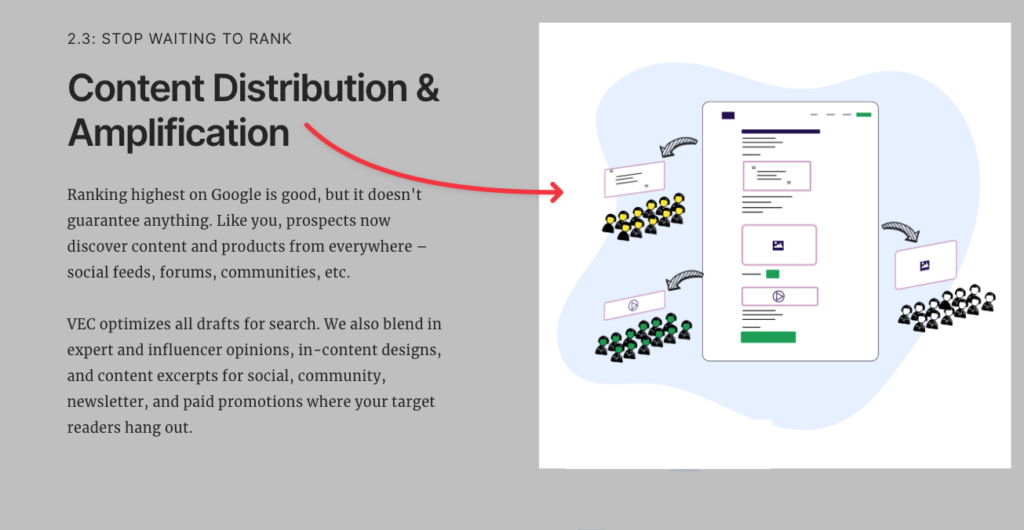 [Learn more about VEC.studio's process]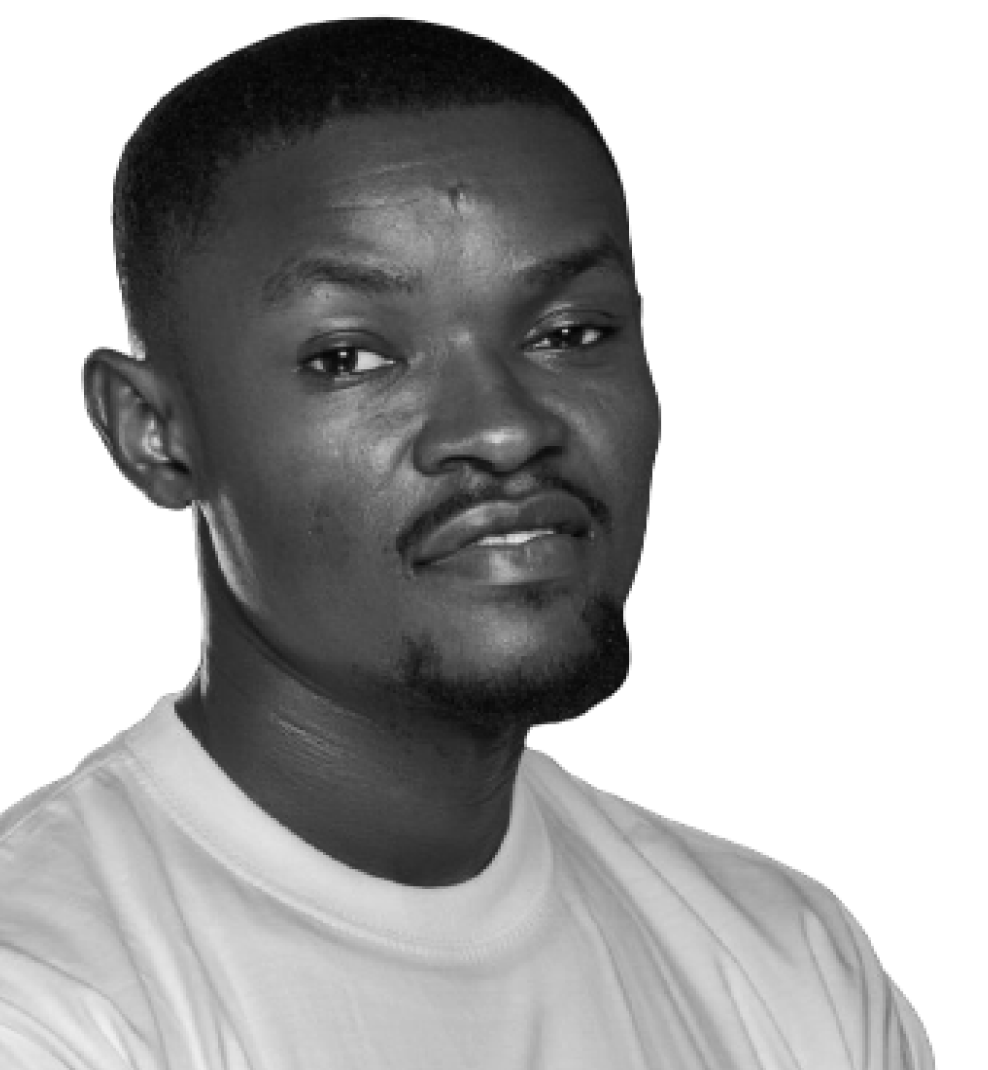 Victor Eduoh
Lead Strategist @ VEC
Founder, Lead Strategist @VEC. Thinker, reader, words-crafter, and husband to Omosede. Besides crafting product-led stories, I love scouting and grooming rare marketing talents.
Get our insights in your inbox
Actionable summaries of stories told by experts on how they grow brands (and their careers) with content from our Growing with Content podcast. And well-researched insights crafted in the VEC Studio.
I will send you a copy of our Content Quality Checklist –FOR FREE– when you subscribe.